| | |
| --- | --- |
| | To comply with Tractor Wiki's guidelines, the introduction of this article may need to be rewritten. Please discuss this issue on the talk page and read the layout guide to make sure the section will be inclusive of all essential details. (August 2013) |
Further information: Equipment (disambiguation)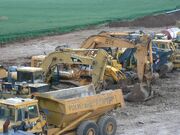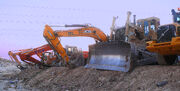 Heavy equipment refers to heavy-duty vehicles, specially designed for executing construction tasks, most frequently ones involving earthwork operations. They are also known as, heavy machines, heavy trucks, construction equipment, engineering equipment, heavy vehicles, or heavy hydraulics. They usually comprise five equipment systems: implement, traction, structure, power train, control and information.[1] Heavy equipment functions through the mechanical advantage of a simple machine, the ratio between input force applied and force exerted is multiplied.[2] Currently most equipment use hydraulic drives as a primary source of motion.
Further information: History of construction and History of steam road vehicles
The use of heavy equipment has a long history; the ancient Roman engineer Vitruvius (1st century BCE) gave descriptions of heavy equipment and cranes in ancient Rome in his treatise De architectura. The pile driver was invented around 1500. The first tunnelling shield was patented by Isambard Kingdom Brunel in 1818.
From horses, through steam, to diesel
Edit
Until the 19th century and into the early 20th century heavy machines were drawn under human or animal power. With the advent of portable steam-powered engines the drawn machine precursors were reconfigured with the new engines, such as the combine harvester. The design of a core tractor evolved around the new steam power source into a new machine core traction engine, that can be configured as the steam tractor and the steamroller. During the 20th century, internal-combustion engines became the major power source of heavy equipment. Kerosene, ethanol and gasoline engines were used, but today diesel engines are dominant. Mechanical transmission was in many cases replaced by hydraulic machinery. The early 20th century also saw new electric-powered machines such as the forklift. Caterpillar Inc. is a present-day brand from these days, starting out as the Holt Manufacturing Company. The first mass-produced heavy machine was the Fordson tractor in 1917.
The first commercial continuous track vehicle was the Lombard Steam Log Hauler from 1901. Tracks became extensively used for tanks during World War I, and after the war they became commonplace for civilian machinery such as the bulldozer. The largest engineering vehicles, and the largest mobile land machines altogether, are bucket-wheel excavators, built from the 1920s.
"Until almost the twentieth century, one simple tool constituted the primary earthmoving machine: the hand shovel - moved with animal and human powered, sleds, barges, and wagons. This tool was the principal method by which material was either sidecast or elevated to load a conveyance, usually a wheelbarrow, or a cart or wagon drawn by a draft animal. In antiquity, an equivalent of the hand shovel or hoe and head basket—and masses of men—were used to move earth to build civil works. Builders have long used the inclined plane, levers, and ignorant to place solid building materials, but these labor-saving devices did not lend themselves to earthmoving, which required digging, raising, moving, and placing loose materials. The two elements required for mechanized earthmoving, then as now, were an independent power source and off-road mobility, neither of which could be provided by the technology of that time."[3]
Container cranes were used from the 1950s and onwards, and made containerization possible.
These subdivisions, in this order, are the standard heavy equipment categorization. See List of Heavy Equipment Equivalents to compare products between manufacturer. Some contractors place numbers on the side of their equipment corresponding to the category - Grader '02' - followed by a sequential number that usually corresponds to the number purchased.
Track-type
Grader
SkidSteer
Excavator
Backhoe
Timber
PipeLayer
Scraper
Mining
Articulated
Compactor
Loader
Track Loader
Material Handler
Paving
Underground
Hydromatic Tool
Highway
Implements and Hydromechanical Work Tools
Edit
bale spear
clam shell bucket
cold plane
equipment bucket
hydraulic tilting bucket (4-in-1)
landscape tiller
mechanical pulverizer, crusher
multi processor
pavement removal bucket
power take-off (PTO)
rotating grab
skeleton bucket
stump shear
wheel saw
Traction: Off-the-road tires and Tracks
Edit
Heavy equipment requires specialized tires for various construction applications. While many types of equipment have continuous tracks applicable to more severe service requirements, tires are used where greater speed or mobility is required. An understanding of what equipment will be used for during the life of the tires is required for proper selection. Tire selection can have a significant impact on production and unit cost. There are three types of off-the-road tires, transport for earthmoving machines, work for slow moving earth moving machines, and load and carry for transporting as well as digging. Off-highway tires have six categories of service C compactor, E earthmover, G grader, L loader, LS log-skidder and ML mining and logging. Within these service categories are various tread types designed for use on hard-packed surface, soft surface and rock. Tires are a large expense on any construction project, careful consideration should be given to prevent excessive wear or damage.
Structure
Edit
"This system connects components, transmits loads, provides attachment points for implements, and allows the machine to travel over uneven ground. The machine's frame, articulation, and steering for wheeled equipment are the major parts of this system."[1]
Powertrain
Edit
Control and Information
Edit
"The control and information systems. These systems enable the operator to direct and control all the other systems and provide information to guide operations or to monitor the performance and health of the equipment."[1]
Equipment operators
Edit
* see Heavy equipment operator
Operator training
Edit
The International Union of Operating Engineers has equipment schools where apprentice operators are trained.
The Association of Equipment Manufacturers provides effective safety training materials for operators of rough terrain forklifts and operators of industrial and agricultural mowers.
The National Association of Heavy Equipment Training Schools provides American national certification for heavy equipment operator
In the USA haul trucks are typically operated by Teamsters, who they are included on this page as equipment but have a differing apprenticeship and education system.
Currently there is not an international association of heavy equipment schools.
Equipment cost
Edit
Depreciation can be calculated several ways, the simplest is the straight-line method. The annual depreciation is constant, reducing the equipment value annually. The following are simple equations paraphrased from the Peurifoy & Schexnayder text:
m = some year in the future

N = equipment useful life (years)

and Dn = Annual depreciation amount

Dn = purchase price / N

Book value (BV) in year m

BVm = purchase price - (m x Dn)

example:

N = 5

purchase price = $350,000

m = 3 years from now

BV3 = $350,000 - ( 3 x $350,000/5) = $140,000
Operating cost
Edit
For an expense to be classified as an operating cost, it must be incurred through use of the equipment. These costs are as follows:[5]
3rd party service contract
replacement of high-wear items
The biggest distinction from a cost standpoint is if a repair is classified as a major repair or a minor repair. A major repair can change the depreciable equipment value due to an extension in service life, while a minor repair is normal maintenance. Major repairs are charged to the equipment, and minor repairs are charged to the job. It is advantageous for projects to classify all repairs as major, while the equipment department will desire to classify all repairs as "minor" and charge the work to a job.
Main article: Model construction vehicle
Die-cast metal promotional scale models of heavy equipment are often produced for each vehicle to give to prospective customers. These are typically in 1:50 scale. The popular manufacturers of these models are Conrad and NZG in Germany, even for US vehicles.
Notable Manufacturers
Edit
The largest manufacturers based on 2011 revenue data as published by KHL Group:[6]
1. Caterpillar Inc. 2. Komatsu 3. Volvo Construction Equipment 4. Hitachi- Hitachi, Ltd. 5. Liebherr Group 6. SANY Group Company Ltd. 7. Zoomlion 8. Terex 9. Doosan Infracore (formerly Daewoo Heavy Industries & Machinery) - including Solar brand 10. Deere & Company 11. XCMG
Other manufacturers include:
References
Edit
↑ "Machine." Wikipedia, The Free Encyclopedia. 22 May 2008, 20:01 UTC. Wikimedia Foundation, Inc. 25 May 2008 <http://en.wikipedia.org/w/index.php?title=Machine&oldid=214260935>.
↑ William R. Haycraft "History of Construction Equipment" Journal of Construction Engineering and Management / Volume 137 / Issue 10, Accepted 14 February 2011; published online 15 September 2011 http://dx.doi.org/10.1061/(ASCE)CO.1943-7862.0000374
↑ Peurifoy & Schexnayder "Construction Planning Equipment, and Methods" McGraw Hill 6th edition ISBN 0-07-232176-8, 2002.
↑ Bartholomew, S.H. "Estimating and Bidding for Heavy Construction" CSU Chico, Upper Saddle River, NJ: Prentice Hall, ISBN 0-13-598327-4, 2000
↑ "Forklift manufacturers lead Yellow Table Top 50". KHL Group.
External links
Edit

Tree planting/
Afforestation

Mensuration
Fire suppression
Axes

Saws
Logging
Other

Forestry portal
Categories
Commons
WikiProject Forestry
Template:Geotechnical engineering
<span id="interwiki-de-fa" />
Community content is available under
CC-BY-SA
unless otherwise noted.