Hattat Tarim is a company based in Istanbul, Turkey that manufactures tractors, components, and other industrial items, and is a part of the Hattat Holding A.Ş. conglomerate. It was originally called Hema Endustry A.Ş. and the original company was founded in 1971. Hattat Holding came into existance in 1996. One of the group companies manufactures Military vehicles.[1]
Hattat currently manufactures tractors under contract for Valtra and Massey Ferguson, both part of AGCO, under the Hattat name using some Valtra designs as well as their own designs, and under license manufacture the Universal (Hattat) tractors. Hattat also distributes Ferrari tractors in Turkey.
Hattat/Hema History
Edit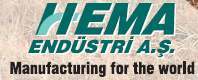 Hema Traktor Sanayi Ve Ticaret A.S. was founded in 1971, and began building Ford tractors under license. This continued until 1990, when the license expired. They continued building the tractors under the HEMA name. In 2001, Hema began building Universal (UTB) tractors under license. Sometime after the company name to Hattat, they began including the Hattat name on the Universal tractors, i.e. Hattat Universal, or Universal with Hattat below it.
In 2003, Hattat secured a contract with AGCO to begin building the Valtra A-series. Production for Valtra began in 2008. Hattat also began building the A-series under the Hattat name, and later developed the new Hattat-designed H-series. In 2009, after the demise of Uzel, AGCO awarded the contract to build Massey Ferguson tractors in Turkey to Hattat. The Valtra tractors by Hattat are sold worldwide.
Tractors have been exported to the Middle East bearing the brand-names Euro-F (or Euro Ford) and Chaman Ford, which were by HEMA and based on old Ford designs.
For 2017, Hattat began exporting tractors to Uruguay that are sold by Tractores BM as BM tractors.
Hema/Hattat has built engines in Turkey under license from Perkins for many years. Many carry the Perkins name, but some carry the Hattat name.
HEMA Gear, another group company, manufactures Detroit Diesel engines under license for use in the Defense industry.[2]
Tractor Models
Edit
Tractors built for other companies
Edit
Ford Tractor Models by HEMA
Model
Year(s) Produced
Horsepower
Engine Type
Misc Notes
Photo
Ford 3600
 ?
 ?
details required ?
of the
Ford models
built by Hattat
References
Edit
External Links
Edit
Early Makes - pre 1940s

1940s to 1980s

Modern post 1980s

Independents
North America

Europe

India & Pakistan

Middle East
(Turkey, Iran,
Iraq, Syria etc...)

Far East
(Australasia, China,
Japan, Korea, Thailand,
Vietnam etc...)

South America
(Argentina, Brazil,
Uruguay etc)

Africa

Asia
(Russia, Tajikstan,
Uzbekistan, Ukraine)

Specialist types of tractor

Notable People - associated with the tractor industry

Inventors
Community content is available under
CC-BY-SA
unless otherwise noted.