An H engine (or H-block) is an engine configuration in which the cylinders are aligned so that if viewed from the front, they appear to be in a vertical or horizontal letter H.
An H engine can be viewed as two flat engines, one atop or beside the other. The "two engines" each have their own crankshaft, which are then geared together at one end for power-take-off. The H configuration allows the building of multi-cylinder engines that are shorter than the alternatives, sometimes delivering advantages on aircraft. For race-car applications there is the disadvantage of a higher center of gravity, not only because one crankshaft is located atop the other, but also because the engine must be high enough off the ground to allow clearance underneath for a row of exhaust pipes. The power-to-weight ratio is not as good as simpler configurations employing one crankshaft. There is excellent mechanical balance, especially desirable and otherwise difficult to achieve in a four-cylinder engine.[1]
Two straight engines can be similarly joined to provide a U engine.
H engines
Edit
Aircraft engines
Edit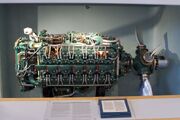 Lycoming
Fairey Aviation
Klöckner-Humboldt-Deutz DZ 720 - H-32, 102.9 litres
Napier & Son, UK.

Napier Rapier (1929) - H-16 air-cooled vertical, 8.83 litres 340 hp
Napier Dagger (1934) - H-24, air-cooled vertical, 16.85 litres 890 hp, a development of the Rapier
Napier Sabre (1938) - H-24, water-cooled horizontal sleeve valves, 36.7 litres 3,500 hp.

Rolls-Royce Eagle (1944) - H-24, 46.2 litres, 3,200 hp.
Other engines
Edit
Other uses of H term
Edit
Subaru produces water-cooled flat-four and flat-six "Horizontal" engines that are marketed as H4 and H6 (also thought to represent the configuration of the cylinders from a 'top down' POV as opposed to the traditional 'head-on' POV).
References
Edit
Community content is available under
CC-BY-SA
unless otherwise noted.