A Growler is a Jeep-like United States Marine Corps internally transportable vehicle (ITV), smaller than typical military Light Utility Vehicles.
Development for the Growler began in 1999 by American Growler when the Marine Corps sought a vehicle that could be transported in a V-22 Osprey. Although initially derided because the firm used design elements and parts from the M151 MUTT drivetrain as a starting point for the concept, the final design was completely revised with new parts and specially tailored to fit in the tight confines of the V-22. [1]
Two different Growler vehicles were eventually created, one for reconnaissance and one for towing mortar and ammunition trailers. Despite light armor and issues concerning ammunition safety, the mortar towing Growlers were first deployed to Marine units in January 2009.[2]
From when the contract was awarded 2004 to 2008, the average cost of a Growler rose 120% to $209,000, and the average cost of a mortar towing Growler rose 86% to $1,078,000. As of February 2009, the [[United States Marine Corps had 81 ITVs and 12 mortar systems contracted and was awaiting bids on 70 more ITVs and 20 more mortar systems.[2]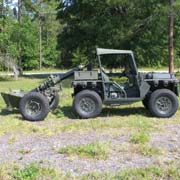 The vehicle is similar to the Panhard A3F already in service in the French army and the Swedish army.
References
Edit
Community content is available under
CC-BY-SA
unless otherwise noted.