Great Wall Motor Company Limited[2] (SEHK: 2333) (
中文:
) (SEHK: 2333) is a Chinese automobile manufacturer formed in 1976. The company is named after the Great Wall of China. As of 2010 it is China's largest SUV maker.[3]
2010 production capacity is estimated at 500,000 units/year,[4] but 2010 sales fell short at less than 400,000[5] and exports remained a small portion of that figure at little more than 50,000,[5] no increase from 2009 figures.[6]
In 2010, the Great Wall Haval H series was the 2nd most-purchased SUV in China,[7] although this may technically comprise two discrete models, the Great Wall Haval H3 and the Great Wall Haval H5.
History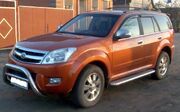 Established in 1976,[8] Great Wall initially manufactured only trucks not producing a saloon car until 2008 due to lack of a state license.[9]
IPO
Making an initial public offering on the Hong Kong stock exchange on December 15, 2003,[10] Great Wall was the first private Chinese auto manufacturer to become a public company.[11]
The company is considering listing on the Shanghai Stock Exchange as well.[12]
Export
Hailed as an example of a Chinese car manufacturer which not only talked of exporting to developed, overseas markets such as Europe and the US, Great Wall entered the European market in 2006 selling small vans.[13] That same year saw it exporting products to around 60 countries.[14] It is, as of 2010, the only Chinese car manufacturer to sell in the EU.[6]
Dakar Rally
Great Wall made an appearance at both the 2010[15] and 2011[16] Dakar Rally. It plans to attend subsequent Rallies.[6]
Recent Events
Models
Main article: List of Great Wall models
A wide model range can be had from Great Wall, from light trucks and SUVs to urban runabouts.
Copying claims
Famous-name Fiat has claimed that a Great Wall A-segment car, the Peri (Jing Ling in China), is a copy of its popular 2nd-generation Fiat Panda.[17]
A 2008 Turin court ruling substantiated the claim stating that the Great Wall Peri, "doesn't look like a different car but is a [Fiat] Panda with a different front end."[18]
A copyright infringement case in China did not see a similar outcome.
Other Great Wall models may seem to be copied from those of famous-name automakers, too. The Great Wall Florid, looks like a Toyota ist; and some older Great Wall Hover models may look like Isuzu Axioms, etc.
Production bases
Its main manufacturing location in Baoding, Hebei province,[4] Great Wall has great plans for future production bases and facilities.
Planned production bases include a site in Tianjin, a direct-controlled municipality, that will see completion in 2013 or 2015[19] and another Baoding base, this time with a 500,000 unit/year production capacity.[4] The second Baoding base may become operational by 2013[4] and may be located in Xushui county.[20] Production capacity figures may consider engines and vehicles as discrete.
Bulgaria
Together with a Bulgarian company, Litex, Great Wall is building a production base in the town of Lovech, Bulgaria, that will become operational in 2011 and have a production capacity of 50,000 vehicles/year.[21] Production capacity figures may consider engines and vehicles as discrete.
Knock-down factories
There have been at least eight overseas knock-down factories that produce Great Wall models from knock-down kits: in Egypt,[22] Ethiopia,[22] Indonesia,[22] Iran,[22] Nigeria,[23] Russia,[22] Senegal,[22] Ukraine, Vietnam.[22]
These factories are not necessarily affiliated with or owned by Great Wall. Both the Iranian motor company Diar[24] and the Indonesian WICM, an Indomobil Group subsidiary, assemble Great Wall vehicles from complete or semi-complete knock-down kits. Such knock-down exports are an easy way to gain access to developing markets without added after-sales service costs.
A new knock-down factory will become operational in 2013 in Brazil.[22] By 2015 Great Wall plans for the existence of 24 such facilities.[22] These may appear in places such as Malaysia,[20] the Philippines,[20] South Africa[20] and Venezuela,[20] etc.
Technical center
In 2010 the company began construction of a technical center in Baoding, Hebei province.[25] Part of an R&D investment effort,[26] the center will see completion in 2012.[27]
Sales outside China
Great Wall products have been available in many places across the globe.
These include Africa,[28] Australia,[29] Europe,[30] Melanesia, the Middle East,[31] Russia,[28] South America,[9] South Asia,[32] and the South Pacific.
By 2006 Great Wall had exported vehicles to around 60 countries.[14] These exports may be in the form of knock-down kits.
While Great Wall is engaged in export, nearly 70 percent of sales in 2009 came from central and western China.[1]
After-sale care training
The company offers an after-sales service training course for employees of overseas distributors.[33] Traveling to China to learn proper service methods, the trainees leave with a better sense of how to maintain Great Wall products, both retired and current.[33]
Safety
It is important to note that cars sold in the European Union, the Hover and Deer, were marketed as commercial vehicles exempting them from EU safety standards.[34] As of 2010, some Great Wall products including passenger vehicles and the new Hover (Haval H5) and Deer (Wingle 5) have obtained an EU whole vehicle type approval,[35] an EU regime that tests road vehicles and approves them for production and sale in Europe.[36]
Electric vehicles
The company plans to sell electric vehicles domestically beginning in 2011.[3] It showed an all-electric SUV at the 2010 Guangzhou Auto Show.[37] China subsidies oil,[38] and some Chinese automakers see opportunities in less mature electric vehicles because Western companies have yet to develop much of a lead in the technology.[39]
References
↑ 1.0 1.1 Chinese Stimulus Winners at Great Wall Best Shanghai (Update1) bloomberg.com, September 29, 2009 23:47 EDT
↑ Company Profile Great Wall Official Site
↑ 3.0 3.1 Great Wall Motor in green car push in 2011 reuters.com, Thu Sep 16, 2010 3:32am EDT
↑ 4.0 4.1 4.2 4.3 Great Wall targets growth globaltimes.cn, December 08 2010
↑ 5.0 5.1 Great Wall sales up 78.7% in first 11 months globaltimes.cn, December 10 2010 (Google Cache)
↑ 6.0 6.1 6.2 With EU greenlight, Great Wall looks to expand globaltimes.cn, December 08 2010
↑ Top 10 Best-Selling Sedans and SUVs in 2010 chinaautoweb.com, January 14, 2011
↑ 9.0 9.1 The new motor city money.cnn.com, Last updated: October 28, 2008: 10:03 AM ET
↑ China Stock Market Handbook, pg. 195 Google Book Search
↑ Shaking the Globe: Courageous Decision-Making in a Changing World By Blythe J. McGarvie, Robert Kraft, Pg. 140 Google Book Search
↑ Great Wall, Lifan eye Shanghai listing globaltimes.cn, October 14 2010 (Google cache)
↑ Two Billion Cars: Driving Toward Sustainability By Daniel Sperling, Deborah Gordon, Pg. 213 Google Book Search
↑ 14.0 14.1 Great Wall ships SUVs to Europe -

Financial Times

↑ Great Wall participates in Dakar Rally again globaltimes.cn, November 01 2010
↑
↑ re. "Fiat Is Considering Taking Legal Action To Stop Great Wall'S Panda Clone Being Sold In Europe". Italiaspeed.com. Retrieved on

2011-03-29

.
↑ Great Wall Motor to increase production capability fourfold by 2015 globaltimes.cn, December 08 2010
↑ Great Wall Motor and Litex Motor signs $6M deal to build Bulgaria plant inautonews.com, October 20, 2009
↑ 22.0 22.1 22.2 22.3 22.4 22.5 22.6 22.7 22.8 Great Wall Motor to build factory in Brazil by 2013 globaltimes.cn, August 19 2010 (Google cache)
↑ "Great Wall Plans More KD Assembly Plants Overseas", ChinaAutoWeb.com.

 

↑ "News - News - Great Wall Motors". Gwm.com.cn (

2010-10-29

). Retrieved on

2011-01-02

.
↑ China Great Wall Motor to invest $751 mln in R&D in 5 yrs reuter.com, Wed Oct 27, 2010 4:59am EDT
↑ Great Wall Motor to build world-class center globaltimes.cn, November 23 2010 (Google cache)
↑ 28.0 28.1 Great Wall Motor exports 300 M1s to Mali globaltimes.cn, July 22 2010 (Google cache)
↑ Great Wall Motors Launches First Chinese-Made Cars Into Australian Market themotorreport.com.au, June 24th, 2009
↑ "Great Wall Exports Haval H5 to Italy", ChinaAutoWeb.com.

 

↑ Great Wall Motor to expand its overseas market globaltimes.cn, July 16 2010 (Google cache)
↑
↑ 33.0 33.1 Great Wall Motor Overseas Distributors Training Great Wall Official Site, 2010-9-24
↑ More Chinese cars dodge tests automotive-business-review.com, 19-December-2005
↑ Great Wall Motor boosts brand image with quality products globaltimes.cn, September 07 2010 (Google cache)
↑ EC Whole Vehicle Type Approval - Introduction UK Department for Transport
↑ Great Wall to unveil first new energy vehicle globaltimes.cn, November 11 2010 (Google cache)
↑
↑
External links

Great Wall Motor

Compact cars:

Voleex C30

 •

Voleex C10

 •

Coolbear

 •

Florid

 • Peri •

SUVs:
Pickup trucks:
MPVs:
Vans: