A Gravel Cart is a special type of Trailer used to place gravel backfill/filter material around land drainage pipes. They typically consist of a hopper type body to hold the material and a powered discharge conveyor or auger. The drive being either from the tractor or from the ground wheels to regulate discharge speed.
A lot of early examples were designed and built by contractors own workshops for their own use to mechanise the placement of stone in slot drain trenches.
Some modern units are self propelled based on tracked dumper chassis. These reduce ground compaction and rutting on softer soils and wet terrain, with a higher capacity for working in poor weather or on sensitive sites.
Some are fitted with a blade to level out the spoil left by the trencher along side the trench.
Examples of modern gravel carts
Edit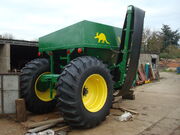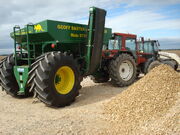 Manufactures
Edit
Community content is available under
CC-BY-SA
unless otherwise noted.