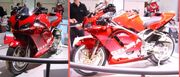 Gilera is an Italian motorcycle manufacturer founded in Arcore in 1909 by Giuseppe Gilera. In 1969, the company was purchased by Piaggio.
In 1935, Gilera acquired rights to the Rondine four-cylinder engine. This formed the basis for Gilera' s racing machines for nearly forty years. From the mid-thirties, Gilera developed a range of four-stroke engine machines. The engines ranged from 100 to 500 cc, the most famous being the 1939 Saturno. Designed by Giuseppe Salmaggi, the Saturno was inspired by the pre-war Gilera VTEGS 500cc "Otto Bulloni" yet was quite different due to its unit construction.[1]
In 1969, Gilera became part of the Piaggio group.
In 1992, Gilera made a return to the Grand Prix arena and Piaggio continues to produce small-displacement motorcycles with the Gilera name. The famous factory of Arcore was closed in 1993 and now the motorcycles (only scooters) bearing the name Gilera are produced by Piaggio in Pontedera.
After World War II, Gilera dominatedGrand Prix motorcycle racing, winning the 500 cc road racing world championship six times in eight years. Facing a downturn in motorcycle sales due to the increase in the popularity of cars after the war, Gilera made a gentleman's agreement with the other Italian motorcycle makers to quit Grand Prix racing after the 1957 season as a cost-cutting measure.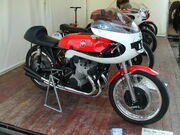 Gilera won the following World Titles:
MotoGP World Constructors champions
[
edit
|
edit source
]
Isle of Man Tourist Trophy
[
edit
|
edit source
]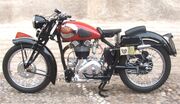 The Gilera SMT is a cross moped "for the big city". It is a supermotard which means it is an offroad moped fit for the big city, but can also handle bumpy roads. It has 17-inch rims with broad tires, six gears and a 50 cc engine producing 8.5 hp (6.3 kW).

Community content is available under
CC-BY-SA
unless otherwise noted.