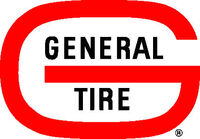 The General Tire and Rubber Company is an American manufacturer of tires for motor vehicles.
General Tire was founded in 1915 in Akron, Ohio by William F. O'Neil. Products included the low-pressure "General Balloon Jumbo" and the "Dual 90" tire.[1] In 1943 General Tire branched out from its core business by purchasing the Yankee Network and the radio stations it owned from Boston's Shepard Stores, Inc. Thomas F. O'Neil, son of the founder William F. O'Neil, served as Yankee's chairman with Shepard's John Shepard III serving as president.
General Tire continued its move into broadcasting by acquiring the Don Lee Broadcasting System, a well-respected regional radio network on the West Coast, in 1950. Among other stations, it added KHJ-AM-FM in Los Angeles and KFRC-AM-FM in San Francisco to its stable from the Yankee acquisition. In 1952, it bought WOR/WOR-FM/WOR-TV in New York City and merged its broadcasting interests into a new division, General Teleradio.
General Tire's final move into entertainment was the acquisition of RKO Radio Pictures from Howard Hughes in 1955 for $25 million. General Tire was interested mainly in using the RKO film library to program its television stations, so it sold the RKO lot at Sunset and Gower in Hollywood to Lucille Ball and Desi Arnaz's Desilu Productions in 1956 for $6 million. The remaining assets of RKO were merged with General Teleradio, and the new company eventually became known as RKO General. The radio stations became some of the leading broadcasters in the world, but the division was dragged down by unethical conduct at its television stations. This culminated in the longest licensing dispute in television history, eventually forcing RKO General out of the broadcasting business.
General Tire reorganized its holdings into the holding company GenCorp in 1984, with General Tire and RKO General as subsidiaries.
GenCorp sold General Tire to German tire maker Continental AG in 1987. General Tire still exists today as part of Continental's American operations.
In its advertising in the 1970s and '80s, the brand's slogan was: "Sooner or later, you'll own Generals."
Community content is available under
CC-BY-SA
unless otherwise noted.