Coordinates: 52°37′00″N 1°08′31″W / 52.616528°N 1.141944°W / 52.616528; -1.141944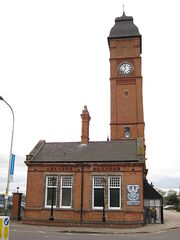 The The Gas Museum, also known as the National Gas Museum, is situated in the former gatehouse of a gasworks in Leicester, England, and deals with the history of domestic and industrial gas supply. It is claimed to have "the biggest collection of gas and gas related artefacts in the world".[1]
The building is a Grade II listed building, dating from 1878, with a clock tower. The public museum is on two floors, with over 4000 items in storage. It was opened 29 April 1977,[2] then called the John Doran[3] Museum. Displays include accounts of the history of gas usage in the UK and examples of technology. There is a tableau of 1920s kitchen with gas equipment. Domestic items include washing machines, gas irons and even a gas-powered radio.
It is run by the National Gas Museum Trust with financial support from Centrica and National Grid plc.
Community content is available under
CC-BY-SA
unless otherwise noted.