Future Tactical Truck Systems

Artist impression
Type
Utility vehicle
Place of origin
 United States
The Future Tactical Truck Systems (FTTS) was a U.S. Military program to replace the HMMWV. Work apparently stopped sometime between 2006–07 and never resumed. Elements of FTTS were used in the Joint Light Tactical Vehicle program.
History
To evaluate possible future truck systems and designs, the U.S. Army's Tank-automotive and Armaments Command refereed the Future Tactical Truck Systems - Advanced Concepts and Technology Demonstration (ACTD) program. Navistar International and Lockheed Martin's proposals, the International FTTS and Lockheed FTTS Utility Vehicles were selected, as well as the Armor Holdings proposal for the MSV.[1] In August 2006 they were tested at the Aberdeen Proving Grounds. Following this evaluation they were parked in The Pentagon courtyard for evaluation by higher ranking military officials.
Design
Competitors
International truck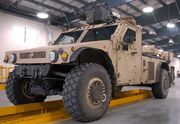 International Truck's proposal for FTTS utilized a Parallel Hybrid Drivetrain and modular armor. It has undergone testing by 5th Brigade, 2nd Infantry Division and 14th Engineer Battalion at the Aberdeen Proving Grounds and Fort Lewis, along with Lockheed Martin's design and Armor Holdings' Maneuver Sustainment Vehicle.[2][3]
Variants
Utility Vehicle
UV1
FTTS-UV Support

FTTS-UV Ambulance

FTTS-UV C2
UV2
FTTS-UV Support
Maneuver Sustainment Vehicle
See also
References
This template is from wikipedia and needs a rewrite.
It is to demonstrate a "complex" navebox using sub groups to allow expansion

Military vehicles
Commercial Vehicles

Diesel Engines

Current

V6/V8

MaxxForce 5

 •

MaxxForce 7

Inline-6

MaxxForce DT

 •

MaxxForce 9

 •

MaxxForce 10

 •

MaxxForce 11

 •

MaxxForce 13

Historical

V8

DV

 •

IDI

 •

T444E

 •

VT365

 •

Ford PowerStroke

Inline-6

Other

Tractor

Delivery Van

Retail Vehicles