For Truck & Bus Manufacturer, see Foton.
Foton Lovol was created in 2007 from the assets of the Shandong Foton Heavy Industries Co. Ltd company, a part of Beiqi Foton Motor Co., Ltd.. Shandong Foton Heavy Industries was in turn founded in 2004[1] from the Beiqi Futian Automobile Company which sold under the Futian brand, which had been founded as the Weifang Harvesting Machinery Plant division of Beiqi Futian in 1998.[2]
Foton Lovol manufactures tractors, combine harvesters, Wheeled Loaders, Excavators, Backhoes, Rollers, drilling rigs, three-wheeled mini trucks, three-wheeled motorcycles, and other ag equipment.

Tractors and equipment have been sold by Foton Lovol under a variety of brand names by them, as well as under many different private labels by other importers. Foton Lovol's brands or former brands include: Futian, Futian Leopard, Futian Oubao, Foton, Foton Europard, EuroLeopard, Lovol, Beijing Helper and Oubao Futian.
Private labels imported by other companies include: Agro, Dadaoyuan, Dewan Foton, Dewan Foton Euro Leopard, Eagle, Estate, Euro, Europard, Europars, Eurostar, Eurotrac, Eurotrak, EuroWolf, Farm Pro, Frontier, Goldbull, Greenstar, Hanomag (Dowel), Hubei, Interstar, Iron, Jepe, Joshua Howard, Kellfri, King, LKD, Logus, Maverick, Maverick (Argentina), Monza, Noriker, North Star, Polmot Foton, SRD, Stockman, Tatanaka, Teknik Makina, Terra Trac, Terraplane, TNG, TomTrack, TOP, Tractor King, Veron, WorkTrak, Wuxing, Yuki, Zhongyuan.
Tractor Models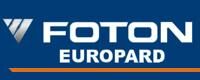 Foton/Lovol tracotrs
Futian

Beijing Helper, EuroLeopard, Europard, etc...
Models for other Companies/Importers
Harvester Models
Construction Models
References / sources
External Links
Early Makes - pre 1940s

1940s to 1980s

Modern post 1980s

Independents
North America

Europe

India & Pakistan

Middle East
(Turkey, Iran,
Iraq, Syria etc...)

Far East
(Australasia, China,
Japan, Korea, Thailand,
Vietnam etc...)

South America
(Argentina, Brazil,
Uruguay etc)

Africa

Asia
(Russia, Tajikstan,
Uzbekistan, Ukraine)

Specialist types of tractor

Notable People - associated with the tractor industry

Inventors
Community content is available under
CC-BY-SA
unless otherwise noted.