A club for to fans of Ford & Fordson tractors the most popular marque in Britain and Ireland and many other parts of the world.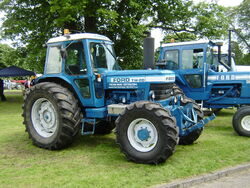 If your interested in Ford and Fordson and New Holland tractors?
Visit the the official internet site of the Ford and Fordson Association ... the fastest growing tractor club in Europe! Here !
FFA History
Edit
The FFA was founded in 200?Kelsey Publishing the publishers of Tractor and Machinery Magazine (T&M) who also produce the Ford & Fordson Tractors Magazine which caries the club news section. The magazine is 'free' to club members and was quaterly but is now bi-monthly. The editor has changed several times but is currently (early 2011) Peter Love a well known Journalist in the Preservation field who attends many events around the country and has had his reports published in most of the tractor magazines at one time or another.
by
Early in 2011 it was announced that the FFA was to be independent of Kelsey Publishing and several of the club officials changed with Peter Godwin appointed as new chairman. The associations web site has been revamped.
FFA Show Dates
Edit
The FFA and its members attend several shows during the year usually hosted by the local branch but each year one is nominated to the the FFA's main event and called the FFA Expo. All things Ford and Fordson are welcome in a display organised by club members.
Past Expo's
Edit
Other shows
Edit
2012
2011
2010
2009
Other events (Add details please of others) Both past and future dates.
2008
The FFA and its members attended several shows during 2008.
Earlier events
Marques Covered
Edit
And any other Ford based machines and models.
Contact details
Edit
(add club contact details here)
references / sources
Edit
External links
Edit
Community content is available under
CC-BY-SA
unless otherwise noted.