Not to be confused with the Ford FK 1000 from 1953 which was also named Ford Köln.
---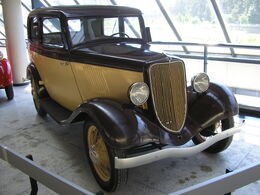 Ford Köln is an automobile from the Cologne, Germany plant of the Ford Motor Company that was in production from 1932 to 1935. It was the German version of the Ford Model Y. The name came from the German name for the city of Cologne. It had a four cylinder, four stroke engine of 933 cc giving 21 hp (16 kW) at 3400 rpm. The top speed was 85 km/h (53 mph). It had a three speed gearbox (plus reverse) with synchromesh on the second and third gear. It was a small car weighing only 485 kg (1,069 lb).
Due to heavy competition, mainly from Opel, DKW and Adler, the Ford Köln was not a success. In 1935 it was replaced by the Ford Eifel which was a larger car.
List known surviving examples here please;

Companies and subsidiaries

Current

Former and defunct

Facilities

Passenger cars

Commercial vehicles

Vans

Minibuses

Trucks (defunct)

 Category
| | |
| --- | --- |
| | This article about a classic pre-war automobile produced between 1930 and 1945 is a stub. You can help Tractor & Construction Plant Wiki by expanding it. |
Community content is available under
CC-BY-SA
unless otherwise noted.