Ford Durango was a car manufactured by Ford and modified into a Durango by National Coach Corporation of Los Angeles, California, between 1981 and 1982. This company is no longer in business. It was intended to replace the Ford Ranchero. The car was based on the Ford Fox platform, specifically the Ford Fairmont Futura. Reports of the total number of Durangos built are from a low of 80 units to a high of 350 to 400 units (the number varies widely based on the source) though the exact figures are unknown. Is has been speculated that Ford researchers could ascertain the exact number sold through the vintage sales records Ford still has on file though Ford seems disinclined to have an archivist do the research. Ford Fairmonts were delivered to National Coach Corporation which modified the body through inserting a fiberglass cargo bed behind the front seats after part of the roof structure and quarter panels were removed. A special tailgate was also added as well as a special plate to the bed floor to take up the remaining open space after the bed was installed. This tailgate is unique to the Durango... it fits no other vehicle and this is one of the ways to distinguish a bona fide Durango from a fake. After conversion they were sold by Ford dealers nationwide. Durangos were powered by the venerable Ford 200 cubic inch inline six though the factory flyer distributed by Ford lists the 2.3L I-4 2V and the 255W V-8 2V as options. A 4-speed manual and a 3-speed automatic transmission could be utilized with any of the engines.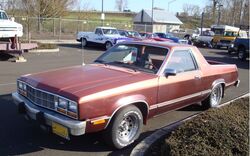 References
Edit
Collectible Automobile magazine February 1995 article "1981-1982 Durango: The Should-Have-Been Ranchero Replacement"
External Links
Edit
Community content is available under
CC-BY-SA
unless otherwise noted.