Jurassic World: Dominion Dominates Fandom Wikis - The Loop
Play Sound
Force Motors founded in 1958 as Bajaj Tempo Ltd. is a manufacturer of three wheelers, multi-utility and cross country vehicles, light commercial vehicles, tractors, buses and now heavy commercial vehicles based in Pune, India. Abhay N. Firodia is the Chairman & Managing Director. In 2005, the company was renamed Force Motors.[1]
Force Motors started production of the HANSEAT 3-Wheelers in collaboration with Vidal & Sohn Tempo Werke, Germany and went on to establish a presence in the "Light Commercial Vehicles" field with the MATADOR, the proverbial LCV in India. Through the 1980s and 1990s, and especially in the last five years with a major product development effort, Force Motors has introduced new Light Commercial Vehicles, a new family of Utility Vehicles, new state-of-the-art Tractors, and a new range of Three-Wheelers.
In 1982, Bajaj Tempo entered into a licensing agreement with what is now Daimler AG to manufacture the Mercedes Benz OM 616 engine.
In 2004, the company firmed up a joint venture with MAN AG of Germany for manufacturing of trucks at Pithampur, the industrial hub of Madhya Pradesh in Indore, India. On 3rd Dec 2008 another agreement was signed between Man AG and Force motors to the effect that both will hold equal (50:50) stake in the JV company Man Force trucks pvt. Ltd.[2] The joint venture was dissolved in 2011.[3]
Tractors are built under the Balwan and Ox, (formerly Tempo Ox), brands,[4] and use Mercedes-Benz derived engines that Force builds.
Model range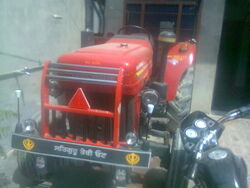 Current models
Current Tractor Models

| Model | Year(s) of Production | Horsepower | Engine Type | Misc Notes | Photo |
| --- | --- | --- | --- | --- | --- |
| Force Orchard Ox 25 | 2005- | 27 hp (20 kW) | Mercedes-Benz derived | | |
| Force Orchard Ox 25 DLX | 2012- | 27 hp (20 kW) | Mercedes-Benz derived | | |
| Balwan 300 | 2003- | 30 hp (22 kW) | | | |
| Balwan 330 | 2013- | 31 hp (23 kW) | | | |
| Balwan 400 | 2003- | 40 hp (30 kW) | Mercedes-Benz derived | | |
| Balwan 450 | 2003- | 45 hp (34 kW) | Mercedes-Benz derived | | |
| Balwan 500 | 2003- | 50 hp (37 kW) | Mercedes-Benz derived | | |
| Balwan 500 DLX | 2012- | 50 hp (37 kW) | Mercedes-Benz derived | | |
| Balwan 600 | 2003- | 60 hp (45 kW) | Mercedes-Benz derived | | |
Former models
Vehicles
Light Commercial vehicles
Force Traveller range of vehicles (including Traveller 26, School Bus, Ambulance, Quick Response Vehicle, Royale)
Small Commercial Vehicles
Shaktiman 200
Shaktiman 400
Multi Utility Vehicles
Force Trax (including Toofan, Cruiser, Cruiser Deluxe)
Force Kargo King
Force Trax Delivery Van
Sports Utility Vehicles (SUVs)
See also
References / sources
External links
Force model range

Balwan tractor Models
Force tractor Models
Tempo Ox tractor Models
Force Automotive Models

Trax Judo

 •

Bajaj Tempo Hanseat

 •

Tempo Bajaj Matador

 •

Bajaj Tempo Minidor
Early Makes - pre 1940s

1940s to 1980s

Modern post 1980s

Independents
North America

Europe

India & Pakistan

Middle East
(Turkey, Iran,
Iraq, Syria etc...)

Far East
(Australasia, China,
Japan, Korea, Thailand,
Vietnam etc...)

South America
(Argentina, Brazil,
Uruguay etc)

Africa

Asia
(Russia, Tajikstan,
Uzbekistan, Ukraine)

Specialist types of tractor

Notable People - associated with the tractor industry

Inventors
Economy of India

Transport in India

Indian Vehicle Manufacturers

Indian-foreign
joint venture vehicle
manufacturers

Active

Eicher Polaris

Tata Marcopolo

VE Commercial Vehicles

Defunct

Components

Anand Group

JAI

JK Tyre

Motherson Sumi Systems

Rane

ZF Electronics TVS

Subsidiaries of
foreign companies
Design studios

TACO Faurecia Design Center

Other

ACMA of India

Auto Expo

NHA of India

Category