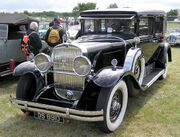 Fleetwood Metal Body was an automobile coachbuilder. The name derives from Fleetwood, Pennsylvania, USA, home of the company at the start, and lived on for decades in the form of the Cadillac Fleetwood and various Fleetwood trim lines on Cadillac cars.
The company was formed on April 1, 1909. It was a top-tier producer of metal and wood automobile bodies. Fleetwood bodies graced cars owned by Royalty of India and Japan, American presidents, and screen stars like Rudolph Valentino. Fleetwood produced bodies on chassis from Bentley, Cadillac, Chadwick, Daniels, Duesenberg, Fiat, Isotta Fraschini, Lincoln, Mercedes-Benz, Packard, Pierce-Arrow, Reading, Rolls Royce, SGV, and Stutz.
Fleetwood was purchased by Fisher Body in 1925, moved to Detroit, and integrated into General Motors in 1931. Similar to LeBaron, Fleetwood continued to build bespoken bodies for several years, mainly for Cadillac. In the early 1930s Fleetwood bodied Cadillacs often wear a sweep panel across cowl and hood. After 1934 and before Fleetwood was made a model name of Cadillac, it was responsible for elaborate detailing on expensive Cadillac with standard bodies.
See also: Cadillac Fleetwood
References / sources
Edit
External links
Edit
This list of companies is under construction. (These are not just 'bus body' builders but also car bodies)
Please add any missing models or new pages for this make

Former UK
Current UK
North American

-

European
Rest of world

-

Other related articles
People
Community content is available under
CC-BY-SA
unless otherwise noted.