A flat engine is an internal combustion engine with multiple pistons that move in a horizontal plane. Typically, the layout has cylinders arranged in two banks on either side of a single crankshaft and is sometimes known as the boxer, or horizontally-opposed engine. The concept was patented in 1896 by engineer Karl Benz. It should not to be confused with the opposed-piston engine, in which each cylinder has a piston at both ends and no cylinder head.
Another widely used form of flat engine consists of a straight engine with two, three, four or more cylinders canted 90 degrees into the horizontal plane, however this is not generally considered significantly different from other straight engines.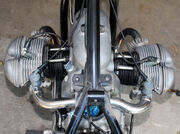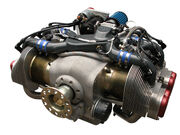 Flat engines offer a low centre of gravity and thereby may offer a drive configuration with better stability and control. Flat engines lend themselves well to aircraft engines.
Front-mounted air-cooled flat-twin engines were used in Tatra 11 and Tatra 30, by Citroën in their model 2CV and its derivatives, while the GS and GSA. Oltcit used a flat-four and a flat-six was proposed for the Citroën DS but rejected. BMW has used air- or air/oil-cooled flat-twin engines in its motorcycles from 1923 until the present day. Cars such as the Porsche 911 use a flat-engine (in that particular case a six-cylinder) at the rear of the car, where its extra width does not interfere with the steering of the front wheels and there is a weight-saving since no prop-shaft is required.
All versions of the Subaru Impreza, Forester, Tribeca, Legacy, Outback, Baja and SVX use either a flat-4 or flat-6 engine.
True boxers have each crankpin controlling only one piston/cylinder while 180° engines, which superficially appear very similar, share crankpins.
Boxer engines must not be confused with opposed-piston engines, which are essentially the inverse, with two pistons compressing a single combustion space. These can be used in vehicles such as tanks.
Boxer engines got their name because each pair of pistons moves simultaneously in and out rather than alternately, like boxers showing they are ready by clashing their gloved fists against each other before a fight. Boxer engines of up to eight cylinders have proved highly successful in automobiles and up to six cylinders in motorcycles and continue to be popular for light aircraft engines.
Boxers are one of only three cylinder layouts that have a natural dynamic balance; the others being the straight-6 and the V12. These engines can run very smoothly and free of unbalanced forces with a four-stroke cycle and do not require a balance shaft or counterweights on the crankshaft to balance the weight of the reciprocating parts, which are required in other engine configurations. Note that this is generally true of boxer engines regardless of the number of cylinders (assumed to be even), but not true for all V or inline engines. However, in the case of boxer engines with fewer than six cylinders, unbalanced moments (a reciprocating torque also known as a "rocking couple") are unavoidable due to the "opposite" cylinders being slightly out of line with each other.
Boxer engines (and flat engines in general) tend to be noisier than other common engines for both intrinsic and other reasons, e.g., in cars, valve clatter from under the hood is not damped by large air filters and other components. Boxers need no balance weights on the crankshaft, which is lighter and fast-accelerating. They have a characteristic smoothness throughout the rev range and offer a low centre of gravity. When combined with a mounting position immediately ahead of the rear axle (e.g. Porsche Boxster and Cayman but not Porsche 911 nor Volkswagen Beetle), they have largely neutral handling.
Community content is available under
CC-BY-SA
unless otherwise noted.