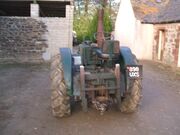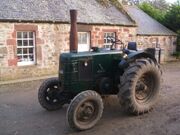 Field Marshall Series 1 MK2
Model history
Model introduced

Unknown

Model discontinued

Unknown

Model status

Unknown

Discontinued
Power hp

Unknown

Cooling system
Water
Transmission Details
Transmission type
Unknown
Drive
2WD
Linkage Category
Unknown
Other info
Factories
Gainsborough, Lincolnshire, England
Plow rating

Unknown
The Field Marshall Series 1 MK2 was built by Marshall, Sons & Co. of Gainsborough, Lincolnshire, England from 194? till 194?.
Field Marshall Series 1 MK II was mainly used by forestry contractors & Threshing Mill Contractors,
Model history / description
For Marshall & Co. tractor history, see Field Marshall.
It came with a Marshall built winch fitted snugly under the rear platform.
An electric lighting set came as standard with the Series 1 MKII and consisted of a single headlamp, 2 x side light & a rear number plate light, an optional rear ploughing light was also available .
Improved brakes were also added as this tractor was designed to pull heavy loads it required better brakes for stopping, Rear drum brakes were fitted as well as the standard transmission brake.
A Rag Top (canvas) canopy was fitted as an optional extra as was a threshing top exhaust which added about 1ft in height to the standard exhaust, It should be noted the threshing top exhaust had a flared top to it unlike the standard cigar shaped silencer common among Marshall Series 1 tractors.
All Series 1's were painted in Mid-Brunswick Green paint with Silver wheels
Identification
The easiest way to tell a series 1 from a series 2 is the rear hubs, if they stick out from the center then its a series 1, where the later series 2 models have a flush hub with 2 x 3/4 whitworth plugs fitted for brake drum removal purposes.
Serial numbers
The Tractors run from sn ? to sn ?
Photo gallery
The Series 1 MK II in the pictures is owned by Cameron Anderson, and is one of the most original condition tractors in preservation in the UK.
Preserved examples
add details of surviving examples of the Field Marshall Series 1 MkII, here
Field Marshall Series 1 MK2/PML
See also
References / sources
External links