Main article: CNH Global
The Fiat tractor company is now part of the giant CNH Global group which is the agricultural and construction machinery subsidiary of the Fiat Group. Fiat began building tractors in 1919. They grew in part by buying up smaller competitors.
Tractor Co history required. (Can you help and expand it) ?
Fiat started building tractors in 1919. But the parent company "Fabbrica Italiana de Automobili Torino "FIAT" was founded in 1899 to build cars and rapidly diversified. They started tractor development in 1910, but the First World War delayed the work. The first model called the Fiat 702 was launched in 1919 with a 30 hp (22 kW) 6.2 ltr. truck engine. The designs advanced as it used unit construction, unlike most early machines with chassis. The tractor was a big machine and in Britain cost 5-times the Fordson price.[1]
The Fiat 702 was replaced by the lighter Fiat 700 model in 1927, which also was built in a Crawler version, the Fiat 700C. After the war, smaller tractors were in demand and the Fiat LePiccola was introduced, followed by the modern Fiat 500 in the 1960s (Not the Car).
From the 1960 production grew rapidly with license agreements to build machines in counties like Romania and Turkey with Universal (UTB) and Turk Traktor, respectively. In the 1970s a whole range of modern machines were introduced with the 100 series. And in 1990 they introduced the 90 series and became the biggest manufacturer in Europe after building 1/2 million tractors.
The company later sold some of the American Allis-Chalmers models as Fiats in the UK, and then took over the Allis corporations UK construction business to form Fiat-Allis. In 1991, Fiat merged the existing tractor division with the Ford New Holland Agricultural business that they bought off Ford when Ford decided to divest non-core businesses as the market had slumped in the late 1980s and a large investment was needed for new lines and the proposed Teir II engine emissions regs. After adding the Case IH business later on, they formed CNH Global to compete with the giant AGCO group (which was partially the Allis Gleaner Corporation from the USA). Fiat badge-engineered the models from the mid-1990s and launched the 66 series.
Fiat also built tractors that were sold a Oliver and White, and purchased tractors from Versatile to rebadge as Fiat.
Acquisitions
Edit
Joint Ventures/Licensees
Edit
Tractor Model range
Edit
Main article: List of Fiat Tractor Models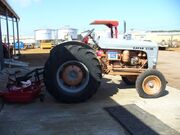 1960s
1970s
1980s and 90s
Modern models
Edit
Preservation tractors
Edit
Very few examples of early Fiat tractors are in UK collections.
If you know of any please list them here!
The latter model Fiats in the Orange are now starting to become classed as a Classic and the odd high HP model has been preserved in semi retirement. Being used for ploughing matches and working days "play".
References
Edit
other group co articles for basic history
Magazines for model no. list
External links
Edit
| | |
| --- | --- |
| | Add any external links that directly relate to this articles subject and have more info or have related images. Other general external links can be added to the web Site Links list. |
Early Makes - pre 1940s

1940s to 1980s

Modern post 1980s

Independents
North America

Europe

India & Pakistan

Middle East
(Turkey, Iran,
Iraq, Syria etc...)

Far East
(Australasia, China,
Japan, Korea, Thailand,
Vietnam etc...)

South America
(Argentina, Brazil,
Uruguay etc)

Africa

Asia
(Russia, Tajikstan,
Uzbekistan, Ukraine)

Specialist types of tractor

Notable People - associated with the tractor industry

Inventors