Fiat 44-35
Model history
Model introduced
1979
Model discontinued
1982
Model status
Discontinued
Engine Specification
Engine make
Cummins
Engine model
VT-903-C350
Fuel type
Diesel
Power hp
350
Power kW
260
Governed rpm
2100
No. of Cylinders
6
Cooling system
Water
Transmission Details
Transmission type
Unknown
Forward
12
Reverse
4
Drive
4WD
Linkage Category
Unknown
Tractor Dimensions
Turning circle (nominal) inches/meters
16.9 ft
Other info
Factories
Winnipeg, Manitoba, Canada
Plow rating

Unknown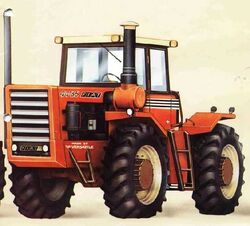 The Fiat 44-35 tractor is built in Canada by Versatile for Fiat for sale in Italy. It features a 350 hp (260 kW) Cummins engine.
Model history
For brand history, see Fiat Tractor Company.
References
Ultimate Tractor Power, Vol. 1, Peter D. Simpson, Japonica Press, 2000, pgs. 116-119
External links
A through Z

A-50

 •

Agrar 500

 •

D16

 •

D-86-F

 •

F100

 •

F110

 •

F115

 •

F120

 •

F130

 •

F140

 •

G170

 •

G190

 •

G210

 •

G240

 •

Ghazi

 •

M50

 •

Montanina 215

 •

Piccola 18-61

 •

Piccola 215 DT

 •

Piccola Elettrica

 •

R-60

 •

R 450

 •

U25

00 - 65

10-66

 •

18 La Picola

 •

25 R

 •

35-66 DT

 •

44-23

 •

44-28

 •

44-33

 •

44-35

 •

44-38

 •

45-66

 •

45-66 City

 •

45-66 DT

 •

45-66 S DT

 •

45-66 V

 •

45-66 V DT

 •

45-76 DT

 •

50-66

 •

50-66 DT

 •

50-66 S DT

 •

50-86

 •

50-86 City

 •

50-86 V

 •

50-86 V DT

 •

54C

 •

55

 •

55-46

 •

55-46 DT

 •

55-56

 •

55-56 DT

 •

55-56 Hi-Crop

 •

55-56 S

 •

55-66

 •

55-66 DT

 •

55-66 DT City

 •

55-66 F

 •

55-66 F DT

 •

55-66 DT V

 •

55-66 S

 •

55-66 S DT

 •

55-66 F

 •

55-66 V

 •

55-66 V DT

 •

55-76

 •

55-76 DT

 •

55-76 F DT

 •

55-76 V

 •

55-76 V DT

 •

55-86 V

 •

55-86 V DT

 •

55-88

 •

55-90

 •

55-90 DT

 •

60R

 •

60-56

 •

60-56 S

 •

60-66

 •

60-66 DT

 •

60-66 F

 •

60-66 F DT

 •

60-66 F high clearance

 •

60-66 LP DT

 •

60-66 S DT

 •

60-76

 •

60-76 F

 •

60-86

 •

60-86 DT City

 •

60-86 Industrial

 •

60-86 F DT

 •

60-86S

 •

60-86S DT

 •

60-86V DT

 •

60-88

 •

60-88 DT

 •

60-90

 •

60-90 DT

 •

60-94 DT

 •

62-86

 •

65-46

 •

65-46 DT

 •

65-56 DT

 •

65-66

 •

65-66 DT

 •

65-66 S

 •

65-66 S DT

 •

65-88

 •

65-88 DT

 •

65-90

 •

65-90 DT

 •

65-93 DT

 •

65-94

70 - 180

70-56

 •

70-66

 •

70-66 DT

 •

70-66 F

 •

70-66 F DT

 •

70-66 S

 •

70-66 S DT

 •

70-66 V

 •

70-75

 •

70-76 DT

 •

70-76 F

 •

70-76 F DT

 •

70-76 V

 •

70-86

 •

70-86 V

 •

70-86 V DT

 •

70-86 S DT V

 •

70-88

 •

70-88 DT

 •

70-90

 •

70-90 DT

 •

72-86 DT

 •

72-86 F DT

 •

72-93 DT

 •

72-94

 •

72-94 DT

 •

80R

 •

80-66

 •

80-66 DT

 •

80-66 F DT

 •

80-66 S

 •

80-66 S DT

 •

80-76 DT

 •

80-76 F DT

 •

80-88 DT

 •

80-90

 •

80-90 DT

 •

80-90 DTH

 •

82-80

 •

82-86 F

 •

82-86 DTF

 •

82-93 DT

 •

82-94

 •

85-90 DT

 •

85-90 Turbo DT

 •

88-66

 •

88-93 DT

 •

88-94

 •

88-94 DT

 •

88-99 DT

 •

90-90

 •

90-90 DT

 •

90-90 S

 •

90-95

 •

95-90

 •

95-90 DT

 •

100-90

 •

100-90 DT

 •

100-90 DT Industrial

 •

100-90 DTH

 •

110-80 DT

 •

110-90

 •

110-90 DT

 •

115-80

 •

115-80 DT

 •

115-90

 •

115-90 DT

 •

115-90 H DT

 •

120-F

 •

120-R

 •

121 R

 •

130-90 Turbo

 •

130-90 DT

 •

130-90 Turbo DT

 •

140-90 DT

 •

140-90 Turbo DT

 •

150-90 Turbo DT

 •

160-90 Turbo DT

 •

170-90

 •

180-90 Turbo DT

200s - 500s

211R

 •

211Rb

 •

211Rb Hi-Clearance

 •

215

 •

215 M

 •

215 N

 •

220

 •

221R Frutetto

 •

231R

 •

231R Vigneto

 •

250

 •

250 DT

 •

251R Mountaineer

 •

251T Montagnina

 •

300

 •

300 DT

 •

300 DT H

 •

311

 •

312R

 •

315

 •

342

 •

342R

 •

350

 •

350 Special

 •

350 Special DT

 •

366

 •

400

 •

400E

 •

400 High Crop

 •

400 vineyard

 •

400-1

 •

411 Hi-Crop

 •

411R

 •

411Rb

 •

415

 •

415b

 •

415R

 •

415V vineyard

 •

420

 •

420 DT

 •

420 DT KL II

 •

421R

 •

431R

 •

441R

 •

446

 •

446 DT

 •

450

 •

450 DT

 •

450 DTH

 •

450 H

 •

450 S

 •

450 S DT

 •

450-8

 •

460 DT

 •

466

 •

466 DT

 •

470 City

 •

470 DT

 •

470 DTA

 •

470 DTE

 •

470 DTV

 •

470 V

 •

474

 •

474 DT

 •

474 V

 •

474 V DT

 •

480

 •

480 DT

 •

480 DT vineyard

 •

480 DTH

 •

480 S

 •

480 Special

 •

480-8

 •

481R

 •

488

 •

488 Special

 •

500

 •

500 DT

 •

500 DTH

 •

500E

 •

500 S

 •

500 S DT

 •

500 Special

 •

501

 •

513R

 •

540

 •

540 DT

 •

540 DTH

 •

540 DTH Special

 •

540 S

 •

540 Special

 •

550

 •

550 DT

 •

550 DTH

 •

566

 •

566

 •

566 DT

 •

566E

 •

566E DT

 •

566E F

 •

570

 •

570 DT

 •

570E

 •

570F

 •

570F DT

 •

570S

 •

570V

 •

570V DT

 •

580

 •

580 DT

 •

580 High Crop

 •

580R

600s - 1880

600

 •

600 DT

 •

600E

 •

600H

 •

600S

 •

602

 •

612

 •

615

 •

640

 •

640 DT

 •

640 90th Anniversary

 •

640 DT

 •

640 DTH

 •

640 Special

 •

642 DTH

 •

650

 •

650E

 •

666

 •

666 DT

 •

666 DTH

 •

666E

 •

666E DT

 •

666E F

 •

670

 •

670 DT

 •

670 DT H

 •

670 F

 •

670 F DT

 •

670 S

 •

680

 •

680 DT

 •

680 DTH

 •

680H

 •

700

 •

700 (Standard)

 •

700A

 •

700B

 •

700E

 •

700N

 •

700U (Universal)

 •

702

 •

703

 •

703B

 •

715

 •

740

 •

742 R

 •

750

 •

750 DT

 •

750 S (Special)

 •

760E

 •

766

 •

766

 •

766 DT

 •

766E

 •

766E DT

 •

766E F

 •

780

 •

780 DT

 •

780 DTH

 •

780 High Crop

 •

780E

 •

780E DT

 •

780R

 •

800

 •

800E

 •

840

 •

850

 •

850 DT

 •

850 DTH

 •

880

 •

880 DT

 •

880E

 •

880E DT

 •

880-5

 •

880-5 DT

 •

888E

 •

900

 •

900 (Argentina)

 •

900E

 •

980

 •

980 DT

 •

980 DT 5

 •

980E

 •

980E DT

 •

1000

 •

1000 DT

 •

1000 DTH

 •

1000 Super

 •

1000 DT Super

 •

1080E

 •

1080E DT

 •

1100 Super

 •

1100E

 •

1180

 •

1180 DT

 •

1180 DTH

 •

1280

 •

1300

 •

1300 DT

 •

1300 DTH

 •

1300 Super

 •

1300 DT Super

 •

1380

 •

1380 DT

 •

1580

 •

1580 DT

 •

1880 DT

Vineyard/Fruit models

45-66 V

 •

45-66 V DT

 •

50-86 V

 •

50-86 V DT

 •

55-66 DT V

 •

55-66 V

 •

55-66 V DT

 •

55-76 V

 •

55-76 V DT

 •

55-86 V

 •

55-86 V DT

 •

60-86V DT

 •

70-66 V

 •

70-76 V

 •

70-86 V

 •

70-86 V DT

 •

70-86 S DT V

 •

120-F

 •

231R Vigneto

 •

400

 •

415V

 •

470 DTV

 •

470 V

 •

474 V

 •

474 V DT

 •

480 DT

 •

570V

 •

570V DT

 •

640 90th Anniversary

 •

700U (Universal)

 •

D-86-F

Industrial/Communial (City) tractors

45-66 City

 •

50-86 City

 •

55-66 DT City

 •

60-86 DT City

 •

60-86 Industrial

 •

100-90 DT Industrial

 •

470 City

Crawler tractors

14B crawler

 •

25 C crawler

 •

25 CI crawler

 •

25 CS crawler

 •

40 CA crawler

 •

50 CA crawler

 •

55L crawler

 •

55-65 crawler

 •

55-75 crawler

 •

55-75 V crawler

 •

55-76 crawler

 •

55-85 crawler

 •

55-85 ? crawler

 •

55-85 V crawler

 •

60C crawler

 •

60CI crawler

 •

60CS crawler

 •

60-65 crawler

 •

60-65 V crawler

 •

60-75 crawler

 •

60-85 crawler

 •

60-85 V crawler

 •

62-85 crawler

 •

70 crawler

 •

70C crawler

 •

70CI crawler

 •

70-65 crawler

 •

70-75 crawler

 •

70-76 DT crawler

 •

72-85 FD crawler

 •

80C crawler

 •

80 CA crawler

 •

80-65 crawler

 •

82-85 FD crawler

 •

82-85M crawler

 •

90C crawler

 •

95-55 crawler

 •

100C crawler

 •

120C crawler

 •

120C Super crawler

 •

130C crawler

 •

150C crawler

 •

160-55 crawler

 •

160-55 Turbo crawler

 •

180C crawler

 •

180-55 crawler

 •

220C crawler

 •

311C crawler

 •

312 crawler

 •

312C crawler

 •

331C crawler

 •

332C crawler

 •

351C crawler

 •

352C crawler

 •

352C Montagna crawler

 •

355C crawler

 •

355CM crawler

 •

411C crawler

 •

411CI crawler

 •

431C crawler

 •

450 crawler

 •

451 crawler

 •

451C crawler

 •

455C crawler

 •

455 CI crawler

 •

455 CV crawler

 •

455 M crawler

 •

455 vigneto crawler

 •

465 C crawler

 •

505 C crawler

 •

505 CM crawler

 •

555 C crawler

 •

555 M crawler

 •

565C crawler

 •

601 crawler

 •

605 crawler

 •

605C crawler

 •

605C Super crawler

 •

605 CM crawler

 •

605 CM Super crawler

 •

665 C crawler

 •

700C crawler

 •

765C crawler

 •

805C crawler

 •

855C crawler

 •

955C crawler

 •

1355C crawler

 •

6000N crawler

 •

AD4 crawler

 •

AD4M crawler

 •

AD5 crawler

 •

AD5M crawler

 •

AD5S crawler

 •

AD7 crawler

 •

AD12 crawler

 •

AD14 crawler

 •

AT7c crawler

 •

BD12 crawler

 •

BD14 crawler

 •

BT7c crawler

 •

F60CS crawler

 •

FL4 crawler

 •

FL4C crawler

 •

FL4E crawler

 •

FL6 crawler

 •

FL8 crawler

 •

FL8C crawler

 •

FL14B crawler

 •

LD 10 crawler

Note this list is under development
please add the model of any page this template is added to
(please fix omission / correct errors of dates)
Early Makes - pre 1940s

1940s to 1980s

Modern post 1980s

Independents
North America

Europe

India & Pakistan

Middle East
(Turkey, Iran,
Iraq, Syria etc...)

Far East
(Australasia, China,
Japan, Korea, Thailand,
Vietnam etc...)

South America
(Argentina, Brazil,
Uruguay etc)

Africa

Asia
(Russia, Tajikstan,
Uzbekistan, Ukraine)

Specialist types of tractor

Notable People - associated with the tractor industry

Inventors