FengShou tractors were manufactured at the Jiangxi Tractor Plant in Nanchang, Jiangxi, China. FengShou means Harvest or Abundant Harvest. The tractor plant went bankrupt, and its assets were sold to the Jiangling Motor Corporation in 1999. The factory was reopened as the Jiangling Tractor Factory .[1] Some are still sold under the FengShou name.
Main article: Jiangling
See Jiangling for more information.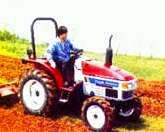 Models
FengShou Tractor Models

| Model | Year(s) of Production | Horsepower | Engine Type | Misc Notes | Photo |
| --- | --- | --- | --- | --- | --- |
| FengShou 18LE | | 18 hp (13 kW) | | | |
| FengShou FS180 | | 18 hp (13 kW) | | | |
| FengShou FS180-3 | | 18 hp (13 kW) | | | |
| FengShou FS180-3T | | 18 hp (13 kW) | | | |
| FengShou FS182-3T | | 18 hp (13 kW) | | | |
| FengShou FS184 | | 18 hp (13 kW) | | | |
| FengShou FS200 | | 20 hp (15 kW) | | | |
| FengShou FS250 | | 25 hp (19 kW) | | | |
| FengShou FS254 | | 25 hp (19 kW) | | | |
| FengShou FS254 Es | | 25 hp (19 kW) | | | |
| FengShou FS274 | | 27 hp (20 kW) | | | |
| FengShou FS280 | | 28 hp (21 kW) | | | |
| FengShou FS300 | | 30 hp (22 kW) | | | |
| FengShou FS304 | | 30 hp (22 kW) | | | |
| FengShou FS320 | | 32 hp (24 kW) | | | |
| FengShou FS350 | | 35 hp (26 kW) | | | |
| FengShou MLS605DI | | 60 hp (45 kW) | Mahindra | | |
| FengShou MLS705DI | | 70 hp (52 kW) | Mahindra | | |
References
FengShou tractor range

Models
Early Makes - pre 1940s

1940s to 1980s

Modern post 1980s

Independents
North America

Europe

India & Pakistan

Middle East
(Turkey, Iran,
Iraq, Syria etc...)

Far East
(Australasia, China,
Japan, Korea, Thailand,
Vietnam etc...)

South America
(Argentina, Brazil,
Uruguay etc)

Africa

Asia
(Russia, Tajikstan,
Uzbekistan, Ukraine)

Specialist types of tractor

Notable People - associated with the tractor industry

Inventors