Obi-Wan Finale - The Loop
Play Sound
For other uses, see
Fastback (disambiguation)
.
A fastback is a car body style whose roofline slopes continuously down at the back. The word can also designate the car itself.[1][2] The style is seen on two-door coupés as well as four-door sedans.
History
Automobile designs that were ahead of their time when exhibited during the early 1930s included "teardrop streamlining at the rear, similar to what would become known as 'fastback' 25 years later."[3] 'Fastback' was first recognized as a definition by Merriam-Webster in 1954, many years before the term 'hatchback' was popularized and entered the dictionary in 1970.[4] Opinions vary as to whether the terms are mutually exclusive.
A contributor to an automotive-interest website singles out the unusual Stout Scarab from the early 1930s as "[p]ossibly the epitome of the early fastback definition".[5] The Packard 1106 Twelve Aero Sport Coupe,[6] introduced in 1933, is cited elsewhere as a fastback that foreshadowed trends which continued into the 1940s.[7]
Early European fastback automobiles include: Bugatti Type 57 Atlantic, Porsche 356, Saab 92/96, Standard Vanguard, GAZ-M20 Pobeda, and Bentley Continental R-Type.
Numerous fastbacks were also made in America, where the style was previously called "torpedo back".[8] They included Cadillac's Series 61 and 62 Club Coupes as well as various models from General Motors, Ford, and Chrysler.
At the 2007 EyesOn Design annual car show, entries from the mid-1930s to the mid-1950s in a class called "Fabulous Fastbacks" included Nash Ambassador, Buick Roadmaster and Hudson Commodore models.[5] A "Return of the Fastbacks" class at this show included examples from the 1960s and 1970s with a Buick Riviera, Ford Mustang Cobra, and an AMC AMX among others.[5]
At a 2007 concours d'élégance in England, a similarly named class for 1950s cars attracted examples from Maserati,[9] Lancia,[10] Fiat [11] and Ferrari.[12]
Aerodynamic advantages
Fastbacks provide an advantage in developing aerodynamic vehicles with a low drag coefficient.[13] The Kamm tail is a related concept. The trend towards a more steeply raked rear window on traditional three-box sedans blurs the distinction between fastback and notchback designs. The current Lexus LS460 exemplifies the trend. However, the roof of a true fastback design slopes down continuously to the rear, most often to the base of the trunk at the rear bumper. There is no distinct change of angle to a rear deck, whereas most four-door cars with steeply raked rear windows have less angled trunk lids; also high tails to maximize cargo space. In 2008, the fastback design appeared on a concept car that almost defies categorization, the Chrysler ecoVoyager, that "Jack Telnack, former design chief for the Ford Motor Company, declared, 'It's a fastback van.'"[14] New types of crossover vehicles and different body proportions made possible by technological advances and new powerplants, are changing the shape of automobiles. Traditional nomenclature describing distinct vehicle bodies, such as the three-box sedan (engine compartment, passenger cabin and trunk) will vanish.[14]
Fastback types
Hatchbacks and liftbacks
When the rear window of a car with a fastback profile is integral to a lid or 'fifth door' (i.e. a hatch) giving access to the trunk area, the car may also fit the classification of hatchback or liftback. The late-model Toyota Celica and the Chevrolet Vega are examples.
Road & Track's definition of a fastback addresses this distinction: "A closed body style, usually a coupe but sometimes a sedan, with a roof sloped gradually in an unbroken line from the windshield to the rear edge of the car. A fastback naturally lends itself to a hatchback configuration and many have it, but not all hatchbacks are fastbacks and vice versa."[15] Some small family cars have evolved over time from fastbacks into liftbacks without altering their profile, e.g. Fiat 127, Volkswagen Passat, and Citroën GS.
Two-door fastbacks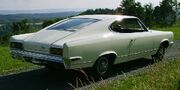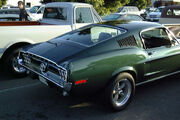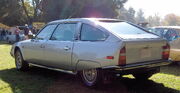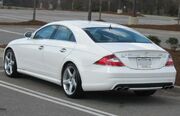 1931-1936 Stout Scarab [16]
1934-1937 Pierce-Arrow[17]
1936-1937 Bugatti Type 57SC Atlantic
1938-2003

Volkswagen Type 1

(Beetle)
1947-1966

Volvo PV

1948-1965

Porsche 356

1948-1949

Cadillac Series 61

and

Series 62

Club Coupe Sedanet(te)[18]
1948-1952

Hudson Commodore

1948-1955

Bristol 401, 402

and

403

1949 Tatra T601 Monte Carlo (Finned Fastback)
1949-1951

Nash Ambassador

Airflyte
1949-1979

Saab 92/96

1950-1950 Martin Stationette[19]
1953-1955 Bentley Continental R-Type
1961-1975 Jaguar E-type[20][21]
1963-present

Porsche 911

1964-1969

Plymouth Barracuda

1965-1967

AMC Marlin

1965-1978, 2005-Present Ford Mustang
1966-1970

Oldsmobile Toronado

1966-1967

Dodge Charger

1966-1973

Volkswagen Type 3

Fastback (dates are from U.S. lineup)
1966-1976

Jensen Interceptor

1967-1973

Maserati Ghibli

1968-1973

Ferrari Daytona

1968-1973

Ford Fairlane Torino/Torino SportsRoof

1968-1978

Lamborghini Espada

1968-1969

Mercury Cyclone

1968-1972

Oldsmobile 442

and

Cutlass

1968-1974

Volkswagen Type 4

1969-1974 Ford Capri
1969-1976

Audi 100 Coupé S

1969-1978

Nissan S30

1970-1981

Chevrolet Camaro

1970-1977

Ford Maverick

and

Mercury Comet

1970-1975

Mitsubishi Galant GTO

1970-1981

Pontiac Firebird

1971-1977

Chevrolet Vega

1971-1980 Ford Pinto
1972-1987

Alfa Romeo Alfetta GTV-6

1975-1980

Buick Skyhawk

1975-1980

Chevrolet Monza 2+2 and Monza Spyder

1975-1988

Nissan Silvia

1975-1980

Oldsmobile Starfire

1975-1977

Pontiac Astre

1976-1977

Mercury Capri II

1976-1980

Pontiac Sunbird

1978-1979

Buick Century

1978-1979

Oldsmobile Cutlass Salon

1979-1987

Mercury Capri

1980-1991 Audi Quattro
1981-1987

Audi Coupé GT

1982-Present

Chevrolet Corvette

1986-1988

Pontiac Fiero

GT
1992-2003

Ferrari 456

1979-2002

Toyota Supra

2003-2005

Smart (automobile)

Roadster Coupe
2004-Present

BMW 645Ci

2004-Present

Ferrari 612 Scaglietti

2004-Present Bentley Continental GT
2006-2009

Pontiac Solstice Coupe

2006-Present

Ferrari 599 GTB Fiorano

2008-Present

Altima Coupe
Four-door fastbacks
1933-1935 Pierce-Arrow Silver Arrow[22]
1933-1936 Riley Nine (Kestrel)
1934-1938

Tatra T77

/T77A (Finned Fastback)
1936-1939

Tatra T97

(Finned Fastback)
1937-1950

Tatra T87

(Finned Fastback)
1946-1952

Tatra T600

Tatraplan (Finned Fastback)
1946-1958 GAZ-M20 Pobeda
1947-1953 Jowett Javelin
1948

Tucker

[23]
1948-1952

Hudson Commodore

1948-1954 Hudson Hornet
1949-1951

Nash Ambassador

Airflyte
1950-1953

Tatra T87-603

1955-1958

GAZ-M72

(M20 4x4 conversion)
1951-1957 FSO Warszawa (Polish M20 clone)
1968-1974

Volkswagen Type 4

1969-1978

Citroën Ami 8

1970-1979

Citroën GS

1972-1982

Lancia Beta

Berlina
1973-1981

Volkswagen Passat

1974-1990

Citroën CX

1975-1984

Lancia Gamma

Berlina
1976-1986 Rover SD1
1978-1980

Buick Century

1978-1980

Oldsmobile Cutlass Salon Brougham

1990-1998

Mazda 323F

2005-Present

Mercedes-Benz CLS-Class

2006-Present

Citroën C6

2009-

Porsche Panamera

2009-

Aston Martin Rapide

2009-

Audi A5 Sportback

2009-

Volkswagen Passat CC

2010-

Audi A7 Sportback

2010-

Honda Crosstour/Accord Crosstour

2011-

MG 6
See also
References
External links