Jurassic World: Dominion Dominates Fandom Wikis - The Loop
Play Sound
It has been suggested that [[::Large family car|Large family car]] be merged into this article or section. (

Discuss

)
A family car is a car classification used in Europe to describe normally-sized cars. The name comes from the suitability of these cars to carry a whole family locally or on vacations. Most family cars are hatchbacks or saloons, although there are MPVs, estates and cabriolets with the same structure as with the other body style. The term covers two types of family cars.
Small family cars
Main article: Compact car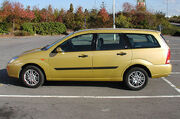 Current small family cars are between 4.20 m (165 in) and 4.35 m (171 in) long if they are hatchbacks, or between 4.40 m (173 in) and 4.55 m (179 in) if they are saloon or estate models. Since the 1990s there have been multi-purpose vehicle based on them, called compact MPVs. Popular small family cars are the Ford Focus, Opel Astra, Peugeot 307, Renault Mégane and Volkswagen Golf.
In North America, which uses a different classification system, cars of this size are generally referred to as compact cars, and the term "family car" is almost never used to describe a vehicle in this class.
Large family cars
Main article: Large family car
Large family cars were usually around 4.50 m (177 in) in length by the early 1990s, but are now shifting to 4.70 m (185 in) or more in length. Examples of large family cars include the Ford Mondeo, Opel Vectra, Renault Laguna, and the Volkswagen Passat.
Equivalently sized cars in North America are usually called mid-size cars; the term "family car" is fairly often used to refer to a vehicle in this class. Examples include the Ford Fusion, Chevrolet Malibu and the Buick LaCrosse.
See also