This article is about the type of vehicle. For other uses, see
Electric bus (disambiguation)
.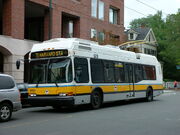 An electric bus is a bus powered by electricity.
There are two main electric bus categories:
Non-autonomous electric buses:

The trolleybus is a type of electric bus powered by two

overhead electric wires

, with

electricity

being drawn from one wire and returned via the other wire, using two roof-mounted

trolley poles

.

The onboard stored-electricity bus (autonomous electric buses):

Battery electric bus

and capabus
For information on buses using a combination of internal combustion engines and electric propulsion, see Hybrid electric buses and Dual-mode buses.

Capabus
Main article:

Capabus

See also:

Ultracapacitor
The best ultracapacitors can only store about 5 percent of the energy that lithium-ion batteries hold, limiting them to a couple of miles per charge. This makes them ineffective as an energy storage medium for passenger vehicles. But what ultracapacitors lack in range they make up in their ability to rapidly charge and discharge. So in vehicles that have to stop frequently and predictably as part of normal operation, energy storage based exclusively on ultracapacitors begins to make sense.[2]
China is experimenting with a new form of electric bus, known as Capabus, which runs without continuous overhead lines by using power stored in large onboard electric double-layer capacitors, which are quickly recharged whenever the vehicle stops at any bus stop (under so-called electric umbrellas), and fully charged in the terminus.
A few prototypes were being tested in Shanghai in early 2005. In 2006, two commercial bus routes began to use electric double-layer capacitor buses; one of them is route 11 in Shanghai.[3] In 2009, Sinautec Automobile Technologies,[4] based in Arlington, VA, and its Chinese partner, Shanghai Aowei Technology Development Company[5] are testing with 17 forty-one seat Ultracap Buses serving the Greater Shanghai area since 2006 without any major technical problems.[6] Buses in the Shanghai pilot are made by Germantown, TN-based Foton America Bus Co.[7] Another 60 buses will be delivered early next year with ultracapacitors that supply 10 watt-hours per kilogram.
Foton America Bus Co is in talks with New York City, Chicago, and some towns in Florida about trialing the buses.
The buses have very predictable routes and need to stop regularly, every 3 miles (4.8 km), allowing opportunities for quick recharging. The trick is to turn some bus stops along the route into charging stations. At these stations, a collector on the top of the bus rises a few feet and touches an overhead charging line. Within a couple of minutes, the ultracapacitor banks stored under the bus seats are fully charged. The buses can also capture energy from braking, and the company says that recharging stations can be equipped with solar panels. A third generation of the product, which will give 20 miles (32 km) of range per charge or better. [2]
Sinautec estimates that one of its buses has one-tenth the energy cost of a diesel bus and can achieve lifetime fuel savings of $200,000. Also, the buses use 40 percent less electricity compared to an electric trolley bus, mainly because they are lighter and have the regenerative braking benefits. The ultracapacitors are made of activated carbon, and have an energy density of six watt-hours per kilogram (for comparison, a high-performance lithium-ion battery can achieve 200 watt-hours per kilogram), but the ultracapacitor bus is also cheaper than lithium-ion battery buses, about 40 percent less expensive, with a far superior reliability rating.[2][6]
There is also a plug-in hybrid version, which also uses ultracaps.
Future developments
Sinautec is in discussions with MIT's Schindall about developing ultracapacitors of higher energy density using vertically aligned carbon nanotube structures that give the devices more surface area for holding a charge. So far, they are able to get twice the energy density of an existing ultracapacitor, but they are trying to get about five times. This would create an ultracapacitor with one-quarter of the energy density of a lithium-ion battery.[8]
Future developments includes the use of inductive charging under the street, to avoid overhead wiring. A pad under each bus stop and at each stop light along the way would be used.
Solar-charged
Main article:

Solar-charged vehicle
Tindo is an experimental battery electric bus being tested in Adelaide, Australia. The word "Tindo" comes from the aboriginal word for sun. The bus will get its electricity from a photovoltaic system on Adelaide's central bus station. Rides are free as part of Adelaide's public transport system.[9]
Zinc
There is a 40-foot (12 m) pure electric bus being developed, using a pre-commercial battery technology. Electric Fuel Corporation is developing and demonstrating a 40-foot (12 m) electric bus powered by a zinc air cell,[10] along with an ultracapacitor. The zinc-air energy device, often described as a battery, converts zinc to zinc oxide in a process that provides energy to the bus. The bus is not recharged; instead, the zinc oxide cartridges are swapped out for new zinc ones. This bus has shown a range of over 100 miles (160 km) in testing and has been demonstrated in Las Vegas, Nevada. However, this technology is in the development phase, and several major hurdles must be overcome before it can be adopted for transit fleet use, including available refueling infrastructure or use in bus stations.[11]
Onboard solar panels
Main article:

Solar vehicle
Air conditioning
Solar panels and supercapacitors are used in some electric buses to power the specific air conditioning circuit.
Makers and models
See also: Coachbuilder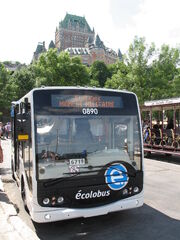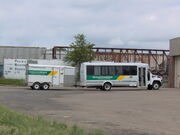 There are currently more than 25 manufacturers of trolleybuses. See Trolleybus makers.
Makers of other types of all-electric buses (mostly battery buses):
Astonbus

,[14]

Marina del Rey, CA

:

E-city

midi and full-size models, with a range between 250 and 500 km. Astonbus is the Zonda Electric bus sole distributor in all EU states.
BredaMenarinibus [15] in Bologna, Italy. Zeus M-200 E model, with

Ansaldo

Electric Drive motor and 288V - 200

Ah

lithium-ion

batteries.
Designline International, in New Zealand: The Tindo solar-electric bus (prototype only).

Jiangsu Alfa Bus

company,[17]

Jiangsu, China

, delivered in Italy by Rama Company.

Lujo EV

, in Weihai City, Shandong Prov., China.[18]:

Lujo YX Bus69 LHD

(9 m, maximum speed 80 km/h, maximum range 220 km).
Mitsubishi Heavy Industries is developing electric buses that are capable of

battery swapping

.
Optare:

Solo EV

.

Proterra

[19] in Golden, CO: 35 feet (11 m) full-size bus

FCBE 35

.
Smith Electric Vehicles, Kansas City, Missouri,

Speedster

and Edison[20] electric minibuses. [21][22]

Specialty Vehicle Manufacturing Corp.

(SVMC) in Downey, CA.

Tecnobus

,[23] in Frosinone, Italy. The Gulliver model is currently used in several cities in Canada, England, France, Germany, Italy, Portugal and Spain.

Thunder Sky Energy Group

[26] of

Shenzhen, China

(near Hong Kong) builds

lithium-ion batteries

and has four models of electric buses, the ten passenger EV-6700 with a range of 260 km (160 mi), the TS-6100EV and TS-6110EV city buses (top speed 80 km/h), and the 43 passenger Thunder-Sky-EV-2008

highway bus

(top speed 100 km/h), which has a range of 300 km (190 mi). The batteries can be recharged in 1 hour or replaced in 5 minutes. The buses are also to be built in the United States and Finland.
Transit use
For information on where trolleybuses are in use, see Trolleybus and

list of trolleybus systems

.
Transit authorities that use battery buses or other types of all-electric buses, other than trolleybuses:
Canada
Québec
Réseau de transport de la Capitale, Quebec City's public transit authority has integrated 8 electric buses to its fleet in 2008 to serve the

Old City

.[32] The Tecnobus Gulliver buses can carry up to 20 passengers and runs on $3.25 worth of electricity per day.[33]
Montreal, bus fleet going all-electric by 2025.[34]
China
Shanghai (

capabuses

).
YanCheng.[35]
Europe
There is an European Union directive that mandates the purchase of electric buses for public services.
Gruppo Torinese Trasporti — Turin, Italy
Spain
United States
Federal Transit Administration Clean Air Program [41]
Anaheim, CA
Atlanta|Atlanta, GA (at Emory University)
Chattanooga, TN
Colorado Springs, CO
Hampton, VA
Los Angeles, CA
Miami Beach
Mobile, AL
New Haven, CT
Santa Barbara, CA
San Francisco, where electric trolleybuses are already commonplace on most SF Muni routes.
California
There is a Californian mandate (Zero Emission Bus, in short, ZBus) that 15% of new buses after 2011 be electric.[42] The ZBus Regulation is part of the Fleet Rule for Transit Agencies, which is also referred to as the Public Transit Agencies Regulation.[43][44]
See also
References
External links