Ebro (Motor Iberica)
Fate
Merged with NISSAN Motors SA
Predecessor
Ford Iberica
Successor
Nissan Motors Espana SA
Founded
1920
Headquarters

Madrid/Barcelona

, Spain
Number of locations
Avila and Cordoba factories
Area served
Europe
Industry
Agricultural machinery Motorvehicles
Products
Farmtractos and Commercial vehicles
Parent
Nissan Motors
Divisions
Agricultural Machinery and Motorvehicles
Ebro was a Spanish brand of light and medium trucks and buses, as well as all-wheel-drive utility vehicles and agricultural tractors, based mainly in Barcelona, Madrid, and Ávila. The company was originally established in 1920 as Ford Iberica. When Ford sold its interest in 1954 and the name was changed to Motor Iberica.[1] The parent company Motor Iberica was taken over by Nissan Motors in 1980.[2]
The Ebro brand first appeared in the 1920s building a Spanish version of the Ford Model T until the Civil War in Spain stopped production.
Ebro started to build British-designed Ford trucks under license, Ebro range being based on Ford's Thames Trader. During the late-1960s and early-1970s the company took over four Spanish light vehicle makers: Fadisa, (Romeo vans), Aisa (Avia trucks), Siata (Seat car derived minivans), and Viasa (various Jeep 4x4s and Forward Control utility vehicles), in addition to the Spanish branch of Perkins engine company.
This resulted in a real frenzy of badge engineering, as one could see Avia-badged Jeeps, Ebro-badged Alfa-Romeos, and so on. Meanwhile, Ebro introduced tilt-cab Ford 'D'-Series derived models for loads of between l'/2 and 7 tons and gradually added new models until the range covered 2- and 3-axle rigids and articulated types from 3 to 27 tons capacity.
The first tractors appeared in 1955 with a Fordson built under license. Other Ford-based tractors followed, until they changed over to building Massey Ferguson tractors under license, which eventually led to the later becoming Motor Iberica controlling shareholder with 36%.
In 1973 they started building Italian Valpadana tractors under license under the Ebro name.
In 1978, Motor Iberica signed an agreement with McKee Bros.' of Ontario, Canada for them to import tractors under the McKee Ebro name.[3]
In 1979 Nissan Motors (not Nissan Diesel, the truck arm) had taken a purchased Massey Ferguson's stake in Motor Iberica, and took complete control in 1987. From then on the company was named Nissan Motor Iberica. By 1982, Nissan had purchased the remaining 55% that it hadn't owned. During a short period from 1986-1994, Japanese Kubota tractors were assembled and marketed in Spain as Ebro-Kubota.[4]
In the 1980, Ebro launched the 'E'-Series trucks range, comprising some six models from 3,500 to 11,200 kg gross, and the 'P'-Series for gross weights of 13,000 to 27,000 kg.
Following the Nissan takeover, a "badge slide" from Ebro to Nissan took place. This was not without surprising occurrences, such as Ebro-badged Nissan Patrols that were sold in some European countries.
Currently, Spanish Nissan trucks are produced in the Avila plant.
Model range
Edit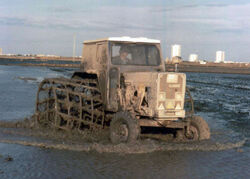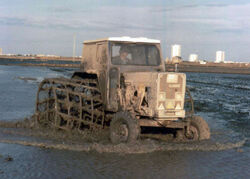 References / sources
Edit
Wikipedia for base article - model ranges and related companies to be added
External links
Edit
Early Makes - pre 1940s

1940s to 1980s

Modern post 1980s

Independents
North America

Europe

India & Pakistan

Middle East
(Turkey, Iran,
Iraq, Syria etc...)

Far East
(Australasia, China,
Japan, Korea, Thailand,
Vietnam etc...)

South America
(Argentina, Brazil,
Uruguay etc)

Africa

Asia
(Russia, Tajikstan,
Uzbekistan, Ukraine)

Specialist types of tractor

Notable People - associated with the tractor industry

Inventors
Community content is available under
CC-BY-SA
unless otherwise noted.