Jurassic World: Dominion Dominates Fandom Wikis - The Loop
Play Sound
Dongfeng Peugeot-Citroën Automobile

Traditional Chinese

神龍汽車有限公司

Simplified Chinese

神龙汽车有限公司

Literal meaning
Dongfeng Peugeot-Citroën Automobile Limited

Transcriptions

Mandarin

-

Hanyu Pinyin

Shén​lóng​ Qì​chē Yǒuxiàn Gōngsī​
Dongfeng Peugeot-Citroën Automobile[1] (DPCA) is a joint venture between the Dongfeng Motor Corporation and the French PSA Peugeot Citroën. Based in Wuhan, capital of Hubei province,China, it manufactures Peugeot and Citroën models for sale in China.[1] Imported models are also sold although by a separate, wholly PSA-owned subsidiary, Peugeot Citroën (China) Automotive Trade Co Ltd.[1]
History
PSA Peugeot Citroën was an early entrant in the Chinese auto market. In 1987, it established a Chinese company, Guangzhou Peugeot Automobile Company, as a joint venture with the government of Guangzhou.[2] This company became defunct by 1997.[1]
Prior to the failure of its first China effort, PSA Peugeot Citroën initiated a second. Building smaller vehicles, specifically the Citroën ZX, it partnered with Dongfeng Motor Corporation, a large, indigenous vehicle maker. Finalized in 1992, this joint venture company was located in Wuhan and was known as Dongfeng Citroën Automobile Company (DCAC). It was the forerunner to the current Dongfeng Peugeot-Citroën Automobile (DPCA).[3]
Established in 1992 producing semi-knocked down cars, by 1996 production capacity had reached 150,000 units/year, and its second offering, the Fukang 988 sedan, was added in 1998.[1] Its first product was a hatchback built from semi-complete knock-down kits, the ZX Fukang.[1]
While most current products are versions of cars offered in other markets, some vehicles have been tailored to better suit local demand, including changing hatchback designs to three-box designs.[4] At least one car, the Citroën C2, was specifically designed for China.[5]
In 2002 DPCA introduced the company's first Peugeot-branded model. This marked a resumption of Peugeot production in China, as a separate joint venture company, the Guangzhou Peugeot Automobile Company, manufactured Peugeot models until 1997.[1]
DPCA has also participated in a number of road-safety awareness campaigns (CSR).[1]
Operations
Production bases and facilities
This joint venture has two production bases in Wuhan, Hebei province.[1]
In May, 2011, DPCA started construction of a 3rd production base, also in Hubei province. With an annual production capacity of 300,000 units, it will add to existing capacity of 450,000 units/year.[6] Such per year production capacity figures may consider vehicles and engines as discrete.
PSA Peugeot Citroën has two facilities in Shanghai an R&D center,[7] the China Tech Center, and a (name-unknown) design center.[7] These locations are not owned by DPCA, but they may contribute to it. The 2010 Citroën Metropolis was designed in Shanghai.
Dealer network
Its dealer network boasts nearly 300 Citroën shops in over 200 Chinese cities and about 170[7] Peugeot showrooms (other sales and service stores that carry and cater to Peugeots do exist).[1] Imported models are usually not carried.[1]
Products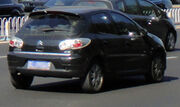 Citroën and Peugeot models sold in China over the years have included the following. Imported models are mainly sold through DPCA dealerships to complement the range of locally produced cars.[1]
Citroën Citroën C2, a compact car based on the Peugeot 206 specifically designed for China. This entered production in September 2006.[8] The Citroën C4 Coupé is imported, as is the Grand C4 Picasso and the Citroën C6.[1] Other locally produced Citroëns include the C5, Elysée, Citroën C-Elysée (sedan and hatchback), Citroën Fukang, Citroën C-Triomphe, and Citroën C-Quatre.[1]
Peugeot 206, 207 (hatchback and three-box), 207 CC (imported), 307 (sedan and hatchback), 307 CC (imported), 308 CC (imported), 308 SW (imported), 407 (imported), 407 SW Coupé (imported), 408, 607 (imported).[1] A Chinese-market version of the Peugeot 508 will soon be produced by the company.[7]
Ownership
As of 2010 DPCA is equally-owned, but this has not always been true.[1] In 2000, ownership was: 31%, Dongfeng Motor Corporation; 39%, Chinese banks; 26.9%, Citroën; 3.1%, international banks.[1]
Sales figures
1996 - 7200
1997 - 28000
1998 - 33400
1999 - 44300
2000 - 52000
2001 - 53200
2002 - 85100
2003 - 103100
2004 - 89100
2005 - 140400
2006 - 201318
2007 - 207500
2008 - 209000[9]
2009 - 272000
2010 - 376000
References
External links