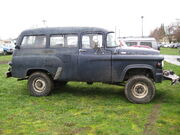 The Dodge Town Panel and Dodge Town Wagon are respectively a Panel truck and a Carryall, manufactured between 1954 and 1966 by Chrysler's Dodge division. The model resembles what would be called an SUV nowadays. A competitor with the Chevrolet Suburban, it was initially available in 2 wheel drive only, but the 4 wheel drive model was ultimately more popular. The Dodge "Town Wagon" model was a "twin" passenger version of the Town Panel. The Town Panel had no windows or seats behind the driver and was more of a commercial-use vehicle. Dodge had previously built panel trucks prior to the Town Panel, but the name didn't exist for these trucks until the Town Wagon was built along with them.
The Town Wagon in four wheel drive configuration was called the Power Wagon Town Wagon, and had a "Power Wagon" badge linking it to the Dodge Power Wagon. The Town Panel and Town Wagon trucks were based upon the design of the Dodge C Series Pickup trucks with round fenders and wraparound windshields. Even after the Dodge D Series pickup trucks with square fenders and flat windshields were released, the Town Wagons retained the 1958 sheet metal design of the C Series pickups and heavy-duty trucks.
External links
Edit
Current
production

Discontinued

Corporate
Community content is available under
CC-BY-SA
unless otherwise noted.