Obi-Wan Finale - The Loop
Play Sound
The A100 (or Forward Control) line was a family of American compact vans and trucks produced by Chrysler Corporation for the Dodge and Fargo brands from 1964–1970, competing with the Ford Econoline and Chevy Van, all inspired by the Volkswagen Type 2. It included a pickup truck and van, both with a "cab forward" design unusual in passenger vehicles. The nose was flat, with the engine placed between the driver and passenger, who sat above the front axle. These unibody vehicles used a short, 90 in (2,300 mm) wheelbase. An A108 was also available from 1967–1970, with a longer 108 in (2,700 mm) wheelbase. The A108 was very popular with camper conversion companies.[1]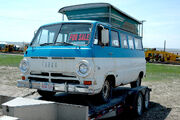 A substantially modified, Hemi-powered A100 wheelstanding exhibition pickup called the "Little Red Wagon" driven by Bill "Maverick" Golden was a popular drag strip attraction in the 1960s through the early 2000s.[2]
Engines
1964-1966 171 in³ (2.8 L)

Slant-6

, 101 hp (75 kW)
1970 198 in³ (3.2 L)

Slant-6

, 125 hp (93 kW)
1964-1970 225 in³ (3.7 L)

Slant-6

, 145 hp (108 kW)
1965-1966 273 in³ (4.5 L)

LA

V8
1967-1970 318 in³ (5.2 L)

LA

V8, 210 hp (160 kW)
L-Series trucks
From 1966-1971, Dodge built L-Series medium-duty Cabover Engine trucks based on the A-100.[3][4]
References
External links
Current
production

Discontinued

Cars

024

 

·

330

 

·

400

 

·

600

 

·

880

 

·

Aries

 

·

Aspen

 

·

Avenger

 

·

Brisa

 

·

Challenger

 

·

Charger (B-body)

 

·

Charger (L-body)

 

·

Charger Daytona

 

·

Colt

 

·

Conquest

 

·

Coronet

 

·

Custom 880

 

·

Dart

 

·

Daytona

 

·

Demon

 

·

Diplomat

 

·

Dynasty

 

·

Intrepid

 

·

La Femme

 

·

Lancer

 

·

Matador

 

·

Mirada

 

·

Monaco

 

·

Neon

 

·

Omni

 

·

Phoenix

 

·

Polara

 

·

SE

 

·

Shadow

 

·

Sierra

 

·

Spirit

 

·

SRT-4

 

·

St. Regis

 

·

Stealth

 

·

Stratus

 

·

Super Bee

Trucks

Corporate