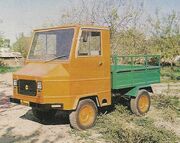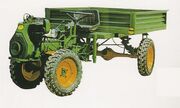 Diana (Διάνα) is the brand name for agricultural machinery produced by Irene Chrissadakou A.E. a company based in Tavros (Athens), Greece. Founded in 1976, it has been one of the most successful in its field, also having managed to survive the crisis in Greek manufacturing industry of the 1980s and 1990s.
Diana has produced a wide range of machinery and accessories. Between 1979 and 1984 it developed and produced a type of light truck in "open" and "closed" cab versions, 18 hp (13 kW) Ruggerini Diesel engine, maximum speed 67 km/h, 1 ton payload and cross-country capability, as well as a number of light tractor models.
L.S. Skartsis, "Encyclopedia of Greek vehicles and aircraft", Achaikes Ekdoseis/Typorama, Patras, Greece (1995) ISBN 960-7620-00-3
L.S. Skartsis and G.A. Avramidis, "Made in Greece", Typorama, Patras, Greece (2003) ISBN 960-7620-30-5 (republished by Patras Science Park, 2007)
Early Makes - pre 1940s

1940s to 1980s

Modern post 1980s

Independents
North America

Europe

India & Pakistan

Middle East
(Turkey, Iran,
Iraq, Syria etc...)

Far East
(Australasia, China,
Japan, Korea, Thailand,
Vietnam etc...)

South America
(Argentina, Brazil,
Uruguay etc)

Africa

Asia
(Russia, Tajikstan,
Uzbekistan, Ukraine)

Specialist types of tractor

Notable People - associated with the tractor industry

Inventors
Community content is available under
CC-BY-SA
unless otherwise noted.