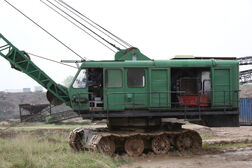 The Demag BL323 was the last universal excavator manufactured by DEMAG in their Duesseldorf construction plant. Originally conceived as B323 in 1954, the later model underwent a series of improvements and enhancements, the most notable of which was the switch from purely mechanical control to a Westinghouse air pressure control system. Over the years the following enhancements were made:
The original

Modag

(Motorenwerke Darmstadt AG) engine was replaced with a 12 cylinder 4 stroke engine manufactured by Deutz.
The excavator was finally equipped with a torque converter, manufactured by

TwinDisc

.
The BL323 was the last true universal excavator manufactured by Demag, i.e. it could be equipped with a face shovel, a back hoe and a boom to work with clam shell, drag line and as a crane.
See also
References / sources
External Links
Add relevant External links here
1900s

 •  •  •  •  •  •  •  •

1910-30s

 •  •  •  •  •  •  •  •

1930s

 •  •  •  •  •  •  •  •

1940s

 •  •  •  •  •  •  •

1950s

 •  •  •  •  •  •  •  •

1960s

 •  •  •  •  •  •  •  •

1970s

 •  •  •  •  •  •  •  •

1980

 •  •  •  •  •  •  •  •

1990s

 •  •  •  •  •  •  •  •  •

Industrial models

 •  •  •  •  •  •

Crawler tractors

 •  •  •

Note this list is under development
please add the model of any page this template is added to
(please fix omission / correct errors of dates)