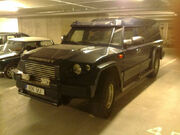 DARTZ (DARTZ Prombron) is a Latvian manufacturer of armored vehicles.[1] Based in the old Russo-Balt factory in Riga, Latvia,[2] DARTZ has recently achieved notoriety for their line of luxury armored SUVs, the T-98 Kombat and the Prombron (Russian: ПРОМБРОНЬ), the latter of which was originally available upholstered in leather made from the foreskin of whale penises.[3]
Dartz are available in several armouring levels from B2 to B7 and in its highest armored form can withstand attacks from rocket propelled granades.
The current model is equipped with a V8 motor. With its choice of 360 hp & 400 hp engines provides this armoured vehicle with a healthy top speed of 180kmh.
Recently, Red Sea Distribution[4] announced that the T-98 Kombat would be available in North America for a list price starting at $225,000.[5]
During the summer of 2010 GTspirit reviewed the Dartz Prombron Wagon in Monaco.[6] The car was presented at Top Marques Monaco as the Monaco Red Diamond Edition. Which included white gold and ruby embedded badges as well as a gold grill. It is speculated that this is the most expensive SUV in the world.
The Dartz Prombon Monaco Red Edition sells for €1,000,000 and comes with gold-plated, bullet-proof windows, an exhaust system made of tungsten, diamond and ruby encrusted gauges and a Kelvar exterior coating. The Monaco Red edition also comes with three bottles of the world's most expensive vodka, RussoBaltique.[7]
In February 2011 DARTZ announced a cooperation with the Chinese Automobile Trading Company. The first product of the cooperation is the Black Russian China Edition.[8] Which included updates in the interior and the armor as well. The SUV will be the first product it will introduce to the Chinese Market.
Community content is available under
CC-BY-SA
unless otherwise noted.