Daihatsu Motor Co., Ltd.} is a Japanese manufacturer of cars, well known for its smaller models and off-road vehicles. Many of its models are also known as kei jidōsha (or kei cars) in Japan. Its headquarters are located in Ikeda, Osaka Prefecture.[1]
The name "Daihatsu" is a combination of the first kanji for Osaka (大) and the first of the word "engine manufacture" (発動機製造, hatsudōki seizō ?) ; when put together they are pronounced "dai hatsu."
Daihatsu was formed in 1951 as successor organisation to Hatsudoki and, by the 1960s, had started exporting cars to Europe, although it did not enjoy any major sales success until well into the 1980s.
Since February 1992 in North America, it has been common for Toyota to distribute Daihatsu models.
In January 2011, Daihatsu announced it would pull out of Europe by 2013, citing the persistently strong yen which it difficult to turn a profit from its export business.[2] Daihatsu's sales in Europe had plummeted from 58,000 in 2007 before the financial crisis, to 19,000 in 2010.[2]
Company history
Edit
1907 – Hatsudoki Seizo Co., Ltd. founded
1951 – Company renamed: Daihatsu Motor Co., Ltd.
1967 – Signed an agreement with Toyota Motor Corporation
1992 – Daihatsu USA shuts down in February
1999 – Toyota gains a controlling interest (51%) in Daihatsu Motor Ltd.
2011 – Daihatsu states that sales of Daihatsu motor cars will cease across Europe on 31st January 2013.
Recent market withdrawals
Edit
It was reported on 31 March 2005 that Toyota would withdraw Daihatsu from the Australian market after sales fell heavily in 2005, in spite of the overall new-car market in Australia growing 7%. Daihatsu ended its Australian operations in March 2006 after almost 40 years in that market.
Daihatsu's operations in Chile where Daihatsu is a well-known brand for its 1970s models such as the Charade or Cuore were also threatened after low sales in 2004 and 2005. However, Toyota has stated that it intends to persist in the Chilean market for now.
Daihatsu has supplied cars under different badges to various different automakers in the past. The company currently provides engines and transmissions to Malaysia's Perodua, which manufactures and markets rebadged Daihatsu cars locally, and sells a small number of Perodua cars in the United Kingdom. After the launch of Perodua, Daihatsu's Malaysian operations were reduced to concentrate on the commercial truck market, which it markets its Delta commercial truck chassis to; Daihatsu had formerly sold Charades and Miras in the country prior.
In Trinidad and Tobago, Daihatsu has had a market presence since 1958 when its Midget Mk. It was a popular choice among market tradesmen. From 1978 until 2001, a local dealer marketed the Charmant, Rocky, Fourtrak, and then later, the Terios and Grand Move which proved to be popular sellers. The Delta chassis remained a popular market choice from its introduction in 1985 until today. Toyota Trinidad and Tobago Ltd., (a wholly owned subsidiary of Toyota Japan), now markets Daihatsu Terios, YRV and Sirion under stiff competition.
Daihatsu announced on 13 January 2011 that sales of Daihatsu motor cars will cease across Europe on 31 January 2013. This was due to the increasing strength of the Japanese Yen, which has increased prices beyond competitive levels. Daihatsu states that there is no stock of new Daihatsu cars in the UK, and they do not expect to import any new cars in this interim period.[4]
Electrics and Hybrids
Edit
Daihatsu has had a long running development program for electric vehicles, beginning with the production of "pavillion cars" for the 1970 Osaka World Expo and continuing with the production of golf carts and vehicles for institutional use, such as the DBC-1.[5] An electric version of the company's Fellow Max kei car also followed, the beginning of a series of prototypes. The 1973 oil crisis provided further impetus and at the 20th Tokyo Motor Show (1973) Daihatsu displayed a 550 W electric trike (TR-503E)[6] as well as the BCX-III electric car prototype.[7] Daihatsu showed more prototypes through the seventies, for instance at the 1979 Sydney Motor Show, and then joined the Japanese Electric Vehicle Association's PREET program (Public Rent an Electric Towncar) with an electric version of the Max Cuore keicar. The program allowed registered users access to the cars with a magnetized card and charged according to mileage used.[8]
The current hybrid vehicle technology is called Daihatsu Mild Hybrid System,[9] and is mainly used in the Atrai/Hijet Hybrid-IV.
Passenger car models
Edit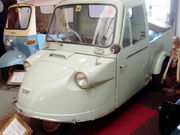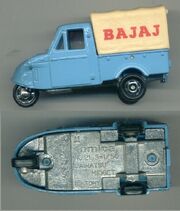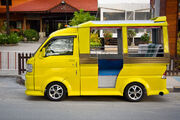 Ikeda (Osaka prefecture), also headquarters
Ryuo (Shiga prefecture)
Tada (Hyōgo Prefecture)
Oyamazaki (Kyoto prefecture)
Sunter II (Indonesia) - Astra Daihatsu Motor (joint venture)
Cumana, Estado Sucre (Venezuela) - Terios
References
Edit
External links
Edit

Community content is available under
CC-BY-SA
unless otherwise noted.