Dacia Logan
[[File:|frameless|upright=1.25|alt=]]
Manufacturer
Dacia
Parent company
Renault
Also called
Renault Logan
Nissan Aprio
Mahindra Renault Logan
Renault Tondar 90
Production
2004—present (2008 facelift)
Assembly
Mioveni, Romania
São José dos Pinhais, Brazil
Envigado, Colombia
Moscow, Russia
Casablanca, Morocco
Nashik, India
Tehran, Iran
Pretoria, South Africa
Predecessor
Dacia 1310
Class
Small family car
Body style(s)
4-door sedan
5-door station wagon
5-door van
2-door pick-up
Layout
FF layout
Platform
Dacia B0 platform
Engine(s)
1.0 L I4 (gas/ethanol)
1.2 L I4
1.4 L I4 (gas/LPG)
1.5 L Diesel I4
1.6 L I4 (gas/ethanol)
Transmission(s)
5-speed manual
4-speed automatic
Wheelbase
2,630 mm (103.5 in) (sedan)
2,905 mm (114.4 in) (station wagon & pickup)
2,900 mm (114.2 in) (van)
Length
4,288 mm (168.8 in) (sedan)
4,473 mm (176.1 in) (station wagon)
4,450 mm (175.2 in) (van)
4,496 mm (177.0 in) (pickup)
Width
1,740 mm (68.5 in) (sedan, station wagon & van)
1,735 mm (68.3 in) (pickup)
Height
1,534 mm (60.4 in) (sedan)
1,640 mm (64.6 in) & 1,674 mm (65.9 in) (station wagon & van)
1,554 mm (61.2 in) (pickup)
Curb weight
1,090 kg (2,400 lb) - 1,360 kg (3,000 lb)
Fuel capacity
50 L (13 US gal/11 imp gal)
Related
Dacia Sandero
Dacia Duster
Renault Clio Mk.III
Nissan Tiida/Versa
Nissan Note
Nissan Cube Mk.III
Nissan Micra K12
The Dacia Logan is a car produced jointly by the French manufacturer Renault and its subsidiary Dacia of Romania. It is manufactured at Dacia's automobile plant in Mioveni, Romania, in Colombia, Brazil, Russia, Morocco, Iran, India and South Africa. It is also marketed as the Renault Logan, Nissan Aprio or Tondar 90 depending on the existing presence or positioning of the Renault brand.
History
Designed at Renault's Technocentre near Paris, the Logan was the end result after four years of development of Project X90, announced by Renault in 1999 after the buyout of Dacia in 1998.[1]
During a visit to Russia by French President Jacques Chirac, Louis Schweitzer noted that at Lada and Renault dealerships the €6,000 Ladas were selling very well, while the €12,000 Renaults stayed in the showroom. "Seeing those antiquated cars, I found it unacceptable that technical progress should stop you making a good car for €6,000." (He later revised this target to €5,000). "I also drew up a list of specifications in three words – modern, reliable and affordable – and added that everything else was negotiable." However, the cheapest version of the car is priced at €5,900, and can reach €11,200, depending on equipment and customs duty (the base model for Western Europe, where it is badged as a Dacia but generally sold in Renault dealerships, is somewhat more expensive). As it was designed from the outset as an affordable car, the Logan has many simplified features to keep costs low.
The car replaces many older cars in production, including the Romanian Dacia 1310 series of Renault 12-based cars.
It was officially launched in September 2004. Renault originally had no plans to sell Logan in Western Europe, but began importing a more expensive version of the car in June 2005, starting at around €7,000. It became an unexpected success with people wanting an inexpensive, no frills car they could repair themselves. The Logan was launched in India in April 2007 as a collaboration with Mahindra, who helped Renault cut costs by 15%.[2] India was the first right-hand drive market for the Logan. It was almost an instant success with impressive sales in the first few months [3]. Since then Mahindra and Renault have parted ways. However, the Logan continues to be sold by Mahindra, with technical support from Renault. Its awkward styling has resulted in less than expected sales numbers.
Facelift
On the 1st of July 2008, almost four years after the release of the first Logan, a facelifted version, called the Dacia New Logan, was announced.[4] The new version features a more contemporary design, as well as a more attractive and more comfortable interior.[5]
Features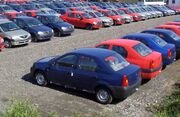 The Logan is based on the B platform that is used by the third generation Renault Clio, Renault Modus and Nissan Micra. It has 50% fewer parts than a high-end Renault vehicle and has a limited number of electronic devices. In addition to making the car less costly to produce, this also makes it easier and cheaper to repair.
Some parts are also much simpler than those of its competitors. For example, rear-view mirrors are symmetrical and can be used on either side of the car, the windshield is flatter than usual, and the dashboard is a single injection-molded piece.
The developers have taken into account several differences between road and climate conditions in developed and developing countries. The Logan suspension is soft and strong, and the chassis sits visibly higher than most other supermini cars to help it negotiate dirt roads and potholes on ill-maintained asphalt roads. The engine is specially prepared to handle lower quality fuel, whereas the air conditioning is powerful enough to lower the temperature several degrees (temperatures above 40°C are common in the Middle East and the Mediterranean Sea).
Safety
In June 2005 the car achieved a 3 star rating at the EuroNCAP crash tests.[6] This result confirms initial expectations stated earlier by Renault.
Depending on equipment level, standard on some variants and optional on others, Dacia New Logan comes with up to four airbags. In terms of active safety, all versions of New Dacia Logan features the latest-generation Bosch 8.1 ABS which incorporates EBD (Electronic Brakeforce Distribution) and EBA (Emergency Brake Assist).
Engines
Name
Capacity
Type
Power
Torque
Top speed
Consumption (combined)
1.0
D4D Hi-Flex
999 cc
16 valves DOHC
57 kW (77 PS)@5850 rpm
99 N·m (73 lb·ft) @4350 rpm
160 km/h (99 mph)
(gas/ethanol)
1.2
D4F
1149 cc
16 valves DOHC
55 kW (75 PS)@5500 rpm
107 N·m (79 lb·ft) @4250 rpm
161 km/h (100 mph)
5.9 l/100 km (48 mpg-imp/40 mpg-US)
1.4
K7J
1390 cc
8 valves SOHC
55 kW (75 PS)) @5500 rpm
112 N·m (83 lb·ft) @3000 rpm
162 km/h (101 mph)
6.9 l/100 km (41 mpg-imp/34 mpg-US)
1.6
K7M
1598 cc
8 valves SOHC
64 kW (87 PS)@5500 rpm
128 N·m (94 lb·ft) @3000 rpm
175 km/h (109 mph)
7.3 l/100 km (39 mpg-imp/32 mpg-US)
1.6
K7M Hi-Torque
1598 cc
8 valves SOHC
70 kW (95 PS)@5250 rpm
138 N·m (102 lb·ft) @2850 rpm
175 km/h (109 mph)
(gas/ethanol)
1.6
K4M
1598 cc
16 valves DOHC
77 kW (105 PS)@5750 rpm
148 N·m (109 lb·ft) @3750 rpm
183 km/h (114 mph)
7.1 l/100 km (40 mpg-imp/33 mpg-US)
1.6
K4M Hi-Flex
1598 cc
16 valves DOHC
82 kW (111 PS)@5750 rpm
152 N·m (112 lb·ft) @3750 rpm
185 km/h (115 mph)
(gas/ethanol)
1.5 dCi
K9K
1461 cc
8 valves SOHC
50 kW (68 PS)@4000 rpm
160 N·m (118 lb·ft) @1700 rpm
158 km/h (98 mph)
4.9 l/100 km (58 mpg-imp/48 mpg-US)
1.5 dCi
K9K
1461 cc
8 valves SOHC
63 kW (86 PS)@3750 rpm
200 N·m (148 lb·ft) @1900 rpm
167 km/h (104 mph)
4.6 l/100 km (61 mpg-imp/51 mpg-US)
Marketing and production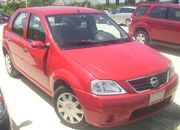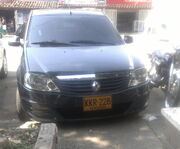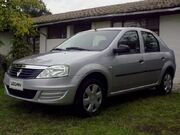 The Logan, vital to increasing sales of the Renault group to the 4 million mark by 2010, is manufactured in nine production and operational assembly centres: Romanian, the pilot plant of the Logan Programme, Russia, Morocco, Colombia, Iran (two assembly plants), India, Brazil, South Africa. Located in Romania, near the Mioveni plant, the International Logistics Network, the official name of the CKD center, is the biggest logistic center of its kind not only in the Renault Group, but in the entire world automotive industry.[1]
In markets where Renault has an existing presence, such as European, African and Asian countries (i.e. Romania, France, Italy, Belgium, Netherlands, Germany, Greece, Hungary, Poland, Serbia, Czech Republic, Croatia, Slovenia, Morocco, Lebanon, Syria, Turkey and many others) it is sold as the Dacia Logan.[7] Exceptions are South Africa, Argentina, Russia, Ukraine, Colombia, Ecuador, Egypt, Brazil, Chile, and Venezuela where it is marketed as the Renault Logan, and furthermore Mexico, where the Logan is sold as the Nissan Aprio, given the better reputation of the Japanese brand in the Mexican market. This Nissan Aprio has a 1.6-litre 16 valve inline-four engine with a 5-speed manual or 4-speed automatic transmission.[8]
In India, the Logan is marketed as the Mahindra Renault Logan.[9] In 2005, Renault partnered with the Indian utility and commercial vehicles manufacturer Mahindra & Mahindra Limited (M&M). In April 2010 it was announced that the M&M bought out Renault's 49% in the Mahindra Renault joint venture. The new agreement give M&M more flexibility in engineering the car to suit the needs of the Indian consumer. M&M will continue to manufacture and market the Logan in India and Renault will continue to support the car through a license agreement and supply key components. The Logan will be marketed with the Mahindra-Renault logo until the end of 2010, and then, M&M will rename the car which will bear only the Mahindra logo. M&M also holds the license to sell the Logan in India, Nepal and South Africa. Launched in 2007, Logan could not make the mark in the Indian market, selling just over 44,000 units since then, and over 2,600 units in Nepal and South Africa.[10][11]
In 2007, Iran also began selling Logan models as Renault Tondar 90[12] by Renault-Pars Co. manufactured in Pars Khodro and Iran Khodro.[13] After a mere month of production, more than 100,000 Tondar 90 have been ordered, even though deliveries will start only in May 2007.[14] Renault Pars is a joint venture, 51 percent of which belongs to Renault of France. Forty-nine percent of Renault Pars' shares is jointly held by Iran's Industrial Development and Renovation Organization, IKCO and Saipa. The company was established in 2003.[15]
Dacia sales for 2006 were over €1.5 billion, 19.6% up in comparison with 2005. Annual production have almost reached 250,000 cars, half for exports.
Production began with a 4-door sedan, followed by a wagon in September 2006. Four other models, a pickup truck, a hatchback, a Van and a new sedan version followed in 2007 and 2008.
As of March 2009 more than 1.3 million vehicles on the Logan platform have been sold worldwide.[16] On September 3, 2009, it was announced that one million Dacia cars on Logan platform X90 have been produced at Mioveni plant: 576,887 Logans, 246,869 Logan MCVs, 144,931 Sanderos and Stepways, 19,897 Logan VANs and 11,416 Logan Pick-Ups.[17]
| Brand[18] | 2004 | 2005 | 2006 | 2007 | 2008 | 2009 | Total |
| --- | --- | --- | --- | --- | --- | --- | --- |
| Dacia | 22,833 | 135,184 | 184,472 | 230,294 | 257,013 | 309,457 | 1,139,253 |
| Renault | - | 9,915 | 63,134 | 137,022 | 252,438 | 224,118 | 686,627 |
| Total sales | 22,833 | 145,099 | 247,606 | 367,316 | 509,451 | 533,665 | 1,825,880 |
One of the reasons of rise in sales is the dependability of Dacia cars. In a recent survey conducted by a French magazine, Dacia cars were voted one of the safest car in France. Another reason for rise in sales is the low maintenance and repair cost of Dacia cars. According to the survey, Dacia cars were the cheapest car to maintain and repair.[19] In Germany, Dacia was placed on the second position in the 2010 Vehicle Ownership Satisfaction Study released by J. D. Power and Associates in June 2010.[20]
Models
Logan MCV
The Logan MCV (Multi Convivial Vehicle), launched at the 2006 Paris Motor Show, is the station wagon version of the Logan.[21] It has five or seven seat versions, with a luggage space that varies between 200 and 2350 litres depending on how many seats are folded, as well as numerous storage spaces for smaller objects.
It uses the same engines as the sedan version.[22] An important improvement is the availability of side airbags. Sales began in October 2006 on the Romanian market with prices ranging between €8,200 and €12,550.[23] Sales to other countries began in early 2007. A revised version, with the new lights and bumper from the New Logan saloon, was released in late 2008. As of June 2010, Dacia produced 300,000 Logan MCVs.[24]
At the 2010 Moscow International Motor Show the new Lada Project R90 was presented as a model based on the New Logan MCV.[25]

Logan VAN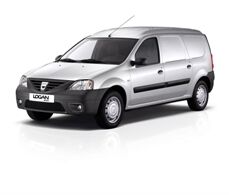 The van variant of the Logan was launched on January 23, 2007 in Bucharest.[26] It is a small business oriented vehicle, with 2500 litre loading space and 800 kg payload. The Logan VAN / Express is more or less an MCV without the rear side windows and therefore has the same safety features and uses the same engines as the other models (except the 1.6 16v engine). Sales have started in Romania, and now the prices ranging are between €7100 and €9700.
Logan Pick-Up
The pickup version of the Logan, also based on the MCV, was introduced on September 10, 2007 (October 4, 2007 at SIAB)[27] and replaced Dacia Pick-Up. Sales have begun in Romania in 2008 and now the prices ranging are between €7300 and €9450.
Starting October 2008 the Logan Pickup is sold in South Africa as Nissan NP200. Visually it resembles a mildly facelifted Logan bakkie and it is being built in South Africa alongside the Renault Sandero.

Concept cars and projects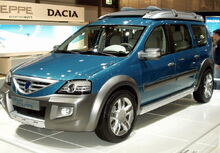 Logan Steppe
In 2006, a station wagon concept car, the Dacia Logan Steppe was presented at the Salon International de l'Auto in Geneva. The car was built by noted concept car builders DC Design in India as a forerunner of the Logan MCV.
Logan S2000
The S2000 was a short lived project for a racing version of the Logan.[28][29]
Duster
A concept called Duster was unveiled at 2009 Geneva Motor Show. The concept features a crossover-style body and is a collaboration between Renault Design Central Europe in Bucharest, Romania, and Renault Design Technocentre in Guyancourt, France.[30]

References
↑ 1.0 1.1 "The Logan Project". Daciagroup.com (2010-01-28). Retrieved on 2010-10-09.
↑ Sirkin, Harold L.; James W. Hemerling; Arindam K. Bhattacharya (2008-06-11). GLOBALITY: Competing with Everyone from Everywhere for Everything. New York: Business Plus, 304. ISBN 0-446-17829-2.
↑ "EU-inträde ger extra fart åt rumänsk bil", Dagens Nyheter (2006-12-19).  (Swedish)
↑ Tan, Paul. "Facelifted Dacia New Logan". Paultan.org. Retrieved on 2010-10-09.
↑ NEW DACIA LOGAN: BETTER THAN EVER! at conceptcarz.com
↑ "Euro NCAP test results for Dacia Logan". Euroncap.com. Retrieved on 2010-10-09.
↑ "Distribution of Dacia throughout the world". Daciagroup.com. Retrieved on 2010-10-09.
↑ "Inexpensive Logan boosts Renault in emerging markets", Post-gazette.com (2006-10-04). Retrieved on 2010-10-09. 
↑ "Mahindra Renault Logan website". Mahindrarenault.com. Retrieved on 2010-10-09.
↑ "Mahindra buys out Renault in Logan venture". Hindustantimes.com (2010-04-16). Retrieved on 2010-10-09.
↑ "Renault exits from Logan JV, M&M gets licence". Financialexpress.com (2010-04-16). Retrieved on 2010-10-09.
↑ "Renault Tondar". renault.co.ir. Retrieved on 2008-02-05.
↑ "First Logan manufactured in Iran". Payvand.com. Retrieved on 2009-04-28.
↑ "Renault Logan comandat de 100.000 iranieni". Informatiiauto.ro. Retrieved on 2010-11-27.
↑ "No Operation". Presstv.com. Retrieved on 2010-10-09.
↑ "Renault Launches Sandero in South Africa". Edmunds.com (2009-03-09). Retrieved on 2010-10-09.
↑ "One million Dacia cars produced at Mioveni plant". Romaniantimes.at. Retrieved on 2010-10-09.
↑ "2010 Geneva Motor Show - Dacia Duster, the low-emission off-roader from 11,900 euros". renault.com (2 March 2010). Retrieved on 2010-03-02.
↑ "Dacia wins Kudos". Dacialogan.org (2010-01-13). Retrieved on 2010-10-09.
↑ "Dacia and BMW Go Head to Head in Satisfaction Study". Autoevolution.com. Retrieved on 2010-10-09.
↑ "Dacia Logan MCV: space, versatility and value for money". Romania.ido.ro. Retrieved on 2009-04-28.
↑ "Logan MCV : spatiu si polivalenta la cel mai bun pret". Masini.acasa.ro. Retrieved on 2010-11-27.
↑ "Dacia Rolls Out 300,000th Logan MCV". Autoevolution.com. Retrieved on 2010-10-09.
↑ "Moscú 2010: Lada R90 Project". Autoblog Español (2010-08-25). Retrieved on 2010-11-27.
↑ "Premiera mondiala: Logan Pick-up s-a lansat la SIAB". AutoMarket.ro. Retrieved on 2010-11-27.
↑ "do it sideways!". Rallye-magazin.de. Retrieved on 2009-04-28.
↑ "GP Australia, Sabato: La Force India punta ad arrivare in fondo". Racingworld.it. Retrieved on 2009-04-28.
↑ "Dacia Duster". Daciagroup.com. Retrieved on 2010-10-09.




External links
Current:
Numeric:
1970 – 2009:
1945 – 1970

4CV • Caravelle • Colorale • Dauphine • Dauphinoise • Floride • Frégate • Ondine

Between wars:

Celtaquatre •Monaquatre • Juvaquatre • Monasix • Nervastella • NN • Primaquatre • Reinastella • Viva Grand Sport • Vivaquatre • Vivasix • Vivastella •Type MT

Pre-WWI:

10CV • 12CV • 35CV • 40CV • L/M • N(a)/N(b)/S • N(c)/Q/U(a/e) • R/T • U • AS/V • Taxi de la Marne • Towncar • Voiturette • X/X-1 • Y

Alpine:

A106 • A108 • A110 • A305 • A310 • A440 • A441 • A442 • A443 • A610/GTA

Renault Sport:

Grand Prix de l'A.C.F. • 5 Turbo • Clio Williams • Clio Renault Sport • Spider • Mégane Renault Sport • Clio V6 Renault Sport

Concept vehicles:

Alpine 210 RS

 •

Altica

 •

Argos

 •

Be Bop

 •

BRV

 •

Captur

 •

DeZir

 •

Ellypse

 •

Espace F1

 •

EPURE

 •

Evado

 •

EVE

 •

Egeus

 •

Etoile Filante

 •

Fiftie

 •

Fluence

 •

Initiale

 •

Koleos

 •

Laguna

 •

Mégane

 •

Nepta

 •

Next

 •

Ondelios

 •

Racoon

 •

R-Space

 •

Sand'up

 •

Scénic

 •

Steppe

 •

Talisman

 •

Twizy Z.E.

 •

VESTA 2

 •

Wind

 •

Z.E. Concept

 •

Zo

 •

Zoe

 •

Zoom

Vans and trucks:
Dacia (current):
Dacia (2000 – 2006):
Renault Samsung:
Formula One:

RS01 • RS10 • RE20 • RE20B • RE30 • RE30B • RE30C • RE40 • RE50 • RE60 • RE60B • R202 • R23 • R24 • R25 • R26 • R27 • R28 • R29