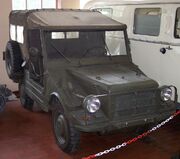 The DKW Munga was a DKW-branded off-road vehicle built by Auto Union in Ingolstadt, Germany. "MUNGA" is an acronym of the German phrase "Mehrzweck UNiversal Geländewagen mit Allradantrieb", which translated means "multi-purpose universal cross-country car with all-wheel drive".
Production began in October 1956 and ended in December 1968. During this time 46,750 cars were built. Launched at the 38th International Motor Show at Frankfurt in the autumn of 1957, the vehicle was not only adopted by the West German Bundeswehr as a vehicle unique in its class but was also bought in large numbers for the German Border Police and various foreign military formations within NATO.
The civilian version, which could be bought by civilians for DM 9,500 (roughly US-$2,300 at the time), was widely adopted in Western Germany for agricultural and forestry work in particular, and also became popular abroad, especially in those countries where "go anywhere" transport was needed because of poor roads, as, for example, in large parts of South America and South Africa.
Around 2000 cars were delivered to the Dutch army, many of which were shipped to the UK in the late 1970s.
The Munga was also built in Brazil by DKW-Vemag, where it was called DKW Candango.

Community content is available under
CC-BY-SA
unless otherwise noted.