DECA A 144
Model history
Model introduced

197X

Model discontinued

197X

Model status
Discontinued Discontinued
Engine Specification
Engine make
Deutz
Engine model
F6L-2114
Fuel type
Diesel
Power hp
150
Power kW
110
No. of Cylinders
6
Cooling system
air
Naturally aspirated, Turbo or Supercharged
no
Transmission Details
Transmission type
5 gear High + 5 gear Low
Drive
2WD
General Data
Linkage Category
Unknown
Tyre Sizes (std/options)
Front
1100x20
Rear
24.5x32
Other info
Factories
Buenos Aires, Argentina
Plow rating

Unknown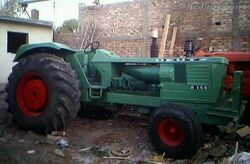 The DEUTZ A 144 tractor was built in Buenos Aires, Argentina by DECA (Deutz - Cantabrica) under license from Deutz. It features a 6 cylinders 9.5 liters Deutz diesel engine with 150 hp (110 kW) (engine model: F6L-2114). One of the most regarded tractors back in its days. Probably 80% of them still working the fields of Argentina. It weighs 12,000 kg (25000 pounds) with rear ballast water wheels (24.5 x 32).
Model history
For brand history, see Deutz-Fahr. It was built from 1974 up to 1980.
References
https://www.youtube.com/watch?v=T1KPx8wlsbY
https://www.youtube.com/watch?v=K24EPufiOQE
https://www.youtube.com/watch?v=NbPkjVPV-1w
http://www.agcoallis.com.ar/elementos/pdf/Linea-tiempo.pdf
External links
Tractor Models

5.80

 •

5.1

 •

6.71

 •

36/40 PS

 •

A 30

 •

A 40

 •

A 45

 •

A 46

 •

A 50

 •

A 55

 •

A 60

 •

A 65

 •

A 70

 •

A 85

 •

A 110

 •

A 130

 •

A 144

 •

AX 5.100

 •

AX 5.170

 •

AX 5.190

 •

AX 5.145

 •

AX 5.65

 •

D 15

 •

D 25

 •

D 25 Industrial

 •

D 25S

 •

D 25 05

 •

D 25 06

 •

D 30

 •

D 30 05

 •

D 30 06

 •

D 30 06 P

 •

D 30 S

 •

D 40

 •

D 40 05

 •

D 40 06

 •

D 40 06 Hi-Crop

 •

D 40 06 P

 •

D 40 06V

 •

D 40 07

 •

D 40 L

 •

D 40 N

 •

D 40S

 •

D 40U

 •

D 45 05

 •

D 45 06

 •

D 45 07

 •

D 48 07

 •

D 50

 •

D 50 05

 •

D 50 06

 •

D 52 06

 •

D 52 07

 •

D 52 07 C

 •

D 55

 •

D 55 05

 •

D 55 06

 •

D 60 05

 •

D 60 06

 •

D 62 06

 •

D 62 06 Special

 •

D 62 07

 •

D 62 07 C

 •

D 68 06

 •

D 68 07

 •

D 68 07 C

 •

D 70 06

 •

D 70 07

 •

D 72 06

 •

D 72 07

 •

D 75 06

 •

D 75 06 H

 •

D 78 07

 •

D 78 07 C

 •

D 80

 •

D 80 05

 •

D 80 06

 •

D 80 06 Special

 •

D 90 05

 •

D 90 06

 •

D 100 06

 •

D 130 06

 •

D 160 06 4WD

 •

D 401S

 •

D 1600 Industrial 4WD

 •

DK 75 crawler

 •

DL 50 crawler

 •

DL 75 crawler

 •

DL 1250P crawler

 •

DL 1300 crawler

 •

DR 75 crawler

 •

DR 120 crawler

 •

DX 3.30

 •

DX 4.50

 •

DX 6.10

 •

DX 36V

 •

DX 50V

 •

DX 50VA

 •

DX 85

 •

DX 90

 •

DX 110

 •

DX 120

 •

DX 130

 •

DX 140

 •

DX 145

 •

DX 160

 •

DX 200

 •

DX 230

 •

DX 6007

 •

F1L/414

 •

F1L/514

 •

F1L/514-50

 •

F1L/514-51

 •

F1L/612

 •

F1L/712

 •

F1L/712-1U

 •

F1M

 •

F1M/414

 •

F1M/414-46

 •

F2L/514-4N

 •

F2L/514-50

 •

F2L/514-51

 •

F2L/514-53

 •

F2L/515

 •

F2L/612-5

 •

F2L/612-6N

 •

F2M/315

 •

F2M/317

 •

F2M/415

 •

F2M/417

 •

F2M/417-49

 •

F3L/514

 •

F3M/317

 •

F3M/417

 •

F3M/417U

 •

F4L/514

 •

F4L/514-50

 •

F4L/514-53

 •

F4L/541 crawler

 •

F6L/514

 •

G 400

 •

Intrac 2002

 •

Intrac 2003

 •

Intrac 2004

 •

Intrac 2005

 •

Intrac 2006

 •

K60 crawler

 •

KL I

 •

MTZ 120

 •

MTZ 220

 •

MTZ 222

 •

MTZ 320

 •

Pfuglokomotive

 •

TD 55 A

Combine harvester Models
Early Makes - pre 1940s

1940s to 1980s

Modern post 1980s

Independents
North America

Europe

India & Pakistan

Middle East
(Turkey, Iran,
Iraq, Syria etc...)

Far East
(Australasia, China,
Japan, Korea, Thailand,
Vietnam etc...)

South America
(Argentina, Brazil,
Uruguay etc)

Africa

Asia
(Russia, Tajikstan,
Uzbekistan, Ukraine)

Specialist types of tractor

Notable People - associated with the tractor industry

Inventors