We're Getting Mutants in the MCU - The Loop
Play Sound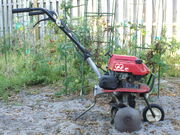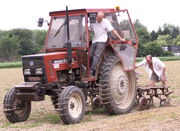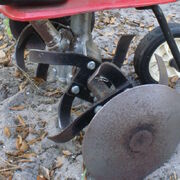 A cultivator is a farm implement for stirring and pulverizing the soil, either before planting or to remove weeds and to aerate and loosen the soil after the crop has begun to grow. It is powered by a tractor and stirs the soil, usually to a greater depth than does the harrow (which is usually unpowered). Similar but much smaller machines are used for gardening.
Farm cultivators
Cultivators are pulled by tractors through the field and can vary greatly in size and shape. Some are as small as 10 ft wide and larger ones can be as much as 80 ft wide. Many are equipped with hydraulic wings that fold up to makes road travel easier and safer. Different types are used for preparation of fields before planting, and for the control of weeds between row crops:
Field cultivator
Field cultivators are used to complete tillage operations in many types of arable crop fields. The main function of the field cultivator is to prepare a proper seedbed for the crop to be planted into, to bury crop residue in the soil (helping to warm the soil before planting), to control weeds, and to mix and incorporate the soil to ensure the growing crop has enough water and nutrients to grow well during the growing season. The implement has many shanks mounted on the underside of a metal frame, and small narrow rods at the rear of the machine that smooth out the soil surface for easier travel later when planting. In most field cultivators one to many hydraulic cylinders raise and lower the implement and control its depth.
Row crop cultivator
The main function of the row crop cultivator is weed control between the rows of an established crop. Row crop cultivators are usually raised and lowered by a three-point hitch and the depth is controlled by gauge wheels.
Garden cultivators
Main article: Rotary tiller
Small cultivators are used for gardening, powered by small motors, and controlled by an operator walking behind. Garden cultivators can be used to mix soils with manures and fertilizers in preparation for planting. They till the soil and convert soil lumps to a tilth. Different attachments can be used to plough the soil or cut vegetation.
Preserved Machinery
Early horse pulled implements and versions adapted for use with early tractors, were built by various manufactures and can still be found in hedge rows. Some restored versions are displayed at shows.
Several of the tractor manufacturers marketed implements to go with there tractors.
See also
References
External links