We're Getting Mutants in the MCU - The Loop
Play Sound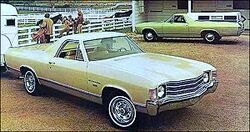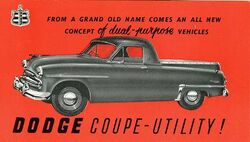 Compared with existing pickup trucks in the 1930s, the term coupe utility (or coupé utility) was defined as combining a more stylish, comfortable and roomier coupe roofline with an integrated cargo tray. Since the 1950s however, the definition of the term has become blurred.[1] More recent models are often called "pickups" (or pick-ups) by their makers,[2][3] although the terms "car-based pick-up" or "car-based truck" are also applied by automotive press.[4][5]
History
Main article:

Ute (vehicle)
The body style originated in Australia.[6] It was the result of a 1932 letter from the wife of a farmer in Victoria, Australia to Ford Australia asking for "a vehicle to go to church in on a Sunday and which can carry our pigs to market on Mondays". In response, Ford designer Lew Bandt developed a vehicle based on the client's request and the model (called a "coupe utility" at the time) was released in 1934. A convertible version, known as the roadster utility, was produced in limited numbers by Ford in the 1930s.[7]
In 1951, Holden released a model based on its 48-215 sedan, reinforcing the Australian tradition of home grown two-door passenger-car sedan chassis based "utility" vehicles with a tray at the back, known colloquially as a ute. In recent years, however, ute in Australia has come to mean anything from a coupe utility such as a Commodore-based Holden Ute to a traditional pickup like the Ford F-Series, so for the purposes of this article, the full term "coupe utility" shall be used.
America followed suit with the release of Ford's Ranchero in 1957 and Chevrolet's El Camino in 1959.[8][9]
List of coupé utilities
Prototypes
See also
References
↑ "Editorial: Australia DID NOT invent the Ute!", Truck Jungle (Australia) (7 February 2012).

 

↑ See, for example, Skoda "Pick-up 135"
↑ The ute is born... 9/8/99 Archived 2015-05-29 at the

Wayback Machine

↑

Rootes Australia advertisement for "The new Hillman de luxe Utility", Power Farming in Australia and New Zealand, August 1956, page 100

↑ Morris Marina Archived 2013-08-02 at the

Wayback Machine

↑ Advertisement for Singer SM1500 Half Ton Coupe Utility, The Nambour Chronicle, Friday, 29 February 1952, page 10. Retrieved 1 December 2013
↑ 1953 Brochure for Standard 12 Cwt Delivery Van and Standard Pick-up Truck, www.flickr.com. Retrieved 26 October 2013
↑ "75 Years of TOYOTA | Vehicle Lineage | Publica Pickup | Description". Toyota (2012).
↑ "AMC Cowboy". Archived from the original on

2013-01-16

.
↑ Pleskot, Kelly (27 September 2016). "BMW Looks Back on Four M3 Prototypes That Were Never Made", Motor Trend.

 

↑ Levine, Mike (2 July 2008). "Pontiac G8 Sport Truck Engine and Name".
↑ "2010 Pontiac G8 ST" (14 August 2008).
↑ "GM shelves plan for US launch of Pontiac G8 ST" (8 January 2009).
External links

Template:Automobile configuration