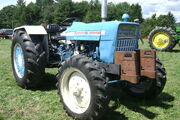 County no. 27124 is a 1973 County 4000-Four, which is based on the Ford 4000 skid unit fitted with a Carraro front axle.
1930s
1950s
1960s
1970s
1980
1990s

 •  •  •  •  •  •  •

Non Ford based models
Crawler tractors
Other products

Note this list is under development
please add the model of any page this template is added to
(please fix omission / correct errors of dates)
Community content is available under
CC-BY-SA
unless otherwise noted.