Cooper
Full name
Cooper Car Company
Base
Surbiton, Surrey, United Kingdom
Founder(s)
Charles Cooper
John Cooper
Noted drivers
Stirling Moss
Maurice Trintignant
Jack Brabham
Bruce McLaren


John Surtees


Jochen Rindt
Pedro Rodríguez

Formula One

World Championship career
Debut

1950 Monaco Grand Prix

Races competed
129
Constructors'
Championships
2 (

1959

,

1960

)
Drivers'
Championships
2 (

1959

,

1960

)
Race victories
16

Pole positions

11

Fastest laps

14
Final race
1969 Monaco Grand Prix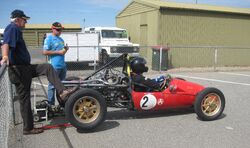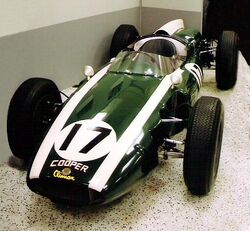 The Cooper Car Company was founded in 1946 by Charles Cooper and his son John Cooper. Together with John's boyhood friend, Eric Brandon, they began by building racing cars in Charles' small garage in Surbiton, Surrey, England in 1946. Through the 1950s and early 1960s, they reached auto racing's highest levels as their rear-engined, single-seat cars altered the face of Formula One and the Indianapolis 500, and their Mini Cooper dominated Rally racing. Thanks in part to Cooper's legacy, Britain remains the home of a thriving racing industry, and the Cooper name lives on in the Cooper versions of the Mini (BMW) production cars that are still built in England but are now owned and marketed by BMW.
The first cars built by the Coopers were single-seat 500cc Formula Three racing cars driven by John Cooper and Eric Brandon and powered by a JAP motorcycle engine. Since materials were in short supply immediately after World War II, the prototypes were constructed by joining two old Fiat Topolino front-ends together. According to John Cooper, the stroke of genius that would make the Coopers an automotive legend—the location of the engine behind the driver—was merely a practical matter at the time. Because the car was powered by a motorcycle engine, they believed it was more convenient to have the engine in the back, driving a chain.
Called the Cooper 500, this car's success in hillclimbs and on track, including Eric winning the first post war motor race at Gransden Lodge Airfield, quickly created demand from other drivers (including, over the years, Stirling Moss, Peter Collins, Jim Russell, Ivor Bueb, Ken Tyrrell and Bernie Ecclestone) and led to the establishment of the Cooper Car Company to build more. The business grew by providing an inexpensive entry to motorsport for seemingly every aspiring young British driver, and the company became the world's first and largest post-war, specialist manufacturer of racing cars for sale to privateers.
Cooper built over 300 F3 cars and dominated the category, winning 64 out of 78 major races between 1951 and 1954. This volume of construction was unique and enabled the company to grow into the senior categories; it was with a modified Cooper 500 chassis, a T12 model, that Cooper had its first taste of top-tier racing when Harry Schell qualified for the 1950 Monaco Grand Prix. Though Schell retired in the first lap, this marked the first appearance of a rear-engined racer at a Grand Prix event since the end of WWII.
The front-engined Formula Two Cooper Bristol model was introduced in 1952. Various iterations of this design were driven by a number of legendary drivers – among them Juan Manuel Fangio and Mike Hawthorn – and furthered the company's growing reputation by appearing in Grand Prix races, which at the time were run to F2 regulations. It wasn't until the company began building rear-engined sports cars in 1955 that they really became aware of the benefits of having the engine behind the driver. Based on the 500cc cars and powered by a modified Coventry Climax fire-pump engine, these cars were called "Bobtails." With the center of gravity closer to the middle of the car, they found it was less liable to spins and much more effective at putting the power down to the road, so they decided to build a single-seater version and began entering it in Formula 2 races.
Rear-engined revolution
Jack Brabham raised some eyebrows when he took sixth place at the 1957 Monaco Grand Prix in a rear-engined Formula 1 Cooper. When Stirling Moss won the 1958 Argentine Grand Prix in Rob Walker's privately-entered Cooper and Maurice Trintignant duplicated the feat in the next race at Monaco, the racing world was stunned and a rear-engined revolution had begun. The next year, 1959, Brabham and the Cooper works team became the first to win the Formula One World Championship in a rear-engined car. Both team and driver repeated the feat in 1960, and every World Champion since has been sitting in front of his engine.
The little known designer behind the car was Owen Maddock, who was employed by Cooper Car Company.[1] Maddock was known as 'The Beard' by his workmates, and 'Whiskers' to Charles Cooper. Maddock was a familiar figure in the drivers' paddock of the 50s in open-neck shirt and woolly jumper and a prime force behind the rise of British racing cars to their dominant position in the 1960s. Describing how the revolutionary rear-engined Cooper chassis came to be, Maddock explained "I'd done various schemes for the new car which I'd shown to Charlie Cooper, He kept saying 'Nah, Whiskers, that's not it, try again.' Finally, I got so fed up I sketched a frame in which every tube was bent, meant just as a joke. I showed it to Charlie and to my astonishment he grabbed it and said: 'That's it!' " Maddock later pioneered one of the first designs for a honeycomb monocoque stressed skin composite chassis, and helped develop Cooper's C5S racing gearbox.
Brabham took one of the Championship-winning Cooper T53 "Lowline" to Indianapolis Motor Speedway for a test in 1960, then entered the famous 500-mile race in a larger, longer and offset car based on the 1960 F1 design. Arriving at the Speedway 5 May 1961, the "funny" little car from Europe was mocked by the other teams, but it ran as high as third and finished ninth. It took a few years, but the Indianapolis establishment gradually realized the writing was on the wall and the days of their front-engined roadsters were numbered. Beginning with Jim Clark, who drove a rear-engined Lotus in 1965, every winner of the Indianapolis 500 has had the engine in the back. The revolution begun by the little chain-driven Cooper 500 was complete.
Once every Formula car manufacturer began building rear-engined racers, the practicality and intelligent construction of Cooper's single-seaters was overtaken by more sophisticated technology from Lola, Lotus, BRM and Ferrari. The Cooper team's decline was accelerated when John Cooper was seriously injured in a road accident in 1963 driving a twin-engined Mini and Charles Cooper died in 1964.
After the death of his father, John Cooper sold the Cooper Formula One team to the Chipstead Motor Group in April 1965. Their final Formula One victory was achieved by Mexican driver Pedro Rodríguez at the 1967 South African Grand Prix in a Cooper T81. In all, Coopers participated in 129 Formula One World Championship events in nine years, winning 16 races.
Besides Formula One cars, Cooper offered a series of Formula Junior cars. These were the T52, T56, T59 and T67 models. Ken Tyrrell ran a very successful team with John Love and Tony Maggs as his drivers. Following the demise of Formula Junior, Ken Tyrrell tested Jackie Stewart in a Formula Three car, a Cooper T72. This test at the Goodwood Circuit marked the start of partnership which dominated motorsport later on.
In October 2009, Mike Cooper, the son of John Cooper launched Cooper Bikes, the bicycle division of the Cooper Car Company.
Formula One results
Main article:

Cooper Grand Prix results
Mini Legacy
As the company's fortunes in Formula One declined, however, the John Cooper-conceived Mini Cooper – introduced in 1961 as a development of the Alec Issigonis-designed British Motor Corporation Mini with a more powerful engine, new brakes and a distinctive livery – continued to dominate in saloon car and rally races throughout the 1960s, winning many championships and the 1964, 1965 and 1967 Monte Carlo Rallies.
Several different Cooper-marked versions of the Mini and various Cooper conversion kits have been, and continue to be, marketed by various companies. The current BMW MINI, in production since 2001, has Cooper and Cooper S models and a number of John Cooper Works tuner packages.
Coopers Garage
On 1 April 1968, John Cooper leased the building, 243 Ewell Road,[2] to the Metropolitan Police and the local Traffic Division (V Victor) moved in. They would stay there for the next twenty-five years and 'TDV' would become one of the busier police garages. In August 1968, they were supplied with the two Mini Coopers index numbers PYT767F and PYT768F. The centre boss of the steering wheel was replace by a speaker and microphone and a PTT transmitter switch, was added to the steering column. The sight of a six-foot bobby getting into the mini greatly amused the locals. The vehicles were trialled for a number of months, but no orders were placed for other garages.
References
John Cooper (1977). The Grand Prix Carpetbaggers: The Autobiography of John Cooper. Doubleday. ISBN 0-385-03081-9
Cooper Cars, by Doug Nye, 1983, Osprey Publishing, 2003, Motorbooks International

Sporting positions
Preceded by


Vanwall

Formula One Constructors' Champion




1959

-

1960

Succeeded by


Ferrari
Template:Cooper Car Company
Current constructors (
2011
)
Former constructors
AFM · AGS · Alfa Romeo · Alta · Amon · Andrea Moda · Apollon · Arrows · Arzani-Volpini · Aston-Butterworth · Aston Martin · ATS (Italy) · ATS (Germany) · BAR · Behra-Porsche · Bellasi · Benetton · BMW · Boro · Brabham · Brawn · BRM · BRP · Bugatti · Cisitalia · Coloni · Connaught · Connew · Cooper · Cosworth · Dallara · De Tomaso · Delahaye · Derrington-Francis · Eagle · Eifelland · Emeryson · EMW · ENB · Ensign · ERA · EuroBrun · Ferguson · FIRST · Fittipaldi · Fondmetal · Footwork · Forti · Frazer Nash · Fry · Gilby · Gordini · Greifzu · Haas/Lola · Hesketh · Hill · HWM · Honda · Jaguar · JBW · Jordan · Kauhsen · Klenk · Kojima · Kurtis Kraft · Lancia · Larrousse · LDS · LEC · Leyton House · Life · Ligier · Lola · Lotus (Team Lotus) · Lyncar · Maki · March · Martini · Maserati · Matra · MBM · McGuire · Merzario · Midland · Milano · Minardi · Modena · Onyx · OSCA · Osella · Pacific · Parnelli · Penske · Porsche · Prost · RAM · RE · Rebaque · Reynard · Rial · Scarab · Scirocco · Shadow · Shannon · Simtek · Spirit · Spyker · Stebro · Stewart · Super Aguri · Surtees · Talbot · Talbot-Lago · Tec-Mec · Tecno · Theodore · Token · Toleman · Toyota · Trojan · Tyrrell · Vanwall · Veritas · Williams (FWRC) · Wolf ·
Zakspeed
Although World Championship races held in 1952 and 1953 were run to Formula Two regulations, constructors who only participated during this period are included herein to maintain Championship continuity. Constructors whose only participation in the World Championship was in the Indianapolis 500 races between 1950 and 1960 are not listed.
Formula One World Constructors' Champions
   

1950  not awarded
1951  not awarded
1952  not awarded
1953  not awarded
1954  not awarded
1955  not awarded
1956  not awarded
1957  not awarded
1958  Vanwall
1959  Cooper


1960  Cooper
1961  Ferrari
1962  BRM
1963  Lotus
1964  Ferrari
1965  Lotus
1966  Brabham
1967  Brabham
1968  Lotus
1969  Matra


1970  Lotus
1971  Tyrrell
1972  Lotus
1973  Lotus
1974  McLaren
1975  Ferrari
1976  Ferrari
1977  Ferrari
1978  Lotus
1979  Ferrari


2000  Ferrari
2001  Ferrari
2002  Ferrari
2003  Ferrari
2004  Ferrari
2005  Renault
2006  Renault
2007  Ferrari
2008  Ferrari
2009  Brawn