Obi-Wan Finale - The Loop
Play Sound
A convertible is a type of automobile in which the roof can retract and fold away, converting it from an enclosed to an open-air vehicle. Many different automobile body styles are manufactured and marketed in convertible form.
Roof designs vary widely, but a few characteristics are common to all convertibles. Roofs are affixed to the body of the vehicle and are usually not detachable. Instead the roof is hinged and folds away, either into a recess behind the rear seats or into the boot or trunk of the vehicle. The roof may operate either manually or automatically via hydraulic or electrical actuators; the roof itself may be constructed of soft or rigid material. Soft-tops are made of vinyl, canvas or other textile material; hard-top convertibles have roofs made from steel, aluminum, carbon fiber or plastic materials.
Contemporary convertibles are known and marketed under several different terms due to the convergence of body styles over the years. A soft-top convertible may also be referred to as a cabriolet, cabrio, spyder, or spider, although two-seater soft tops often retain the name roadster, referring to their body style. Hard-tops are marketed under the terms coupé cabriolet, coupé convertible or simply retractable hardtop, while two-seaters more commonly use coupé roadster/roadster coupé.
Folding textile roof
The collapsible textile roof section (of cloth or vinyl) over an articulated folding frame may include linings such as a sound-deadening layer or interior cosmetic headliner (to hide the frame)  — or both — and may have electrical or electro-hydraulic mechanisms for raising the roof. The erected top secures to the windshield frame header with manual latches, semi-manual latches, or fully automatic latches. The folded convertible top is called the stack.
Cons
Convertibles offer the flexibility of an open top in trade for:
potentially reduced safety
poor break-in protection
deterioration and shrinkage of the sun-exposed textile fabric over time
diminished rear visibility, from a large roof structure, small rear window, or obstructed rear window — or all of these: e.g., Mini convertible.
generally poor

structural rigidity

. Contemporary engineering goes to great length to counteract the effects of removal of a car's roof. For example, a 2007 article in the

New York Times

, referring to the

Volkswagen Eos

, reported:
"
To neutralize the loss of torsional

rigidity

inherent in any convertible, VW engineers cleverly took the basket-handle roll bar of the VW Cabrio, inverted it and placed it under the rear seat pedestal. A beefed-up windshield frame of hot-stamped ultra-high-strength steel is connected directly to the floorpan's reinforced frame rails. Steel tubing provides more stiffness behind the doors for an extra layer of safety. Partly as a consequence, rear seat passengers have about 10 inches less shoulder room than in the smaller Rabbit"[1]
"
specifically poor structural rigidity, such as pronounced

scuttle shake

, a characteristic whereby the structural design of the bulkhead between engine and passenger compartment of a convertible suffers sufficiently poor rigidity to negatively impact ride or handling — or allow noticeable vibration, shudder or chassis-flexing into the passenger compartment.
lesser handling qualities in sports models due to lower torsional stiffness - and therefore requiring harder suspensions to achieve the equivalent roadholding, but at the expense of worse ride quality.
higher curb weight due to mass of the automatic raising mechanism, as well as the extra structural reinforcement to compensate for lesser rigidity. This invariably means weaker performance than an equivalent coupe.
Tonneau covers
Folding textile convertible tops often do not hide completely the mechanism of the folded top or can expose the vulnerable underside of the folded top to sun exposure and fading — in which case tonneau covers of various designs snap or secure into place to protect the folded roof and hide the mechanicals. Detachable foldable, rigid or semi-rigid covers require space-consuming storage inside the vehicle — and sometimes complicated installation from outside the stationary vehicle. Foldable vinyl and cloth covers can be prone to shrinkage, further complicating installation.
Evolution of the tonneau cover
The MKI (first generation) MGB (1963) roadster featured a manually-assembled convertible frame which required the driver to install the separate vinyl or cloth convertible top — from outside the car. Likewise, a similar detachable frame installed to support a foldable vinyl tonneau cover with a series of twenty press fit snaps.
Convertibles such as the

Chrysler LeBaron

(c. 1988) used sleeve and groove systems to anchor foldable vinyl tonneau cover, again installed manually from outside the car. Later textile convertibles used semi-rigid plastic tonneau covers, e.g., the first generation

Audi TT

and

Cadillac Allanté

.
Convertibles such as the fifth generation of the

Cadillac Eldorado

featured a detachable two-part, fully rigid, manually installed tonneau sufficiently strong to support a seated person — also known as a parade boot.
Convertibles such as the second generation

Mercedes SL

popularized the integral manually operated self-storing rigid tonneau cover—in its case accompanied by a separate removable hardtop. In either case, the design required manual operation from outside the stationary vehicle.
Convertibles such as first

Porsche Boxster

,[4]

Toyota MR2

and third generation

Mazda MX5 (NC)

featured Z-fold (aka zig-zag fold[4]) tops, whereby the exterior of the neatly retracted fabric roof also protected the remaining roof from sun exposure — eliminating the aesthetic or protective need for a tonneau cover.
Convertibles such as the second generation Ford Thunderbird (1958) convertible and the fourth generation

Mercedes SL

popularized the complex electro-hydraulic roof mechanism that automatically secured the folded top under a rigid tonneau — button activated by a seated driver — and later more routinely available on convertibles such as the

Volvo C70

,

Chrysler Sebring

and

Mitsubishi Eclipse Spyder

.
The contemporary

retractable hardtop

convertible such as the Chevrolet SSR include tonneau covers that "self-store" the roof assembly.
Detachable hardtops
Convertibles such as both the first and eleventh generation of the Ford Thunderbird and the second and third generations of the Mercedes SL featured as standard or optional equipment fully rigid, manually installable hardtops — later examples including heatable rear windows. These hardtops provided acoustic insulation but also required space-consuming off-season storage — and a cumbersome two-person installation. The optional aluminum (i.e., lightweight) detachable hardtop for a Porsche Boxster weighed 51 lb (23 kg).[4] Two current-day examples of vehicles with a detachable hardtop available are the Jeep Wrangler, and the Mazda MX-5.
Convertible windows
Convertible side windows have evolved from non-existent in the earliest models, to detachable side screens and manually or power operated glass side windows. Rear-windows have evolved similarly, with plastic rear-windows appearing as late as the first generation Porsche Boxster. Contemporary convertibles and retractable hardtops feature heatable glass rear windows to maximize visibility — though rear windows often can compromise visibility by their size, as with the case of the very small rear window and restricted visibility of the Mitsubishi Eclipse Spider. Plastic windows can degrade, fade, yellow and crack over time, diminishing visibility.
Windblockers
Windblockers, also known as wind screens, wind deflectors, or wind shields, minimize noise and rushing air from reaching the occupants — specifically cold air (and the noise that comes with it) rushing from behind the passengers having been forced over the windshield then returning to the natural lower-pressure zone where the passengers sit.
Mazda pioneered the windblocker with its Mazda RX7 convertible featuring an integral rigid opaque panel that folded up from behind the two seats. Current convertibles feature windblockers of various designs including detachable fold-up designs (e.g.,Toyota Solara), vertically retractable glass (e.g.,Audi TT), carefully designed minimal flaps (e.g.,Mazda Miata) — or other integrated wind controlling systems.
Mercedes and Audi currently offer a feature that routes a heating duct to the neck area of the seat on SLK, SL and A5/S5 models, marketed as the "Air Scarf".
According to the chief engineer for the 2008 Chrysler Sebring, Jim Issner, the windblocker for the Sebring reduces "wind noise by approximately 11 to 12 decibels".[5]
Safety
Contemporary convertible design may include such features as electrically-heated glass rear window (for improved visibility), seat belt pre-tensioners, boron steel reinforced A-pillars, front and side airbags, safety cage construction — a horseshoe like structure around the passenger compartment — and roll over protection structures or (ROPS) with pyrotechnically charged roll hoops hidden behind the rear seats that deploy under roll-over conditions whether the roof is retracted or not.
Notably, the Volvo C70 retractable hardtop includes a door-mounted side impact protection inflatable curtain which inflates upward from the interior belt-line — vs. downward like the typical curtain airbag.[6] The curtain has an extra stiff construction with double rows of slats that are slightly offset from each other. This allows them to remain upright and offer effective head protection even an open window. The curtain also deflates slowly to provide protection should the car roll over.
Variations
Convertibles have offered numerous iterations that fall between the first mechanically-simple but attention-demanding fabric tops to highly complex modern retractable hardtops:
Roadster: Originally the term roadster suggested a minimal convertible, possibly with a frame that required actual assembly (i.e., not retracting) and separately installable soft "window" panels — offering little protection from inclement weather and requiring a time-consuming, complicated installation. Examples would be the vintage Porsche Speedster introduced in 1955, and the classic Jaguar XK120 Roadster unveiled in 1948. A contemporary roadster is a two-seater convertible, like the Audi TT, the modern classic BMW Z8, and Pontiac Solstice.
Landau & Rigid Door: Citroën's early Citroën 2CV featured a roof that rolled back on itself leaving rigidly framed side doors in place — followed in concept by such cars as the 1950 Nash Rambler Convertible Coupe.
Citroën currently markets the C3 Pluriel (Pluriel is a cognate with the English plural), which can be configured into five iterations, hence the name:[7]
The Four Door: A four door convertible is referred to as a phaeton, while a two-door is referred to as a cabriolet. Modern 4-door models, e.g., the Lincoln Continental, c.1960. A current example of a 4-door convertible is the Jeep Wrangler Unlimited.
Peugeot presented the a concept four-door retractable hardtop convertible, the Peugeot 407 Macarena in 2006.[9] Produced by French coachbuilding specialist Heuliez, the Macarena's top can be folded in 60 seconds,[9] with a steel reinforcing beam behind the front seats incorporating LCD screens for the rear passengers into the crossmember.[9]
Drophead Coupe, Cabriolet or Cabrio: A type of convertible with only two doors,[10] and thereby recalling the cabriolet carriage. With its Mazda RX7 convertible, Mazda introduced a two-seater convertible with a removable rigid section over the passengers, removable independently of power operated textile section behind with heatable glass rear window. During the 1980s, Jaguar produced an XJ-SC with two removable panels over the front seats and a partial fold-down convertible section in the back. It retained the rear side windows of the coupe and had fixed cant rails above these and the door glass. This allowed an almost full convertible with roll-over safety. Going back in Jaguar history, during the 1950s the XK 120 Drophead Coupe (DHC) and later variants, provided open-air motoring with quite civilized fully-lined insulated tops with the weather-protection of the hardtop models.
History in the United States
Until the 1910 introduction by Cadillac of the first closed-body car, the convertible was the primary body style. US automakers manufactured a broad range of models during the 1950s and 1960s — from economical compact-sized models such as the Rambler American and the Studebaker Lark to the more expensive models such as the Packard Caribbean, Oldsmobile 98, and Imperial by Chrysler.
Threatened rollover safety regulations in the mid-1970s led to diminished popularity by the 1970s. In 1976 Cadillac marketed the Eldorado as "The last convertible in America". During this period of very low convertible production, T-tops became a popular alternative.
Elsewhere globally, convertible production continued throughout this era with models such as the Mercedes SL, the VW Beetle Cabriolet, the VW Golf Cabriolet, and the Jaguar E-type.
In the 1980s convertibles such as the Chrysler LeBaron and Saab 900 revived the body style in the United States — followed by models such as the Mazda Miata, Porsche Boxster, Audi TT and later retractable hardtop models.
Retractable hardtop roof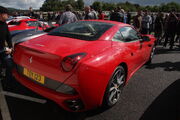 A retractable hardtop, also known as coupé convertible or coupé cabriolet, is a type of convertible that forgoes a folding textile roof in favor of an automatically operated, multi-part, self-storing hardtop where the rigid roof sections are opaque, translucent or independently operable.
The retractable hardtop solves some issues with the convertible, but has its own compromises, namely mechanical complexity, expense and more often than not, reduced luggage capacity. A 2006 New York Times article suggested the retractable hardtop may herald the demise of the textile-roofed convertible,[11] and a 2007 Wall Street Journal article suggested "more and more convertibles are eschewing soft cloth tops in favor of sophisticated folding metal roofs, making them practical in all climates, year-round."[12]
Construction
Retractable hardtops can vary in material (steel, plastic or aluminum), can vary from two to five in the number of rigid sections and often rely on complex dual-hinged trunk (British: boot) lids that enable the trunk lid to both receive the retracting top from the front and also receive parcels or luggage from the rear — along with complex trunk divider mechanisms to prevent loading of luggage that would conflict with the operation of the hardtop.
Construction variations
The

Volkswagen Eos

features a five-segment retractable roof where one section is itself an independently sliding transparent sunroof.[12]
The

Cadillac XLR

features a retractable aluminum hardtop requiring 6'-10½" of vertical clearance during retraction, and manufactured by a supplier joint venture between Mercedes-Benz and Porsche.[13]
The

Mercedes SL

hardtop features a glass section that rotates during retraction to provide a more compact "stack."
The

Mazda MX-5

has been available since the 2006 model year with an optional power retractable hardtop, in lieu of the standard folding-textile soft-top. The cost of the retractable hardtop is actually less than the price premium charged to a separate hardtop. Compared to the regular soft-top, the hardtop weighs 77 lb (35 kg) more yet has no reduction in cargo capacity.[14] The MX-5 is one of the few cars offering both hardtop and soft-top convertible choices, so it is possible to make a direct performance comparison; the hardtop has slower acceleration but a higher top speed. The hardtop roof is constructed of polycarbonate and manufactured by the German firm Webasto.[15]
The

Chrysler Sebring

's retractable hardtop is marketed also alongside a softtop. According to development engineer Dave Lauzun, during construction, the Karmann-made tops are dropped into a body that is largely identical: both softtop and retractable feature the same automatic tonneau cover, luggage divider and luggage space.[16] The retractable does feature an underbody cross-brace not included in the softtop.
The

Volvo C70

, its retractable hardtop manufactured by Webasto[15] includes a global window switch that allows simultaneous raising or lowering of all windows,[17] and a button to power-activate the raising of the folded top stack within the trunk to access cargo below.[17]
The

Vauxhaul/Opel Astra TwinTop

, its three-piece retractable hardtop manufactured by Webasto[15] includes a global window switch that allows simultaneous raising or lowering of all windows, an easy load where you raise boot lid vertically by 10 cm to allow an easy access to the boot while roof is down,[17] and a button to power-activate the raising of the folded top stack within the trunk to access cargo below.[17]
Pros and cons
The retractable hardtop convertible trades higher initial cost, mechanical complexity and, with rare exception, diminished trunk space — for increased acoustic insulation, durability and break-in protection similar to that of a fixed roof coupe.
Pro: The retractable hardtop eliminates:
increased

structural rigidity

over a soft-top.
the need for a storage-consuming, manually-from-outside-the-vehicle-installable, separate or integral, rigid or foldable, tonneau cover to conceal the mechanicals of a folded textile top.
the need to protect the vulnerable underside of a folded textile top from UV fading.
the need for a separate rigid hardtop requiring space-consuming off-season storage and a cumbersome twice-yearly, two-person manual installation and removal — a system popularized, for example, by the

Mercedes-Benz SL-Class

of 1963 to 1988.
may enable consolidation/simplification of a manufacturer's car lineup; for instance the current

BMW Z4

(

E89

) is offering only as a coupé-convertible (hardtop), compared to the preceding

E85

generation that had separate coupé and cabriolet (soft-top) variants.
Con: In addition to higher initial cost, increased mechanical complexity — and thereby potentially higher repair cost:
Diminished trunk space compared to a soft-top convertible, and some hardtops have a nearly unusable trunk once the hardtop is down.[18][19][20]
Hardtops typically have a higher weight and center of gravity which reduces handling dynamics, so the Audi R8 Spyder, Porsche Boxster and 911 Cabriolet have retained soft-tops. Audi has yet to produce a hardtop convertible as of 2011, since they include

quattro

as standard equipment in their convertibles (after the discontinuation of the 2007 Audi A4 2.0T cabriolet) which already adds extra weight.[21][22][23][24]
The retractable hardtop may lift the articulating sections of the roof during retraction, requiring increased vertical clearance. For example, the

Volvo C70

requires 6.5 feet (2.0 m) of clearance during operation.[25] The

Cadillac XLR

requires 6'-10½" of vertical clearance.
The retractable hardtop may, such as in the case of the

Mercedes SLK

, require additional rear clearance behind the car during operation of the top, the trunklid extending rearward while retracting or raising the top.
The retractable hardtop relies on battery power, and in the event of battery failure, can leave a retracted roof vulnerable to a downpour. Volvo includes an emergency roof cover with each

Volvo C70

.[25] The Cadillac XLR owners manual contains seven pages of detailed instructions on how to manually raise the top. This problem is not unique to retractable hardtops since some softtops rely on battery power as well.
With numerous articulated sections, each joint or seal is an opportunity for water leakage.
Failure of hydraulics or electrical systems may result in substantial repair bills, though some models of ragtops have similar setbacks when they employ a powered top-down sequence.
History
1922 Ben P. Ellerbeck conceived the first practical retractable hardtop system in 1922 — a manually operated system on a Hudson coupe that allowed unimpeded use of the rumble seat even with the top down.[26] — but never saw production.[27]
1935 Peugeot introduced the first production, power-operated retractable hardtop in 1935, the 402 Éclipse Décapotable,[11] designed and patented by Georges Paulin.[11] The French coachbuilder, Marcel Pourtout, custom-built other examples of Paulins designs on a larger Peugeot chassis as well.[11] The first Eclipse 402s offered a power-retractable top, but in 1936 was replaced by a manually operated version on a stretched chassis, built in limited numbers until World War II.[26]
1941 Chrysler presents the retractable hardtop concept car, the Chrysler Thunderbolt.[26]
1953 Ford Motor Company spent an estimated US$2 million (US$16,424,469 in 2022 dollars[28]) to engineer a Continental Mark II with a servo-operated retractable roof. The project was headed by Ben Smith, a 30-year-old draftsman.[29] The concept was rejected for cost and marketing reasons.[26]
1955 Brothers Ed and Jim Gaylord showed their first prototype at the 1955 Paris motor show,[30] but the car failed to reach production.
1957 Ford introduced the Skyliner in the United States. A total of 48,394 were built from 1957 to 1959.[26] The retractable top was noted for its complexity and intermittent reliability in the pre-transistor era. Its mechanism contained 10 power relays, 10 limit switches, four lock motors, three drive motors, eight circuit breakers, as well as 610 feet (190 m) of electrical wire,[26] and could raise the or lower the top in about 40 seconds. The Skyliner was a halo car with little luggage space (i.e., practicality), and cost twice that of a baseline Ford sedan.
1989 Toyota introduced a modern retractable hardtop, the MZ20 Soarer Aerocabin. The car featured an electric folding hardtop and was a marketed as a 2-seater with a cargo area behind the front seats. Production was 500 units.
1995 The Mitsubishi 3000GT Spyder convertible by ASC was marketed in the U.S.[27] The design was further popularized by such cars as the 1996 Mercedes-Benz SLK.[11] and 2001 Peugeot 206 CC.
2006 Peugeot presented the a concept four-door retractable hardtop convertible, the Peugeot 407 Macarena.[9] Produced by French coachbuilding specialist Heuliez, the Macarena's top can be folded in about 30 seconds.[9] It has a reinforcing beam behind the front seats which incorporates LCD screens into the crossmember for the rear passengers.[9]
List of retractable hardtop models
Early models
Hudson 1922

Peugeot 402 Éclipse Décapotable

(1935)
Chrysler Thunderbolt concept car 1941

Continental Mark II

concept car c.1953

Ford Skyliner

(1957–1959)
Gaylord (1956)[31]
Later models
Toyota Soarer Aerocabin

(1989)

BMW Z4

(2010)

BMW M3

(2008)

BMW 328i/335i Cabrio

(2007)

Cadillac XLR

(2004)
Chevrolet SSR (2003)

Chrysler Sebring

(2008)

Chrysler 200

(2011)

Daihatsu Copen

(2002)

Ferrari California

(2009)

Ford Focus CC

(2007)

Infiniti G

Convertible (2009)

Lexus SC 430

/

Toyota Soarer

(2001)

Lexus IS 250/350 C

(2009)

Mazda MX-5

(2007–present)

Mercedes-Benz SLK-Class

(1996)

Mercedes-Benz SL-Class

(2003–2009)

Mitsubishi 3000GT Spyder

Mk.2 (1995–1996)

Mitsubishi Colt CZC

(2006)

Nissan Micra C+C

(2005)

Nissan Silvia Varietta

(2000)

Opel Astra TwinTop

/ Vauxhall Astra TwinTop (2006)

Opel Tigra TwinTop

/

Vauxhall Tigra TwinTop

(2005)

Peugeot 206 CC

(2001)

Peugeot 307 CC

(2003)

Peugeot 207 CC

(2007)

Peugeot 308 CC

(2008)

Pontiac G6

(2006)

Renault Mégane CC

Mk.2 (2003)

Renault Mégane CC

Mk.3 (2010)

Toyota MR-S

(2000–2007)

Volvo C70

Mk.2 (2006)

Volkswagen Eos

(2006)
Convertible gallery
Retractable hardtop gallery
See also
Carson top

NASCAR Convertible Division
References
Notes
↑ Garrett, Jerry (8 October 2006). "2007 Volkswagen Eos: In Praise of a Convertible Goddess". Retrieved on

6 March 2011

.

 

↑ "What You Should Know Before Buying a Convertible". Edmunds. Retrieved on

6 March 2011

.
↑ Solheim, Mark K., "Go Topless", Kiplinger's Personal Finance 57(5): 100–103, http://books.google.com/books?id=If4DAAAAMBAJ&pg=PA100&lpg=PA100&dq=Trunk+space+is+ridiculously+skimpy,+with+less+than+half+the+cargo+area

. Retrieved on

.

 

↑ 4.0 4.1 4.2 4.3 "2007 Porsche Boxster news, pictures, and information". Conceptcarz.com. Retrieved on

6 March 2011

.
↑ Chrysler Group (30 March 2007). "2008 Chrysler Sebring Convertible's Solid Structure and Systems Deliver Smooth Driving, Tight Handling and a Quiet Ride". prnewswire.com. Retrieved on

6 March 2011

.
↑ "Road Test: 2006 Volvo C70 Convertible". Motorweek Program #2533. Retrieved on

6 March 2011

.
↑ 9.0 9.1 9.2 9.3 9.4 9.5 "¡Hey, Macarena! Heuliez Creates an Open-Top Peugeot 407". Edmunds, 01-28-2006.
↑ "Cabriolet definition". Reverso Online Dictionary. Retrieved on

6 March 2011

.
↑ 11.0 11.1 11.2 11.3 11.4 Sass, Rob (10 December 2006). "New Again: The Hideaway Hardtop". Retrieved on

6 March 2011

.

 

↑ 12.0 12.1 Vella, Matt (26 April 2007). "Convertibles with Hard Tops". Retrieved on

6 March 2011

.

 

↑ 13.0 13.1 Keebler, Jack (August 2002), "2004 Cadillac XLR", Motor Trend, http://www.motortrend.com/roadtests/112_0208_cadxlr

. Retrieved on

.

 

}}
↑ 14.0 14.1 14.2 Vaughn, Mark (10 September 2006). "2007 Mazda MX-5 Miata Power Retractable Hardtop". Autoweek. Retrieved on

6 March 2011

.
↑ 15.0 15.1 15.2 "Follow-Up Test: 2007 Mazda MX-5 Miata PRHT". edmunds.com. Edmunds.com, Kevin Smith, 08-28-2006. Retrieved on

6 March 2011

.
↑ Lauzun, Dave. "2008 Chrysler Sebring Convertible". Autonetwork.com.
↑ 17.0 17.1 17.2 17.3 "2007 Volvo C70". Joe Wiesenfelder, Cars.com, August 21, 2006.
↑ 25.0 25.1 "2007 Volvo C70". Volvocars.com, C70 owner documentation, Page 93.
↑ 26.0 26.1 26.2 26.3 26.4 26.5 Nerad, Jack. "Ford Skyliner". Driving Today. Retrieved on

6 March 2011

.
↑ 27.0 27.1 "History, Revival". Retractable Hardtop Online. Retrieved on

6 March 2011

.
↑ Consumer Price Index (estimate) 1800–2008. Federal Reserve Bank of Minneapolis. Retrieved December 7, 2010.
↑ "Lucy Loved Ford's First Hard Top Convertible". GreatcarsTV.com, Bob Merlis, March 06 2007.
↑ Auto Editors of Consumer Guide (13 November 2007). "1950 Gaylord concept cars". Howstuffworks.com. Retrieved on

6 March 2011

.
↑ Auto Editors of Consumer Guide (27 May 2007). "1951 Rambler Custom Landau". Howstuffworks.com. Retrieved on

6 March 2011

.
↑ Wilson, Bob. "SuperMan Clips: Lois Lane's 1950 Nash Rambler Custom". Articboy.com. Retrieved on

6 March 2011

.
↑ Schuon, Marshall (19 April 1987). "The few, the rich, Pininfarina". Retrieved on

6 March 2011

.

 
Bibliography
External links