Jurassic World: Dominion Dominates Fandom Wikis - The Loop
Play Sound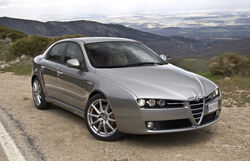 Compact executive car is a mainly British car classification term applied to premium cars smaller than executive cars. In European classification, compact executive cars are part of the D-segment. In American English, the specific equivalent term to compact executive car would be compact premium car or compact luxury car,[1] however these are more frequently referred to as Entry-level luxury car or near-luxury car, though entry-level luxury or near-luxury also includes upscale vehicles not sold or categorized in Europe.[2] Compact executive cars are usually available in saloon, estate, coupé and cabriolet body styles.
Dimensionally, compact executive cars are smaller than mid-size/large family cars, and sometimes even smaller than compact cars. Mass market compact cars typically use the economical front wheel drive transverse engine layout, well suited to the inline-4 engine, which also maximizes interior room.[3] Several compact executive cars are rear-wheel drive with longitudinal engines, for improved stability and handling,[3] and in order to accommodate the larger size of higher-performance engines (straight-6, V6, rarely V8), with four-wheel drive often being available.[4] Compact executive cars also tend have more complicated independent suspensions, sportier transmissions, and high revolution engines that may require premium gasoline. The more complex powertrain and mechanical layouts of compact executive cars comes at increased cost and reduced interior passenger and trunk space.
Compact executive cars usually offer the buyer less equipment, interior room or engine horsepower for the money, compared to mass market (non-luxury) cars. However, the material and building quality is higher, there are exclusive features not found on mass market cars, there is better handling and performance, and the nameplate itself is part of the value proposition.[4] Recently, the entry-level luxury segment has been very competitive, and there has been price-overlapping with well-equipped non-luxury cars.[5][6]
Today, many compact executive cars particularly emphasize sporty handling.[7][8] This category of vehicles is crucial to that of luxury marques; for instance the 3 Series makes up 40% of the vehicles that BMW sells worldwide.[9]
Other vehicles such as the Lexus ES, Acura TL, and Buick LaCrosse are also considered entry-level luxury in the United States and Canada, being similar in price to the BMW 3 Series and Mercedes-Benz C-Class.[10] However, the ES, TL, and LaCrosse are not sold in Europe and do not fall under European luxury classifications. The ES and TL actually began as badge engineered versions of the midsize Toyota Camry and Honda Accord, respectively, retaining the front wheel drive transverse engine layout, whereas Toyota's current Lexus IS does not share a platform with mass market Toyota cars. The ES and TL are not considered executive cars either, despite similar dimensions, since executive cars usually emphasize higher performance, often being rear-wheel drive with longitudinal engines.[7][8] the present iterations of the ES and LaCrosse emphasize "comfortable, reasonably priced luxury",[11] while the TL has recently been targeted at the entry-level luxury sport market.[10]
See also
References