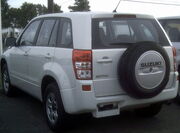 Compact SUV is a class of small sport utility vehicles with a length roughly between 4.25 to 4.60 metres (167 to 181 in). This class should not be confused with mini SUV, which refers to smaller vehicles.
Background
Edit
The modern compact SUV models were introduced in 1983. General Motors released the two-door Chevrolet S-10 Blazer, a four-wheel drive wagon with a four-cylinder engine as standard.[1] Mid-year, Ford brought out the Ford Bronco II. Both models were body-on-frame designs based on each automaker's small pickup trucks, the Chevrolet S-10 and Ford Ranger respectively. Both were station wagon-like vehicles with seating for four adults and an enclosed cargo area, unlike their similar compact truck versions that would normally fit two and have an open load bed.
The first purpose-designed monocoque (unibody) compact SUV, and the first with four-doors, was the Jeep Cherokee (XJ).[2] It was introduced by American Motors Corporation (AMC) in 1983 for the 1984 model year and was produced almost unchanged through 2001 in the U.S. and 2005 in China. Automobile magazine called it a masterpiece of automotive design with room for five passengers and their cargo.[3]
Although the compact XJ Cherokee shared its name from the full-size SJ model, it had no true pickup truck heritage, but came in both four and two-door versions that were extremely capable off-road. The compact Cherokee's design, appearance, and sales popularity spawned imitators as other automakers noticed that this model began replacing regular cars.[4] Compact SUVs have become an alternative to the minivans for families who need cargo space.[5]
Current models
Edit
Most current compact SUVs are crossover SUVs, of monocoque construction and limited off-road capabilities. These models are often derived from a compact car or small family car automobile platform. As with crossover SUVs, third-row seating became optional on most models, such as the 2006 Toyota RAV4 and the Mitsubishi Outlander.
Some modern compact SUVs have some features which resemble compact MPVs and regular hatchbacks, but still offer many of the perks of standard SUVs, like increased towing capacity and ample cargo space; examples of this are the Honda CR-V, SEAT Altea, Nissan Qashqai, and Hyundai Tucson. Most automakers create new market niches by mixing segments with the goal of attracting new customers.
On the other hand, some compact SUVs appear SUV-like and are regarded as smaller-size alternatives to medium-size SUVs in a manufacturer's line. The Ford Escape, introduced in 2001, is an example of this. Others, such as the Jeep Liberty have precise handling with independent front suspension and a rack-and-pinion steering setup, but remain purposes built for off-road performance.[6]
Footnotes
Edit
Community content is available under
CC-BY-SA
unless otherwise noted.