A lot of Collectables are displayed at Steam Fairs and Vintage Vehicle rallies in the UK. These displays comprise collections of all sorts of every day objects, often that are now out of common usage, witha theme to the collection.
Typical subjects
Edit
Number plates
Oil cans and grease guns
Petrol cans (see photo)
Service manuals
Old Tax discs (road)
Car badges
Tractor badges
Farm tools & Equipment
Edit
Farming tools like billhooks and spades
Milking machinery
Mole traps
Garden tools
Edit
Garden tools
Lawn mowers
Watering cans
Horticultural machinery
Edit
Cultivation tools
Cultivators
Hand seeders and planters
Packaging
Edit
Branded goods (of older long gone products)
Petrol cans
Oil cans and grease guns
Old household items like oxo tins and soaps
Old enamel signs for dealer and brand adverising
Brass blow torches
Hand tools
Farriers tools
Cast iron Implement seats.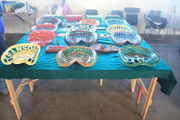 References / sources
Edit
The many vintage and heritage events staged around the UK each year. (see Shows and Meets for list of some). If you know of others please add them to the list & you could start an article for your favourite show & feature you collection or other interesting ones you have seen (just upload a photo & add it to relevant pages like this one).
External links
Edit
relevant links can be added here
Community content is available under
CC-BY-SA
unless otherwise noted.