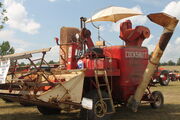 Cockshutt was a large tractor and machinery manufacturer based in Brantford, Ontario, Canada.
Originally founded as the Brantford Plow Works by James G. Cockshutt in 1877, the name was changed to the Cockshutt Plow Company when it was incorporated in 1882. After James died shortly thereafter, his brother William Foster Cockshutt took over as president. He remained until 1888, when another brother Frank Cockshutt became president of the company. In 1910, Henry Cockshutt, the youngest of the brothers, took over the leadership of the company. Under his direction, the company was able to obtain financing for acquisitions and expansion.
Known for quality designs, the company became the leader in the tillage tools sector by the 1920s.
Since Cockshutt did not have a tractor design of its own yet, in 1929 an arrangement was made to distribute Allis-Chalmers model 20-35 and United tractors. In 1935 Cockshutt took on the Oliver tractor line, distributing then in Canada. some Hart-Parr tractors were also sold in Canada under the Cockshutt Hart-Parr brand.
During the war years, Cockshutt was able to design its own tractor. It was the Cockshutt 30 tractor and was the first modern production tractor built in Canada.
After the model 30, Cockshutt added the smaller model 20, and the larger 40 and 50.
In 1958, Cockshutt introduced a complete new line of tractors at the same time: the 540, 550, 560, and 570. The sheet metal of the 500 series was designed by Raymond Lowey, an automobile designer of the era, who also designed some Farmall tractor models. The design set a new standard in modern styling.
Also in 1958, the company was taken over by outside interests and the farm equipment division was sold to White Motor Company in 1962. White had previously acquired Oliver in 1960 and subsequently bought Minneapolis-Moline in 1963.
Starting in 1962, White opted to re-brand the Oliver tractors as Cockshutts. Thus, a Cockshutt 1650 was the same tractor as the Oliver 1650, but painted red instead of green.
In 1971, White sold two diesel imports made by Fiat as Cockshutts: the 1265 (41 PTO horsepower, 3-cylinder) and the 1355 (54 PTO horsepower, 4-cylinder). The same tractors were also sold as Minneapolis-Moline and Oliver.
White continued to use the popular Cockshutt brand name until the mid-1970s, when it was phased out. By 1977 the Cockshutt name was no longer used.
Model Range
Edit
Tractor Models
Edit
Cockshutt Hart-Parr
Edit
Built by Cockshutt for other Companies
Edit
Harvester Models
Edit
Reference
Edit
External links
Edit


Early Makes - pre 1940s

1940s to 1980s

Modern post 1980s

Independents
North America

Europe

India & Pakistan

Middle East
(Turkey, Iran,
Iraq, Syria etc...)

Far East
(Australasia, China,
Japan, Korea, Thailand,
Vietnam etc...)

South America
(Argentina, Brazil,
Uruguay etc)

Africa

Asia
(Russia, Tajikstan,
Uzbekistan, Ukraine)

Specialist types of tractor

Notable People - associated with the tractor industry

Inventors