The Chevrolet Kodiak (and similar GMC Topkick and Isuzu H-Series) is a line of medium-duty trucks from General Motors. It was produced from 1980 to 2009, when General Motors exited the medium-duty truck market.
The Kodiak/TopKick were commonly used as a basis for work trucks, cargo haulers, dump trucks, and similar vehicles which required medium duty torque, GVWR, towing capacity. There are aftermarket coachbuilders that built them as pickup trucks and commercial trucks for consumers. The Kodiak/Topkick are in the same class as the Ford F-650 and Dodge Ram 6500, as well as the International CXT in the consumer market.
Design History
First generation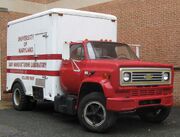 The Kodiak and TopKick were introduced in 1980 as stronger versions of GM's existing medium-duty C-Series trucks. "Kodiak" followed the pattern of "frontier beast" names given to heavier trucks such as the Chevrolet Bison and Chevrolet Bruin, while "Top Kick" came from military slang and tied in with GMC's heavy truck names of General and Brigadier. First-generation models can be distinguished by a full-width grille with quad square headlights arranged horizontally in chrome bezels underneath with the GMC lettering or Chevy "bowtie" above the grille; normal 1973-89 C50-C80s had single round headlights and the emblem all incorporated into the grille area.

Second generation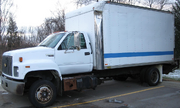 Second generation
Production
1993-2002
Body style(s)
2-door truck
4-door truck
With the second generation in 1990, all GM medium conventionals took on the "Kodiak" or "Topkick" names, until they were dropped in 1995; these models used the GMT400 pickup cab until 2003, always with the original "square" dashboard dropped from light-duty models in 1995. While U.S. production ended in 2002, they continued to be produced for the Mexican domestic market in GM's Toluca plant through 2008.

Third generation
Beginning with the 2003 model year, US-market models moved to a new platform with a more spacious cab based on the GM full-size vans. The 4500 and 5500 trucks had the option for Four-wheel drive. These trucks featured solid front axles, on both 4x2 and 4x4, instead of independent front suspension featured on the 3500 trucks. The drive-train consisted of a Duramax V8 engine, a Allison 1000 transmission, and a Dana S 110 rear axle. The 4x4 models added a New Process 273 C Transfer case and a Dana 70 front axle.
A special Kodiak C4500 was introduced at the Chicago Auto Show in 2006. It is clearly aimed at the International RXT, also introduced there, with a DVD-based navigation system and powerful audio system. Pricing begins at $70,000. The two share a number of similarities, such as the options allowed in their premium packages, although the C4500 has higher power (300 hp versus 230 hp) and the RXT is a 4x2 drive vehicle with a higher towing capacity at 16,000 lb (7,300 kg). The newest version of the United States Presidential State Car is a Cadillac-badged limousine, which is actually based on a GMC Topkick chassis. The vehicle is styled as an enlarged Cadillac DTS.[2]
In December 2007, GM announced its intention to sell GM's medium-duty truck business, whose products include the Kodiak and Topkick, to Navistar International[3]. In August 2008, both GM and Navistar announced that their memorandum of understanding for the purchase had expired and was not renewed [4][5]. After four years of working with multiple potential buyers, including an anticipated five-year deal with Isuzu Motors announced late in January 2009 to take over the production line in Flint, Michigan,[6] General Motors decided to wind-down its medium-duty truck operations[7]. Production of the Chevy Kodiak and GMC Topkick medium duty trucks in Flint ceased on July 31, 2009.

Ultimate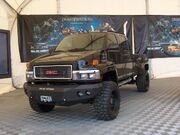 A conversion of the commercial GMC Topkick called the Ultimate Class IV Topkick Pickup crewcab pickup truck was developed by General Motors and Monroe Truck Equipment (MTE). This special version features an 8-foot (2.4 m) steel dually pickup box and tailgate with custom composite side panels and protective Rhino interior lining. This vehicle serves as the alternate mode for the character Ironhide in the 2007 and 2009 Transformers films, as seen in the image at right.

Isuzu

Commercial Vehicles

Domestic Japan
Outside Japan
United States

H-Series
References
External links