The Chevrolet HHR is a retro-styled mid-size crossover SUV made by Chevrolet.  
Design
The design of the vehicle was inspired by the early concepts of the Chrysler PT Cruiser and the Chevrolet Suburban panel truck from 1953. The design of the HHR has been credited to Bryan Nesbitt who was a former designer at Chrysler where he was the lead designer of the Chrysler PT Cruiser.
Assembly
The HHR was assembled in Ramos Arizpe, Mexico, and was available for sale throughout North America. The HHR was also exported to Japan by way of the motor vehicles business unit of Mitsui. Japanese buyers were liable for annual taxes due to the engine displacement and width dimensions which didn't comply with the "compact class" dimension regulations imposed by the Japanese Government. First year sales exceeded 93,000 through June 2006. The HHR was partially sold in Europe and is replaced now by the Chevrolet O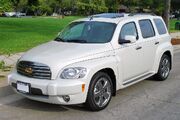 rlando. In early 2009, the HHR was discontinued from the Mexican lineup due to poor sales.