This article is about Chinese auto brand. For Other uses, see
Chery
.
Chery Automobile Co Ltd
[1]
(
中文:
, English pronunciation: 
/ˈʃɛri/
) is a state-owned
[1]
automobile manufacturer
in the
People's Republic of China
, a part of
Chery International
.
Chery became the 7th most-productive Chinese vehicle manufacturer in 2010 by selling nearly 700,000 units.[2]
Founded as a state-owned enterprise in 1997, auto production commenced in 1999[1] using a chassis licensed from Volkswagen's SEAT Toledo.[3]
In 2009 Chery produced 508,500 units,[4] although by that time it probably had a per-year production capacity of 650,000.[5] More than 400,000 of its 2009 sales were sedans.[6] Production capacity figures may consider engines and vehicles as discrete.
Export champion
Edit
Making its first export to Syria in 2001,[7] as of 2009 Chery was the top exporter among Chinese automakers[1] a title it held since 2003.[8] Its activities may routinely make up half of Chinese automobile export data, as its exports are well documented.} Many of these exports may be in the form of knock-down kits.
It may have been affiliated with SAIC at one time.[9] SAIC may have sold its ownership in the company back to Chery in 2004 due to a rising tension between Chery and its other foreign partners General Motors and Volkswagen.
Unconsummated Chrysler cooperation
Edit
When Cerberus Capital Management owned Chrysler, this company planned a cooperation with Chery that would have seen the Chery A1 and its underpinnings sold under the Dodge brand name in the US and abroad.[10] The plan would have quickly increased the Chrysler small car stable, and the two companies participated in a signing ceremony in late 2007.[11] In early 2008 a similar deal was reached between Chrysler and Nissan, and the Chrysler-Chery cooperation was abandoned.[12]
Around the time of the 2009 Chrysler Chapter 11 reorganization, this American automaker discussed the possibility of an asset sale with Chery.[13]
Unconsummated Fiat joint venture
Edit
In 2007 Fiat and Chery signed a Memorandum of Understanding on the creation of a Sino-Italian car-making joint venture.[14] It was supposed to initiate activities in 2009, make Fiat and Alfa Romeo-branded products for the Chinese market, and be located in Wuhu, Anhui province.[14]
The deal was put on hold in March, 2009.[15]
Dakar rally
Edit
Participating in the 2011 and 2010 Dakar Rally, it used Rely X5 SUVs for both races.[16]
Brand names
Edit
As of 2009, Chery sold under at least four brand names. These include Karry, Rely, Riich, and its own.[17] The Karry brand was for commercial trucks. In 2012, Chery announced plans to discontinue the Karry and Rely brands, incorporating the models under the Chery banner.[18]
Domestic after-sales service
Edit
The company has a customer service network that spans at least 31 Chinese provinces, autonomous regions, and direct-controlled muicipalities.[19] As of 2009 it offered a warranty of four years/120,000 kM.[20]
Joint ventures
Edit
The company has a handful of Sino-western joint ventures, most with part or component manufacturers.[21] These companies include Arvin Meritor,[21] Johnson Controls[21] and PPG Industries.
Chery Jaguar Land Rover
Edit
Main article: Chery Jaguar Land Rover
In March 2012, Chery and the UK-based luxury automaker Jaguar Land Rover agreed to invest an initial US$2.78 billion in a new China-based joint venture that will sell and manufacture Jaguar and Land Rover vehicles and engines as well as establish a research and development facility and create a new "own-brand" automobile marque.[22] The joint venture received regulatory approval in September 2012.[23] An initital production base will be built in Changshu, a county-level city close to Shanghai.[24]
Main article: Qoros
Its first car making joint venture with a foreign firm, Qoros was established by Chery in cooperation with an Israeli company, Israel Corporation, in 2007 and may begin selling models as early as 2013.[25] Set to unveil a sedan atop a brand-new platform[25] at the 2013 Shanghai Auto Show,[26] Qoros' debut models will not be electric vehicles (as some sources may have reported).[25] A proposed production base for the venture will be built in Changshu, Jiangsu, and become operational in 2012.[27] Production capacity will be 150,000 units a year,[28] but the location may not run at full capacity until 2015 or 2016.[29] While Qoros professes its desire to sell to young city dwellers[30] in China and Europe,[25] the brand could very well target fast-growing countries in the Middle East as well as later sell electric vehicles in warm, tiny Israel. The company does have plans to include electric vehicles in its lineup.[25]
High quality Qoros cars are built with components and systems from foreign suppliers such as American Visteon and French Valeo.[31] Its engine design also required assistance from a foreign firm,[29] and Qoros has attracted western talent including former employees of Volkswagen and Mini.[28] It has sites in Austria and Germany as of 2012.[30]
Although initially known as Chery Quantum Auto Co Ltd, its legal name is now Qoros Auto Co Ltd.[25] The eponymous brand name sounds like the English word "chorus".[25]
Engine brands
Edit
The company makes and has exported engines under the brands ACTECO and CAC.[32] Chery engines have been bought by Fiat[32][33] and exported to the US.[32]
Its Corporate social responsibility activities comprising sponsored forests with a sand-control purpose[34] and donations for disaster relief,[35] Chery is a company that has helped its greater environment in more ways than simply supplying it with automobiles.
Main article: List of Chery models
Chery makes road-worthy cars, minivans, and SUVs.
An informal, 2007 Russian crash test yielded a poor score for a Chery model named the Amulet, but a later test on Chinese soil saw this model, sold on the Russian market, fare better.[36]
The 2009 A3 received a five-star C-NCAP safety rating[37] becoming the first indigenous car to achieve such a high-test rating.[20][38]
Electric vehicles
Edit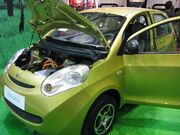 Like many Chinese automakers, Chery want to produce electric vehicles in the future. China subsidies oil, and some of its automakers see opportunities in less mature electric vehicles because Western companies have yet to develop much of a lead in the technology.[39]
International cooperation
Edit
Chery and Quantum LLC, an Israel Corp subsidiary, formed a joint venture in 2007 to build electric cars.[40] A proposed production base for this JV may be built in Changshu, Jiangsu province, becoming operational in 2012.[40]
Another company, the American Better Place, signed a 2010 memorandum of understanding with Chery for the development of prototype electric vehicles to be used in its pilot projects.[41]
Electric models
Edit
In 2009 Chery announced it had built an all-electric car, the S18.[42]
In early 2009 the company showed an all-electric Chery Riich M1 to journalists touring its "garden-like factories".[5] This car, also referred to as the S18, may have entered production in 2010.[43]
As of early 2011 the official Chery website lists two hybrid and two all-electric models.[44]
Controversies and criticism
Edit
Several lawsuits and copying claims make Chery the exception to a harmonious group of otherwise considerate, car-making State-owned enterprises in China.
Copying claims
Edit
In June, 2003, American company General Motors sued Chery accusing it of copying the first generation Daewoo Matiz (developed by a GM subsidiary, GM Daewoo) in its design for the Chery QQ.[45] General Motors then went on to accuse Chery of using a Matiz in a crash test for the Chery QQ.[45]
GM executives claimed design duplication,[46] which may extend to interchangeable parts,[9] and GM China Group stated the two vehicles, "shared remarkably identical body structure, exterior design, interior design and key components."[46]
GM lawsuit
Edit
After mediation attempts failed, then-GM Daewoo (now known as GM Korea) brought a case against Chery in a Shanghai court, but by 2005 jurisdiction had been moved[9] to the Beijing No.1 Intermediate People's Court.[47]
Around that time Chinese state officials, including a vice-minister of commerce and a vice-director of the State Intellectual Property Office, publicly supported Chery.[47] It was suggested that GM may not have patented its technology.[47] In late 2005 the lawsuit was settled.[45]
Non-QQ copies
Edit
While some Chery cars are not copies, such as the Pininfarina-designed A3,[37] the QQ may not be the sole Chery model that wears famous-name designs; the Chery Tiggo is criticized for resembling a 2nd generation Toyota RAV4 in the West. Other models using the Matiz technology found in the QQ may include the QQ3, QQ6, and A1. The Magnus and its derivatives (Eastar, V4, B12, and B22) are also considered by some to be copies.
Bricklin US court case
Edit
An American entrepreneur with past experience importing developing country autos to the US, Malcolm Bricklin, sued Chery in 2008 for contracting a different company after previously contracting Bricklin.[48]
Overseas factories
Edit
There are many small factories in developing countries manufacturing Chery models. These factories build from either complete or semi-complete knock-down kits and,[49] with the exception of an Argentinian cooperation[50] and an Iranian factory,[51] are not necessarily owned by or affiliated with Chery. Sales of knock-down kits are an easy way for Chery to gain access to growing markets without added fter-sales service costs.
Such overseas knock-down factories may spring up and disappear quickly. As of 2007 there were 14 overseas factories,[32] but by mid-2009 that number had dropped to ten[7] only to rise again to a projected 15 by the end of that same year.[52]
These factories have appeared in Argentina,[50] Egypt,[53] Indonesia,[53] Iran,[53] Malaysia,[53] the Middle East,[50] North Africa,[50] Pakistan,[54] Uruguay,[53] Russia,[53] Taiwan,[52] Thailand,[53] the Ukraine,[53] and Vietnam.[55] Besides the Ukrainian site another Eastern European site may exist.[50]
Argentina
Edit
An affiliated Argentinian company[50] may manufacture in Montevideo, Uruguay, instead of its home country. A few of its products have been sold in Uruguay,[56] and Chery says it has a factory in the country.[57]
Chery has agreed to the construction of a Jacarei, Brazil, production base that should be finished by 2013 in a joint effort with the Government of the state of São Paulo.[58]
As of late 2009 the company planned future sales in this country but had yet to equip its models to run on a gasoline/ethanol mixture[57] something that's essential in Brazil where 95% of new car sales are of such flexible-fuel vehicles.[59]
Assembly of Chery cars from complete knock-down kits began in Egypt in 2006, and in this country they may be sold under the brand name Speranza Chery.[60] One Egyptian factory making Chery models from semi-complete knock-down kits had a 2009 production capacity of 30,000 vehicles/year.[61]
As of late 2007 Chery has a minority ownership in a joint venture with Iranian Khodro and Canadian Solitac as its partners.[51] This JV controlled a knock down factory in Babol, Mazandaran.[51] Making a QQ6 renamed the S21, it may be sold both inside and outside Iran[51] and carry a name other than Chery, as well.
As of late 2008 Chery exports semi-complete knock-down kits for assembly in Thailand.[62]
Another production facility for Chery cars is located in Istanbul, Turkey, and is known as Mermerler Otomotiv.
In Russia, Chery produces cars in partnership with local carmaker TagAZ under Vortex-brand. For example, Chery Tiggo in Russian market names Vortex Tingo.
Production bases and facilities
Edit
Chery has several production bases in China,[32] and at least one in its home province of Anhui,[10] probably in Wuhu City.[63] As of 2007 the company had two auto-making production bases, two engine-making bases (the No.2 base having built ACTECO-branded engines and being "highly automated"), a gearbox production base, and two units presumably tasked with R&D.[32] Another car-making production base should have become operational by early 2008.[32] A Dalian, Liaoning province, base will be finished by the end of 2011.[63]
An R&D centre exists and may be located in Wuhu City, Anhui province, as this is where the company is based.[43]
References
Edit
↑ China Car Market 101: Who Makes All Those 18 Million Cars? thetruthaboutcars.com, January 19, 2011
↑ Li, Wei (May 19, 2008). "Yin Tongyue: There's no myth to cars (qiche meiyou shenhua)" (in Chinese), pp. 56–61.

 

↑ "2009年安徽汽车年产量破90万辆". Midchina.xinhuanet.com (2010-01-29). Retrieved on 2010-10-05.
↑ 5.0 5.1 Young, Confident, Progressive - Overseas Media Speak Highly of Chery's Internationalization Chery Official Site, 2009.04.29
↑ "2009 Chinese Auto Sales". Nitrobahn.com (2010-01-20). Retrieved on 2010-10-11.
↑ 7.0 7.1 Chery, the Only Automaker Listed Among Top 200 Chinese Exporters Chery Official Site, 2009.06.18
↑ Chery ranks 1st in exports for 8 consecutive years Chery Official Site, 2010.12.29
↑ 9.0 9.1 9.2 "GM Daewoo claimed their investigation results showed the Chery QQ shared a remarkably identical body structure, exterior design, interior design and key components", BBC News (2005-05-09). Retrieved on 2010-10-05.

 

↑ 10.0 10.1 Rating the Chery wsj.com, AUGUST 25, 2007
↑ Chery and Chrysler Group Finalize Cooperative Agreement Chery Official Site, 2007.07.10
↑ Chrysler's turnaround seen as race against time reuters.com, Mon Sep 14, 2009 3:13pm EDT
↑ Chrysler renews search for China partner: sources reuters.com, Wed Aug 26, 2009 4:27pm EDT
↑ 14.0 14.1 Chery and Fiat Reached a Memorandum of Understanding Chery Official Site, 2007.08.06
↑ China's Chery postpones car venture with Fiat reuters.com, Thu Mar 19, 2009 1:46am EDT
↑ For 2011 Dakar entry and use of of Rely X5, see Rely X5 test for Dakar, Lu Ningjun satisfied with preparations Chery Official Site, 2010.11.14
↑ Chery's "Outstanding 4+1" Pattern Exhibits the "Chinese Power" Chery Official Site, 2010.04.23
↑ Chery China Chery Official Site
↑ 20.0 20.1 A Deep Analysis on Chery A3 Winning the C-NCAP Five-star Safety Award Chery Official Site, 2009.03.18
↑ 21.0 21.1 21.2 Joining Hands with Arvin Meritor, Chery More Confident of Internationalization Chery Official Site, 2007.07.26
↑ "Jaguar Land Rover seals JV with China's Chery", Reuters (21 March 2012). Retrieved on 9 April 2012.

 

↑ Fang Yan and Kazunori Takada (Fri Sep 21, 2012). "UPDATE 1-Chery gets regulatory nod for Jaguar Land Rover JV". reuters.com. Thompson Reuters. Retrieved on November 19, 2012.
↑ Hirschler, Ben (Nov 18, 2012). "Jaguar, Chery start construction of new car factory in China". reuters.com. Thompson Reuters. Retrieved on November 19, 2012.
↑ 25.0 25.1 25.2 25.3 25.4 25.5 25.6 "COMPANY: INTRODUCTION". Qoros. Retrieved on July 19, 2012.
↑ Ash (JULY 19, 2012). "Qoros Compact Sedan Testing on Chinese Tarmac", chinacartimes.com. Retrieved on July 19, 2012.

 

↑ "Chery-Quantum to Start Building Cars in Changshu, Jiangsu in 2012". ChinaAutoWeb (2010-09-06).
↑ 28.0 28.1 Han, Tianyang (2011-12-05). "All-new Qoros brand to face fierce lineup of automakers", China Daily. Retrieved on July 19, 2012.

 

↑ 29.0 29.1 Shirouzu, Norihiko (November 28, 2011). "Qoros: Launching A New Car Brand In China", Driver's Seat Blog. Retrieved on July 19, 2012.

 

↑ 30.0 30.1 "Press Release: TomTom Secures Traffic Deal with Qoros Auto in China", reuters.co.uk (Tue March 6, 2012 7:30am GMT). Retrieved on July 19, 2012.

 

↑ "COMPANY: PARTNERS". Qoros. Retrieved on July 19, 2012.
↑ 32.0 32.1 32.2 32.3 32.4 32.5 32.6 Ten-Years Innovation, One Million Chinese Cars Chery Official Site, 2007.08.21
↑ Fiat and Chery Reached an Agreement on Engine Purchase Chery Official Site, 2007.08.05
↑ Chery Donated RMB1Million to Establish "China Sand Control Greening Foundation of Chery" Chery Official Site, 2008
↑ Disaster was Ruthless but People were Not: Chery's Accumulate Donation Amounting RMB24 Million Chery Official Site, 2008
↑ Crash Course in Quality for Chinese Car wsj.com, AUGUST 8, 2007
↑ 37.0 37.1 2009 First Family Car, Chery A3 Hatchback Launched Chery Official Site, 2009.01.12
↑ 16 New Cars to be Launched in 2009, Chery Implements Multi-brand Strategy Chery Official Site, 2009.02.22
↑ For China's oil subsidy, see China's fuel subsidy costs the world reuters.com, Wed Jun 4, 2008 8:08am EDT
↑ 40.0 40.1 Chery-Quantum to Start Building Cars in Changshu, Jiangsu in 2012 chinaautoweb.com, September 6, 2010
↑ "Better Place in China deal". Ft.com (2010-04-26). Retrieved on 2010-06-27.
↑ Chery S18 Is Off Line, Achieving Zero Emission and Zero Pollution Chery Official Site, 2009.03.18
↑ 43.0 43.1 Chery's First High-speed BEV S18 Passed National Collision Test Chery Official Site, 2009.08.31
↑ For A5ISG hybrid, see A5ISG Overview Chery Official Site
↑ 45.0 45.1 45.2 "Lawsuits". China Motor Vehicle Documentation Centre. Retrieved on 2011-03-12.
↑ 46.0 46.1 "China to Foreign Automakers: Drop Dead". Frank Williams (2007-08-16). Retrieved on 2007-12-17.
↑ 47.0 47.1 47.2 "Chery even used a camouflaged Matiz car to pass auto tests to acquire authorization from the government over production and sales of QQ.". Chinadaily.com.cn (2005-05-09). Retrieved on 2010-10-05.
↑ Entrepreneur Bricklin sues Chery over failed deal reuters.com, Mon Jul 21, 2008 1:30pm EDT
↑ Chery International Chery Official Site
↑ 50.0 50.1 50.2 50.3 50.4 50.5 A Chinese Independent Brand Seizes the First Bridgehead in Latin America Chery Official Site, 2007.03.31
↑ 51.0 51.1 51.2 51.3 Chery, Iran Khodro and Canada Solitac Enter into an Agreement of Joint Venture Chery Official Site, 2007.08.09
↑ 52.0 52.1 Chery A3 Produced in Taiwan Chery Official Site, 2009.08.20
↑ Chery Signs Agreements with New Pakistan Distributor Chery Official Site, 2010.11.03
↑ Chery Officially Enters Vietnamese Market Chery Official Site, 2009.04.22
↑ The Chery Tiggo3 Officially Launched in Uruguay Chery Official Site, 2007.10.14
↑ 57.0 57.1 Ramping up Business in Brazil, Chinese Chery Deeply Exploiting South American Auto Market Chery Official Site, 2009.09.03
↑ "Chery Plans Production Base in Jacareí, Brazil", ChinaAutoWeb.com.

 

↑ Brazil's ETH eyes Africa, S.America for expansion reuters.com, Tue Sep 28, 2010 3:53pm EDT
↑ For 2006 introduction to Egyptian market, see Chery enters Egypt as homemade representative Chery Official Site, 2011.01.31
↑ Chinese cars made in Egypt (0'41") CNN's Inside the Middle East blog, November 23, 2009
↑ Chery Officially Enters Thai Market Chery Official Site, 2008.11.13
↑ 63.0 63.1 Chery Auto Breaks Ground on Dalian Plant Chery Official Site, 2009.10.15
External links
Edit
Community content is available under
CC-BY-SA
unless otherwise noted.