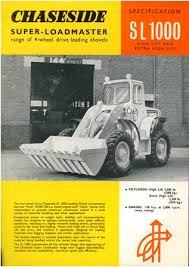 The Chaseside Engineering Company Ltd company was based at Blackburn in Lancashire England and they built some of the earliest loaders and cranes all based on Fordson farm tractors. The company was founded in Middlesex in 1937. The firm also made the Northrop tractor an early UK built high horsepower Four-wheel drive tractor which effectivly became the Muir-Hill range when its inventor/designer moved companies.Chaseside was sold out to JCB in 1968, and the brand name was soon dropped.
The company was founded in 1937 from a small factory at Enfield in Middlesex originally making several tractor parts for domestic loader and tractor manufacturers. They introduced a early cable operated loader and a crane based on the Fordson N  tractor. By the 1940s Chaseside needed to find another new factory to accommodate the expanding business and some production moved north to the Station Road site in Hertford where they operated from a much larger premises. This allowed Chaseside to develop their model range and launched a new batch of loaders, new cranes and for the first time dumptrucks an all new concept Chaseside were developing on. The MD was a Gordon Jackson in the late 1950s / early 1960s.
They merged with British Northrop in the 1950s, a cotton mill loom manufacturer who had spare foundry capacity as the UK mill industry declined and wanted to diversify their model range. Chaseside needed investment for a second factory for larger model production and relocated manufacturing to the Northrop factory in Blackburn Lancashire. Most of the workforce stayed in the south and found new jobs.
They introduced the 4WD Northrop tractor under design engineer David J. B.Brown who latter went on to work for Muir-Hill and then founded ADT maker Artix, which later sold out to Caterpillar Inc.
Chaseside were taken over by JCB in 1968 for their seven model loading shovel range. JCB paid a reputed fee of £100,000 for the work-in progress, intellectual property, stock, tooling and order book etc. The production of Northrop tractors stopped, with JCB putting the last 2  made to work on their farm estate.
Loading Shovel production transferred to Rocester in Staffordshire in 1969, with production of other machines all being dropped.
JCB went onto develop a new range of Loading shovels in 1971 with the 400 series of 413, 415 & 418 models (see JCB for details and more information after this period).
Model Range
Edit
Chaseside Demon Loader
Chaseside Hi-Lift Light Excavator
Chaseside Hi-Speed sitedumper
Chaseside Dumptruck Diesel 
Chaseside Rockmover Dumptruck 4WD
Chaseside Superlift Shovel
Chaseside Yardcrane
Chaseside Loading Shovel range;

Chaseside SL800 loader
Chaseside SL 1000
Chaseside SL1250 Loader
Chaseside Loadmaster LM Loader Series
Chaseside Superloadmaster SL Loader Series
JCB re-badged the machines in 1969 following transfer of production to JCB at Rocester.
Preserved Machines
Edit
There are a few of the early fordson based machines restored and on the Rally circuit.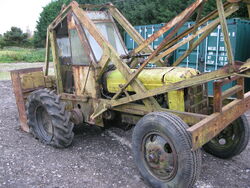 The company obtained a number of patents related to the design of wheeled loaders and other plant designed by David J. B.Brown as cheif engineer.
Scale models
Edit
References
Edit
External Links
Edit
| | |
| --- | --- |
| | Add any external links that directly relate to this articles subject and have more info or have related images. Other general external links can be added to the web Site Links list. |
Early Makes - pre 1940s

1940s to 1980s

Modern post 1980s

Independents
North America

Europe

India & Pakistan

Middle East
(Turkey, Iran,
Iraq, Syria etc...)

Far East
(Australasia, China,
Japan, Korea, Thailand,
Vietnam etc...)

South America
(Argentina, Brazil,
Uruguay etc)

Africa

Asia
(Russia, Tajikstan,
Uzbekistan, Ukraine)

Specialist types of tractor

Notable People - associated with the tractor industry

Inventors
Community content is available under
CC-BY-SA
unless otherwise noted.