Chang'an Automobile (Group) Co Ltd[1] (
中文:
) is an automobile manufacturer in Chongqing, China, and a state-owned enterprise[2] with China Weaponry Equipment as parent.[3]
Its production capacity is primarily composed of no frills passenger cars and mini vehicles,[4] smaller trucks and vans that see commercial use.
Also known as Chana,[5] in 2010 it became the fourth most-productive automaker in the Chinese automobile industry[6][7] by selling 2.38 million units.[8]
A subsidiary, Chongqing Changan Automobile Company (SZSE: 000625 ), is listed on the Shenzhen Stock Exchange (but, as of 2007, it is also state controlled).[2]
Foreign automakers that have joined joint ventures with Chang'an include Ford, Suzuki, and PSA Peugeot Citroen.
The company recently released a new logo for its consumer offerings; commercial production retains the red one.[4]
History
Chang'an claims its early origins can be traced back to 1862[9] when Hongzhang Li set up the Shanghai Foreign Gun Bureau.[10] How this company and today's Chang'an are linked is not clear, however.
Chang'an Factory
In the late 1950s its predecessor company, Chang'an Factory,[10] assembled a jeep[10][11] sold under the brand name Yangtze River.[10] By the end of the 1980s the company was also producing mini vehicles,[12] small trucks and vans that see commercial use.
Domestic acquisitions
Chang'an acquired two smaller, domestic automakers in 2009 -- Hafei[6] and Changhe.[13]
Suzuki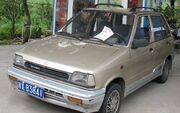 Main article: Chang'an Suzuki
Technical and commercial cooperation with Suzuki Motors, beginning in 1983, saw Chang'an assembling inexpensive commercial trucks (originally the Suzuki Carry ST90) under license into the 2000s.[14] The two companies formed Chongqing Chang'an Suzuki Automobile Co in 1993[11][13] which built licensed versions of the Suzuki Alto and Suzuki Cultus, and more recently also the Swift. In parallel with its Suzuki joint venture, Chang'an also continues to build microvans and microtrucks based on the 1999 Suzuki Carry license, but independently developed vehicles are quickly replacing them.[14] These small vans and trucks are not necessarily Suzuki-branded, although that Japanese automaker's technology is used in their design and manufacture.
In 2010 production capacity at Chang'an Suzuki was estimated at 180,000 units/year and the number of 4S stores, what it calls its dealer network outlets, 1000.[15] Production capacity figures may consider engines and vehicles as discrete.
In 2010 Chang'an was supposed to merge its Suzuki joint venture with that of Changhe, another automaker that participates in a JV with this Japanese company.[3] This plan, supported by Suzuki, did not see fruition.[13]
Ford
Main article: Chang'an Ford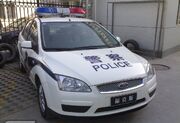 In 2001 Chana Ford Automobile Co was formed,[11] and it has built Ford-branded passenger vehicles from complete knock down kits.
Making Chinese-market versions of the Fiesta,[4][16] Focus,[4][16] Edge,[17] and Mondeo,[16] etc. its 2010 dealer network was estimated to include nearly 350 showrooms, many in second and third-tier Chinese cities.[18]
Alongside many other Sino-western joint ventures seeking to sell cheaper models to inland cities,[19] Chang'an Ford will also create its own brand.[16] Chang'an Ford JV products already compete in inland cities against cheaper products made by indigenous manufacturers.[16]
Volvo models
As a result of cooperation with Ford, the company has also produced Volvo-branded cars.[20] Production of the Volvo S40 and S80, begun in 2007, will continue, although this Swedish automaker was recently purchased from Ford by Geely.[21]
PSA Peugeot Citroën
Main article: Chang'an PSA
Chang'an and this French automaker signed a letter of intent in 2010 to set up a 50/50 passenger car and light commercial vehicle-making joint venture.[22] Initial production capacity is estimated to be 200,000 units/year.[23] Production capacity figures may consider engines and vehicles as discrete.
Electric vehicle
After six years of R&D, Chang'an debuted a hybrid automobile in 2007.[2] The Jiexun, it was brought to market in June, 2010, and may be followed by an all-electric vehicle in 2011.[24] China subsidies oil,[25] and Chinese automakers see opportunities in less mature electric vehicles because Western companies have yet to develop much of a lead in the technology.[26]
Visual identity
On October 31, 2010, Chang'an introduced new vehicle and company logos, in a bid to revamp its visual identity.[4][27]
Joint ventures
Chang'an has part ownership in number of joint venture companies with both foreign and domestic partners.
Production bases and facilities
Chang'an has four major production bases (in the City of Chongqing, Hebei province, Jiangsu province and Jiangxi province),[30] eleven automobile production bases and two engine production bases in mainland China[9] for a more-current total of 21 vehicle-making bases including newer sites in Anhui province, Guangdong province, Heilongjiang province, Shandong province and Shanxi province.[30]
Anhui
A planned 300,000 units/year capacity mini-vehicle production base in Hefei, Anhui province, should see completion in 2011.[30] Production capacity figures may consider engines and vehicles as discrete.
Beijing
An existing R&D centre in Beijing[31] (as of 2010, its focus was on commercial and crossover vehicles will soon be joined by a passenger car production base in Fangshan District,[24] Beijing,[24][30][32] which will become operational in 2012[24] and may produce electric vehicles.[24][33]
Chongqing
Chang'an has numerous sites in the City of Chongqing. A Chang'an-Ford plant[34] and another, planned Chang'an-Ford plant,[34] which may produce engines,[17] are joined by an a Chongqing-based R&D centre[31] and an industrial park in Yubei, Chongqing.
Hebei
An industrial park in Hebei province may continue to be Chang'an controlled.
Heilongjiang
A Harbin, Heilongjiang province, R&D centre, formerly Hafei-owned, is now a Chang'an asset.[31]
Jiangsu
A Chang'an-Ford plant[34] and an industrial park in Nanjing, Jiangsu province, may comprise completely Chang'an operations in this province.
Jiangxi
A planned Chang'an commercial vehicle production base in Nanchang, capital of Jiangxi province, will produce JMC and Ford-branded vehicles[17] and join a former Changhe} R&D centre[31] as a second facility in this province.
Shanghai
Chang'an has an R&D center in this coastal city.[31]
United States
Chang'an has an assembly plant in Poteau, Oklahoma under the name Tiger Truck.
Overseas R&D centres
Possessing valuable intellectual property, some R&D centres are more-valuable if located in secure, overseas locations. Chang'an has R&D centres in Nottingham, England;[31][35] Turin, Italy;[31] Yokohama, Japan;[31] and Detroit, Michigan.[31]
See also
References
External links

Chang'an Automobile Group

Brands

Current
Former

Joint ventures

Current

Jiangling Investment

Shenzhen Baoneng Motor

Former

Current models

Cars

Alsvin

Alsvin V3

Alsvin V5

Alsvin V7

BenBen

BenBen Mini

CX30

Eado

Raeton

SUVs

CS15

CS35

CS35 Plus

CS55

CS75

CS85

CS95

CX70

UNI-K

UNI-T

Pickup trucks
Vans

1A Brand of Jiangling Motor Holding (Chang'an - 25%)
2A U.S. subsidiary


Category