Chamberlain was make of tractors manufactured in Australia by Chamberlain Industries. The company was started in 1949 by a tractor engineer Bert Chamberlain. The American firm of John Deere bought a stake in the company in 1970 with John Deere eventually taking control. In 1986, production of Chamberlain John Deere tractors was ended.
...to produce a tractor entirely suited to the large land holdings of Australian farmers... — Melbourne engineer A.W. (Bert) Chamberlain in the 1930s"
History
Whilst Bert Chamberlain was working as a tractor mechanic in Victoria he designed a tractor and built a prototype tractor around what he believed farmers wanted. It became the basis of the 40K model tractor.
After the 2nd World Ear the Australian government were offering payments to Manufactures to build tractors of £72 for each one sold. But the anticipated demand had been over estimated as farmers had ordered several times to try to get up the que as needy.[2]
The Western Australian Government having heard of Bert Chamberlain's plan to build tractors persuaded the Chamberlains to use an ex-munitions factory; in Welshpool, Western Australia. Thus the first Tractors rolled off the production line in 1949.[1]
The first Chamberlain tractor produced was the model 40k which had 40 horsepower twin-cylinder, horizontally opposed engines. They weighed about four tonnes and were considered to be ideal for the needs of Australian farmers.[3]
Production was hit by the Government importing 2000 American tractors for sale.[2]
In 1955 the production of kerosene powered tractors was replaced by diesel powered models and as a publicity stunt in the same year Chamberlains entered the new diesel powered Champion model tractor in the Redex around Australia rally trial, it became known as "Tail End Charlie"[3]
After 1955 they switched to Diesels, using Perkins, Meadows and Detroit Diesel engines.
John Deere Merger
In 1970 the John Deere Company of America purchased a controlling interest in Chamberlain.[3]
An expansion and refit of the Welshpool Plant was undertaken in 1978. During the 1980s Chamberlain became a fully owned subsidiary of Deere & Company thus trading as Chamberlain John Deere.[1]
The Welshpool manufacturing site was redeveloped and a new office complex built in 1982, however by 1986 due to significant decline in demand, the manufacture of the famous Chamberlain tractors ceased.[1]
Model Range

Total build of Chamberlain tractors believed to be about 40,000.[4]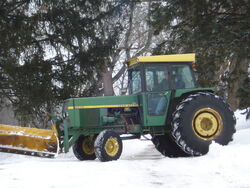 Preservation
Chamberlain are a rare model in the UK with the odd example imported mainly by collectors.
Chamberlain tractors on display at the Great Dorset Steam Fair
Add your images here:
Implements by Chamberlain
See also
References / sources
External links

Early Makes - pre 1940s

1940s to 1980s

Modern post 1980s

Independents
North America

Europe

India & Pakistan

Middle East
(Turkey, Iran,
Iraq, Syria etc...)

Far East
(Australasia, China,
Japan, Korea, Thailand,
Vietnam etc...)

South America
(Argentina, Brazil,
Uruguay etc)

Africa

Asia
(Russia, Tajikstan,
Uzbekistan, Ukraine)

Specialist types of tractor

Notable People - associated with the tractor industry

Inventors
A-Z Tractor Models

A

 •

A High Crop

 •

AN

 •

AO

 •

AOS

 •

AR

 •

B

 •

BN

 •

BNH

 •

BO

 •

BR

 •

BVH

 •

BW

 •

BW-40

 •

BWH

 •

C

 •

D

 •

D (Gold Leaf)

 •

D - Styled

 •

Euro 42 Alto

 •

Euro 42 Baja

 •

Euro 50 A

 •

Euro 50 Baja

 •

G

 •

G High Crop

 •

GM

 •

GP

 •

GP High Crop

 •

GP-P

 •

H

 •

HN

 •

HNH

 •

HWH

 •

L

 •

LA

 •

M

 •

Milénio 20A

 •

Milénio 20C

 •

Milénio 25C

 •

Milénio 30

 •

Milénio 30A

 •

Milénio 30R

 •

Milénio 35C

 •

Milénio 40A

 •

Milénio 40C

 •

Milénio 40R

 •

Milénio 45A

 •

Milénio 45C

 •

Milénio 45 R

 •

Milénio 50A

 •

Milénio 50C

 •

Milénio 50F

 •

Milénio 50R

 •

Milénio 60C

 •

Milénio 70A

 •

Milénio 70C

 •

Milénio 70F

 •

Milénio 70R

 •

Milénio 70RR

 •

Milénio 70V

 •

Milénio 75F

 •

Milénio 76F

 •

Milénio 85F

 •

Milénio 85L

 •

Milénio 90F

 •

Milénio 100F

 •

Milénio Q-85

 •

MT

 •

N750

 •

N754

 •

N800

 •

N804

 •

N850

 •

N854

 •

N900

 •

Overtime

 •

Overtime R

 •

R

 •

ST16

 •

ST18

 •

Triunfo

 •

U-238

 •

WA-14

 •

WA-17

 •

Waterloo Boy Type N

 •

Waterloo Boy Type R

 •

Waterloo Boy Type T

 •

X554

0-999 Tractor Models

5-750

 •

5-754

 •

5-800

 •

5-804

 •

5-850

 •

5-854

 •

5-900

 •

5-950

 •

15-27

 •

20A

 •

20C

 •

22

 •

25C

 •

30

 •

33

 •

35

 •

35C

 •

40

 •

40 High Crop

 •

40N

 •

50

 •

60

 •

60 High Crop

 •

60 Orchard

 •

62

 •

70

 •

70 High Crop

 •

70A

 •

75C

 •

76F

 •

80 Diesel

 •

85F

 •

85L

 •

100

 •

100 F

 •

200

 •

238

 •

280

 •

284

 •

300

 •

300 (China)

 •

303

 •

304

 •

320

 •

320 (China)

 •

320 Southern Special

 •

320 vineyard

 •

324

 •

325

 •

330

 •

350

 •

350-3

 •

354

 •

400 (China)

 •

401 loader

 •

401D loader

 •

404

 •

420

 •

420C

 •

420H

 •

425

 •

430

 •

430 High Crop

 •

435 Diesel

 •

440

 •

445

 •

445 vineyard

 •

450

 •

454

 •

480

 •

484

 •

500

 •

504

 •

505

 •

510

 •

515

 •

520

 •

520 LP

 •

521RT

 •

526RT

 •

528RT

 •

530

 •

530 LPG

 •

532RT

 •

550

 •

554

 •

600

 •

600 (China)

 •

602

 •

604

 •

612

 •

614

 •

620

 •

620 O LP

 •

630

 •

630 Hi-Crop

 •

630 tricycle

 •

650

 •

650 (China)

 •

650

 •

654

 •

700

 •

707

 •

710

 •

717

 •

717VI

 •

720

 •

720D

 •

720 High Crop

 •

720 LP

 •

730

 •

730 (Argentina)

 •

730 High Crop

 •

746

 •

754

 •

755

 •

770

 •

790

 •

818

 •

820

 •

820 vineyard

 •

820 S

 •

824

 •

830

 •

840

 •

846

 •

850

 •

870

 •

900 (China)

 •

900 HC

 •

904

 •

920

 •

921

 •

930

 •

930 VU

 •

933

 •

938

 •

940

 •

940 vineyard

 •

946

 •

950

 •

950 (China)

 •

955

 •

970

 •

990

1000-1999 Tractor Models

1010

 •

1010 Orchard

 •

1020

 •

1020 vineyard

 •

1020 (new)

 •

1023 E

 •

1026 R

 •

1030

 •

1030 LS

 •

1030 vineyard

 •

1030 EF vineyard

 •

1030 VU

 •

1035

 •

1035 EF

 •

1035 EV

 •

1035 vineyard

 •

1038

 •

1040

 •

1040V

 •

1042

 •

1046

 •

1047

 •

1050

 •

1054

 •

1070

 •

1100

 •

1120

 •

1130

 •

1140

 •

1140 vineyard

 •

1140 F

 •

1140 V

 •

1200

 •

1204

 •

1247

 •

1250

 •

1300

 •

1320

 •

1350

 •

1354

 •

1400

 •

1420

 •

1420 vineyard

 •

1445 F

 •

1450

 •

1520

 •

1530

 •

1530 (new)

 •

1541

 •

1546F

 •

1550

 •

1550K

 •

1620

 •

1630

 •

1630 (new)

 •

1630 E

 •

1630 EF

 •

1630LS

 •

1630 vineyard

 •

1635

 •

1635 vineyard

 •

1635 EF

 •

1635 EV

 •

1640

 •

1640F

 •

1640 X-E

 •

1641

 •

1650

 •

1650K

 •

1654

 •

1745F

 •

1750

 •

1750C

 •

1750K

 •

1750V

 •

1830

 •

1840

 •

1840 F

 •

1840 F Super

 •

1845 F

 •

1846F

 •

1847F

 •

1850

 •

1850F

 •

1850V

 •

1854

 •

1950

 •

1950F

 •

1950N

2000-2999 Tractor Models

2000

 •

2010

 •

2010 High-Crop

 •

2020

 •

2020 LS

 •

2020 vineyard

 •

2030

 •

2030 LS

 •

2030S

 •

2035

 •

2035 high-crop

 •

2035 vineyard

 •

2035 EF

 •

2040

 •

2040 orchard

 •

2040F

 •

2040S

 •

2040S

 •

2041

 •

2070V

 •

2100

 •

2120

 •

2130

 •

2130 LS

 •

2130 LS

 •

2135

 •

2140

 •

2140 X-E

 •

2141

 •

2150

 •

2155

 •

2200

 •

2210

 •

2240

 •

2250

 •

2251

 •

2255

 •

2255 orchard

 •

2300

 •

2300 (Zetor)

 •

2305

 •

2320

 •

2330

 •

2345

 •

2345 F

 •

2350

 •

2350

 •

2351

 •

2355

 •

2355N

 •

2400

 •

2420

 •

2440

 •

2446F

 •

2447

 •

2447F

 •

2450

 •

2450 vineyard

 •

2450F

 •

2450K

 •

2450M

 •

2510

 •

2520

 •

2520 Hi-Crop

 •

2520 (new)

 •

2520 HST (new)

 •

2530

 •

2535

 •

2541

 •

2550

 •

2555

 •

2630

 •

2630B

 •

2640

 •

2650

 •

2650F

 •

2650F

 •

2650K

 •

2650M

 •

2650N

 •

2651

 •

2700

 •

2720

 •

2730

 •

2735

 •

2750

 •

2755

 •

2755 High-Clearance

 •

2800

 •

2840

 •

2850

 •

2850K

 •

2850N Hopfen

 •

2855

 •

2855N

 •

2900

 •

2940

 •

2941

 •

2950

 •

2951

 •

2955

 •

2955

3000-3999 Tractor Models
4000-4999 Tractor Models

4000

 •

4005

 •

4010

 •

4010 LP

 •

4010 (new)

 •

4010 tricycle front

 •

4020

 •

4020 Hi-Crop

 •

4020 LP

 •

4020 tricycle front

 •

4030

 •

4040

 •

4040 S

 •

4050

 •

4050 Hi-Crop

 •

4055

 •

4100

 •

4100N

 •

4105

 •

4110

 •

4115

 •

4120

 •

4200

 •

4210

 •

4230

 •

4240

 •

4240 S

 •

4250

 •

4250 Hi-Crop

 •

4255 Hi-Crop

 •

4255

 •

4300

 •

4310

 •

4320

 •

4320 (new)

 •

4340

 •

4350

 •

4400

 •

4410

 •

4420

 •

4430

 •

4440

 •

4450

 •

4455

 •

4455

 •

4500

 •

4510

 •

4520

 •

4520 (new)

 •

4530

 •

4555

 •

4560

 •

4600

 •

4610

 •

4620

 •

4630

 •

4640

 •

4650

 •

4700

 •

4710

 •

4720

 •

4730

 •

4755

 •

4760

 •

4830 Sprayer

 •

4840

 •

4850

 •

4920 sprayer

 •

4930

 •

4955

 •

4960

5000-5999 Tractor Models

5010 Diesel

 •

5010 (Agritalia)

 •

5010 (S.America)

 •

5020

 •

5020 Diesel

 •

5036 C

 •

5038 D

 •

5041 C

 •

5045 D

 •

5045 E

 •

5050

 •

5055 D

 •

5055 E

 •

5060 E

 •

5065 E

 •

5065 M

 •

5070 M

 •

5075 E

 •

5075 M

 •

5078 E

 •

5080

 •

5080 G

 •

5080 GF

 •

5080 GH

 •

5080 GV

 •

5080 M

 •

5080 R

 •

5080 RN

 •

5083 E

 •

5083 E Limited

 •

5083 EN

 •

5085 E

 •

5085 M

 •

5090

 •

5090 G

 •

5090 GF

 •

5090 GH

 •

5090 GV

 •

5090 M

 •

5090 R

 •

5090 RN

 •

5093 E

 •

5093 E Limited

 •

5093 EN

 •

5095 M

 •

5095 MH

 •

5100

 •

5100 GF

 •

5100 GV

 •

5100 M

 •

5100 MH

 •

5100 R

 •

5100 RN

 •

5101 E

 •

5101 E Limited

 •

5101 EN

 •

5103

 •

5103 E

 •

5103 S

 •

5104

 •

5105

 •

5105 M

 •

5105 ML

 •

5115 M

 •

5115 ML

 •

5200

 •

5203

 •

5203 S

 •

5204

 •

5205

 •

5210

 •

5215

 •

5215 F

 •

5215 V

 •

5220

 •

5225

 •

5300

 •

5300 N

 •

5300 N

 •

5303

 •

5310

 •

5310 (India)

 •

5310 N

 •

5310 S

 •

5310 SN

 •

5315

 •

5315 F

 •

5315 V

 •

5320

 •

5320 N

 •

5325

 •

5325 N

 •

5400

 •

5400 N

 •

5403

 •

5403 Frutero

 •

5410

 •

5410 (India)

 •

5410 N

 •

5410 SN

 •

5415 (Agritalia)

 •

5415

 •

5415 F

 •

5415 H

 •

5415 N

 •

5415 V

 •

5420

 •

5420 N

 •

5425

 •

5425 Low Crop

 •

5425 N

 •

5500

 •

5500 N

 •

5510

 •

5510 High Crop

 •

5510 N

 •

5510 SN

 •

5515

 •

5515 F

 •

5515 High Crop

 •

5515 V

 •

5520

 •

5520 High Crop

 •

5520 N

 •

5525

 •

5525 Hi-Crop

 •

5525 N

 •

5600

 •

5603

 •

5605

 •

5610

 •

5615

 •

5615 F

 •

5615 V

 •

5620

 •

5625

 •

5626

 •

5700

 •

5705

 •

5715

 •

5720

 •

5725

 •

5725 High Crop

 •

5725 Low Crop

 •

5725 SuperPlus

 •

5750

 •

5754

 •

5800

 •

5804

 •

5820

 •

5850

 •

5854

 •

5900

 •

5904

6000-6999 Tractor Models

6010

 •

6010 L

 •

6010 P

 •

6010 SE

 •

6020

 •

6020 SE

 •

6030

 •

6100

 •

6100 D

 •

6100 SE

 •

6105 M

 •

6105 R

 •

6110

 •

6110 D

 •

6110 E

 •

6110 J

 •

6110 L

 •

6110 P

 •

6110 SE

 •

6115 D

 •

6115 M

 •

6115 R

 •

6120

 •

6120 L

 •

6120 SE

 •

6125 D

 •

6125 E

 •

6125 J

 •

6125 M

 •

6125 R

 •

6130

 •

6130 D

 •

6130 J

 •

6130 R

 •

6140 D

 •

6140 M

 •

6140 R

 •

6145 J

 •

6150 M

 •

6150 R

 •

6165 J

 •

6170 M

 •

6170 R

 •

6180 J

 •

6190 R

 •

6200

 •

6200L

 •

6200 SE

 •

6205

 •

6210

 •

6210 L

 •

6210 P

 •

6210 R

 •

6210 RE

 •

6210 SE

 •

6215

 •

6220

 •

6220 L

 •

6220 SE

 •

6225

 •

6230

 •

6230 Hi-Crop

 •

6230 Low Profile

 •

6230 Premium

 •

6300

 •

6300 High Clearance

 •

6300L

 •

6310

 •

6310 L

 •

6310 P

 •

6310 SE

 •

6320

 •

6320 L

 •

6320 PM

 •

6320 SE

 •

6325

 •

6330

 •

6330 Hi-Crop

 •

6330 Low Profile

 •

6330 Premium

 •

6400

 •

6400 High-Clearance

 •

6400L

 •

6400SE

 •

6400SP

 •

6400TS

 •

6403

 •

6405

 •

6410

 •

6410L

 •

6410 SE

 •

6415

 •

6415 Classic

 •

6420

 •

6420 PM

 •

6420S

 •

6420 L

 •

6420 S

 •

6420 SE

 •

6425

 •

6425 Hi-Crop

 •

6430

 •

6430 Hi-Crop

 •

6430 Low Profile

 •

6430 Premium

 •

6500

 •

6500L

 •

6505

 •

6506

 •

6510

 •

6510 P

 •

6510 S

 •

6510 SE

 •

6515

 •

6520

 •

6520 L

 •

6520 L Orchard

 •

6520 PM

 •

6520 SE

 •

6525

 •

6530

 •

6534

 •

6600

 •

6603

 •

6605

 •

6605 High-Crop

 •

6605

 •

6610

 •

6610 P

 •

6610 SE

 •

6615

 •

6615 Classic

 •

6620

 •

6620 PM

 •

6620 SE

 •

6630

 •

6630 Premium

 •

6650

 •

6715

 •

6800

 •

6810

 •

6820

 •

6820 PM

 •

6830

 •

6830 Premium

 •

6900

 •

6910

 •

6910 S

 •

6920

 •

6920 PM

 •

6920 S

 •

6930

 •

6930 Premium

 •

6930 tracked

7000-7999 Tractor Models

7001

 •

7002

 •

7020

 •

7041

 •

7130 Hi-Crop

 •

7185 J

 •

7195 J

 •

7200

 •

7200 R

 •

7201

 •

7202

 •

7205 J

 •

7210

 •

7210 High-Crop

 •

7210 J

 •

7215 R

 •

7220

 •

7225 J

 •

7230

 •

7230 Hi-Crop

 •

7230 R

 •

7241

 •

7250

 •

7260 R

 •

7280 R

 •

7320

 •

7330

 •

7330 Hi-Crop

 •

7330 Premium

 •

7330 Premium Hi-Crop

 •

7400 Hi-Crop

 •

7400

 •

7405

 •

7410

 •

7410 High-Crop

 •

7420

 •

7430 Hi-Crop

 •

7430 E Premium

 •

7430 Premium

 •

7500

 •

7501

 •

7502

 •

7505

 •

7510

 •

7510 High-Crop

 •

7515

 •

7520

 •

7525

 •

7530

 •

7530 Premium

 •

7530 E Premium

 •

7541

 •

7542

 •

7543

 •

7600

 •

7610

 •

7610 High-Clearance

 •

7620

 •

7630

 •

7650K

 •

7700

 •

7710

 •

7715

 •

7720

 •

7730

 •

7800

 •

7810

 •

7815

 •

7820

 •

7830

 •

7920

 •

7930

 •

7930 Premium

8000-8999 Tractor Models

8002

 •

8010

 •

8020

 •

8020T

 •

8041

 •

8100

 •

8100T

 •

8110

 •

8110T

 •

8120

 •

8120T

 •

8130

 •

8130

 •

8200

 •

8200

 •

8200T

 •

8202

 •

8210

 •

8210

 •

8210T

 •

8220

 •

8220T

 •

8225 R

 •

8230

 •

8230T

 •

8235 R

 •

8241

 •

8242

 •

8243

 •

8245 R

 •

8260 R

 •

8270 R

 •

8285 R

 •

8295 R

 •

8295 RT

 •

8300

 •

8300T

 •

8310

 •

8310 R

 •

8310 RT

 •

8310T

 •

8320

 •

8320 R

 •

8320 RT

 •

8320T

 •

8330

 •

8330T

 •

8335 R

 •

8335 RT

 •

8345 R

 •

8345 RT

 •

8360 R

 •

8360 RT

 •

8400

 •

8400T

 •

8410

 •

8410T

 •

8420

 •

8420T

 •

8430

 •

8430

 •

8430T

 •

8440

 •

8450

 •

8520

 •

8520T

 •

8530

 •

8560

 •

8570

 •

8620

 •

8630

 •

8640

 •

8650

 •

8760

 •

8770

 •

8770T

 •

8850

 •

8870

 •

8870T

 •

8960

 •

8970

 •

8970T

9000-9999 Tractor Models

9020

 •

9020T

 •

9100

 •

9120

 •

9200

 •

9220

 •

9230

 •

9300

 •

9300T

 •

9320

 •

9320T

 •

9330

 •

9360 R

 •

9360 RT

 •

9400

 •

9400T

 •

9410 R

 •

9420

 •

9420T

 •

9430

 •

9430 Scraper Special

 •

9430T

 •

9460 R

 •

9460 RT

 •

9510 R

 •

9510 RT

 •

9520

 •

9520T

 •

9530

 •

9530 Scraper Special

 •

9530T

 •

9560 R

 •

9560 RT

 •

9620

 •

9620T

 •

9630

 •

9630 Scraper Special

 •

9630T

Vineyard/Orchard tractors

Milénio 35C

 •

Milénio 20A

 •

Milénio 20C

 •

Milénio 25C

 •

Milénio 30

 •

Milénio 30A

 •

Milénio 30R

 •

Milénio 35C

 •

Milénio 40A

 •

Milénio 40C

 •

Milénio 40R

 •

Milénio 45A

 •

Milénio 45C

 •

Milénio 45 R

 •

Milénio 50A

 •

Milénio 50C

 •

Milénio 50F

 •

Milénio 50R

 •

Milénio 60C

 •

Milénio 70A

 •

Milénio 70C

 •

Milénio 70F

 •

Milénio 70R

 •

Milénio 70RR

 •

Milénio 70V

 •

Milénio 75F

 •

Milénio 76F

 •

Milénio 85F

 •

Milénio 85L

 •

Milénio 90F

 •

Milénio 100F

 •

U-238

 •

20A

 •

20C

 •

25C

 •

30

 •

33

 •

35C

 •

60 Orchard

 •

70A

 •

75C

 •

76F

 •

85F

 •

85L

 •

100 F

 •

238

 •

320 vineyard

 •

445 vineyard

 •

521RT

 •

526RT

 •

528RT

 •

532RT

 •

602

 •

604

 •

612

 •

614

 •

746

 •

820 vineyard

 •

846

 •

921

 •

930 VU

 •

933

 •

938

 •

940 vineyard

 •

946

 •

1010 Orchard

 •

1020 vineyard

 •

1030 vineyard

 •

1030 EF vineyard

 •

1030 VU

 •

1035 EF

 •

1035 EV

 •

1035 vineyard

 •

1038

 •

1040V

 •

1042

 •

1046

 •

1047

 •

1140 vineyard

 •

1140 F

 •

1140 V

 •

1247

 •

1420 vineyard

 •

1445 F

 •

1546F

 •

1630 vineyard

 •

1630 E

 •

1630 EF

 •

1635 vineyard

 •

1635 EF

 •

1635 EV

 •

1640F

 •

1745F

 •

1750V

 •

1840 F

 •

1845 F

 •

1846F

 •

1847F

 •

1850F

 •

1850V

 •

1950F

 •

2020 vineyard

 •

2035 vineyard

 •

2035 EF

 •

2040 orchard

 •

2040F

 •

2070V

 •

2255 orchard

 •

2345

 •

2345 F

 •

2446F

 •

2447

 •

2447F

 •

2450 vineyard

 •

2450F

 •

2450M

 •

2650F

 •

2650F

 •

2650N

 •

3020 Orchard

 •

5080 GF

 •

5080 GV

 •

5090 GF

 •

5090 GV

 •

5100 GF

 •

5100 GV

 •

5215 F

 •

5215 V

 •

5315 F

 •

5315 V

 •

5403 Frutero

 •

5415 F

 •

5415 V

 •

5515 F

 •

5515 V

 •

5615 F

 •

5615 V

 •

6520 L Orchard

Other product types
Grounds Care range

Lawn & Garden Tractor Models

D100

 •

D110

 •

D120

 •

D130

 •

D140

 •

D160

 •

D170

 •

G100

 •

G110

 •

GT 225

 •

GT 235

 •

GT 235 E

 •

GT 242

 •

GT 245

 •

GT 262

 •

GT 275

 •

GT 2554

 •

GX 255

 •

GX 325

 •

GX 335

 •

GX 345

 •

GX 355

 •

L100

 •

L105

 •

L108

 •

L110

 •

L111

 •

L118

 •

L120

 •

L130

 •

L1742

 •

L2048

 •

L2548

 •

LA100

 •

LA110

 •

LA115

 •

LA120

 •

LA125

 •

LA130

 •

LA135

 •

LA140

 •

LA145

 •

LA150

 •

LA165

 •

LA175

 •

LR135

 •

LR155

 •

LR175

 •

LT133

 •

LT150

 •

LT155

 •

LT160

 •

LT166

 •

LT170

 •

LT180

 •

LT190

 •

LTR155

 •

LTR166

 •

LTR180

 •

LX172

 •

LX173

 •

LX176

 •

LX178

 •

LX185 Hydro

 •

LX186

 •

LX188

 •

LX255

 •

LX266

 •

LX277

 •

LX279

 •

LX280

 •

LX288

 •

LX289

 •

SST15

 •

SST16

 •

SST18

 •

STX30

 •

STX38

 •

STX46

 •

X110

 •

X120

 •

X130R

 •

X140

 •

X155R

 •

X300

 •

X300R

 •

X304

 •

X320

 •

X324

 •

X340

 •

X465

 •

X475

 •

X485

 •

X495

 •

X500

 •

X520

 •

X530 Ultimate

 •

X534

 •

X540

 •

X540 Ultimate

 •

X545

 •

X575

 •

X585

 •

X595

 •

X700

 •

X720

 •

X720SE

 •

X720 Ultimate

 •

X724

 •

X728

 •

X728SE

 •

X729

 •

X740

 •

X740 Ultimate

 •

X744

 •

X748

 •

X748SE

 •

X748 Ultimate

 •

X749

 •

X749 Ultimate

 •

60

 •

70

 •

102

 •

107

 •

105

 •

108

 •

110

 •

110H

 •

111

 •

111H

 •

112

 •

112H

 •

112L

 •

115

 •

116

 •

116H

 •

120

 •

120 Patio

 •

125

 •

130

 •

135

 •

140

 •

140 Patio

 •

145

 •

155C

 •

160

 •

165

 •

170

 •

175

 •

180

 •

185

 •

190C

 •

200

 •

208

 •

210

 •

212

 •

214

 •

216

 •

220

 •

240

 •

245

 •

260

 •

265

 •

285

 •

300

 •

312

 •

314

 •

316

 •

317

 •

318

 •

320

 •

322

 •

325

 •

330

 •

332

 •

335

 •

335D

 •

345

 •

355D

 •

400

 •

415

 •

420

 •

425

 •

430

 •

445

 •

455

 •

655

 •

670

 •

750

 •

855

Construction/Industrial range

Backhoe loader Models

110

 •

210C

 •

210K

 •

210K EP

 •

300

 •

300B

 •

300D

 •

310

 •

310A

 •

310B

 •

310C

 •

310D

 •

310E

 •

310G

 •

310J

 •

310K

 •

310K EP

 •

310SE

 •

310SG

 •

310SJ

 •

310SJ TC

 •

310SJ TMC

 •

310SK

 •

310SK TC

 •

315C

 •

315D

 •

315E

 •

315SE

 •

315SG

 •

315SJ

 •

315SK

 •

400

 •

401B

 •

401C

 •

410

 •

410B

 •

410C

 •

410D

 •

410D HL

 •

410E

 •

410G

 •

410J

 •

410J TC

 •

410K

 •

410K TC

 •

500A

 •

500B

 •

500C

 •

510

 •

510B

 •

510C

 •

510D

 •

600

 •

610B

 •

610C

 •

710B

 •

710C

 •

710D

 •

710E

 •

710G

 •

710J

 •

710K

Crawler/Bulldozer Models

BO

 •

GPO

 •

MC

 •

MC

 •

40

 •

350

 •

350B

 •

350C

 •

350D

 •

400G

 •

420

 •

430

 •

440

 •

450

 •

450B

 •

450C

 •

450D

 •

450E

 •

450G

 •

450H

 •

450J

 •

455G

 •

550

 •

550A

 •

550B

 •

550G

 •

550H

 •

550J

 •

550K

 •

555

 •

555A

 •

555G

 •

605C

 •

650G

 •

650H

 •

650J

 •

650K

 •

655B

 •

655C Series II

 •

700H

 •

700J

 •

700K

 •

750

 •

750B

 •

750C

 •

750C Series II

 •

750J

 •

750K

 •

755B

 •

755C

 •

755D

 •

764

 •

850B

 •

850C

 •

850C Series II

 •

850J

 •

855

 •

900

 •

950C

 •

950J

 •

1010

 •

1050C

 •

1050J

 •

2010

 •

3010

Excavator Models

 •  •  •

Industrial Tractor Models

A

 •

B

 •

D

 •

L

 •

M

 •

R

 •

40

 •

210LE

 •

210LJ

 •

300

 •

300B

 •

301

 •

301A

 •

302

 •

302-A

 •

320

 •

400

 •

401B

 •

401D

 •

440

 •

500

 •

600

 •

700

 •

700 A

 •

760

 •

760-A

 •

1010

 •

1640

 •

2010

 •

2150

 •

2155

 •

2350

 •

2355

 •

2555

 •

2755

 •

3010

 •

3140

 •

4010

 •

5010

 •

5020

 •

6010

 •

6200

 •

6300

 •

6610

 •

8020

Skid-steer loader Models

CT315

 •

CT322

 •

CT332

 •

14

 •

24

 •

24A

 •

60

 •

70

 •

90

 •

125

 •

240

 •

240 Series II

 •

250

 •

250 Series II

 •

260

 •

260 Series II

 •

270

 •

270 Series II

 •

280

 •

280 Series II

 •

313

 •

315

 •

317

 •

318D

 •

319D

 •

320

 •

320D

 •

323D

 •

325

 •

326D

 •

328

 •

328D

 •

329D

 •

332

 •

332D

 •

333D

 •

375

 •

570

 •

575

 •

675

 •

675B

 •

3375

 •

4475

 •

5575

 •

6675

 •

7775

 •

8875

Wheeled loader Models

 •  •  •

Models A - 999

CTS

 •

CTS Anniversary

 •

CTSII

 •

CTS 9780 Hillside

 •

40 combine

 •

R40 w/tracks

 •

45

 •

L50

 •

55

 •

L60

 •

W70

 •

W80

 •

95

 •

95 Hillside

 •

C100

 •

105

 •

W210

 •

C230

 •

330

 •

360

 •

420

 •

430

 •

530

 •

W540

 •

W540 HillMaster

 •

W540i HillMaster

 •

W540i HillMaster

 •

T550

 •

T550 HillMaster

 •

T550i

 •

T550i HillMaster

 •

W550

 •

W550 HillMaster

 •

W550i

 •

S560

 •

T560

 •

T560 HillMaster

 •

T560i

 •

T560i HillMaster

 •

630

 •

W650

 •

W650 HillMaster

 •

W650i

 •

W650i HillMaster

 •

S660

 •

T660

 •

T660 HillMaster

 •

T660i

 •

T660i HillMaster

 •

W660

 •

W660 HillMaster

 •

W660i

 •

C670

 •

C670 HillMaster

 •

C670i

 •

C670i HillMaster

 •

S670

 •

S670i

 •

T670

 •

T670 HillMaster

 •

T670i

 •

T670i HillMaster

 •

S680

 •

S680i

 •

S690

 •

S690 w/tracks

 •

S690i

 •

S690i HillMaster

 •

S690i w/tracks

 •

730

 •

925

 •

930

 •

932

 •

935

 •

940

 •

940E

 •

942

 •

945

 •

950

 •

952

 •

955

 •

960

 •

965

 •

965 AL

 •

965 H

 •

965 X

 •

970

 •

970 R

 •

975

 •

975 Hydro/4

 •

985

 •

985 Hydro/4

Models 1000 - 5999

1032

 •

1042

 •

1048

 •

1052

 •

1055

 •

1065

 •

1065 Revermatic

 •

1065A

 •

1068

 •

1068 H

 •

1072

 •

1075

 •

1075A

 •

1075 Hydro/4

 •

1076

 •

1085

 •

1085 Hydro/4

 •

1133

 •

1144

 •

1155

 •

1155-6

 •

1157

 •

1158

 •

1165

 •

1166

 •

1166 SII

 •

1166 SII Hydro/4

 •

1169 H

 •

1170

 •

1170 H

 •

1174

 •

1174 SII

 •

1175

 •

1175A

 •

1175 Hydro

 •

1177

 •

1177 Hydro/4

 •

1177 SII

 •

1177 SII Hydro/4

 •

1185A

 •

1188

 •

1188 Hydro/4

 •

1188 SII

 •

1188 SII Hydro/4

 •

1450

 •

1450 CWS

 •

1450 CWS Series II

 •

1450 WTS Series II

 •

1470

 •

1550

 •

1550 CWS

 •

1550 WTS

 •

1550 WTS Series II

 •

1570

 •

2054

 •

2054 HillMaster

 •

2056

 •

2056 HillMaster

 •

2058

 •

2064

 •

2064 HillMaster

 •

2066

 •

2066 HillMaster

 •

2254

 •

2254 HillMaster

 •

2256

 •

2256 HillMaster

 •

2258

 •

2264

 •

2264 HillMaster

 •

2266

 •

2266 Extra

 •

2266 HillMaster

 •

3070

 •

3080

 •

3300

 •

3316

 •

3518

 •

3518 CTS

 •

4400

 •

4420

 •

4425

 •

4435

Models 6000-9000s

6600

 •

6602

 •

6620 HillSide

 •

6620 SideHill

 •

6620 Turbo

 •

6620 Turbo Titan II

 •

6622

 •

7700

 •

7700 Turbo

 •

7720 Titan II

 •

7720 Turbo

 •

7722

 •

8820 Turbo

 •

8820 Titan II Turbo

 •

9400

 •

9410

 •

9450

 •

9470 STS

 •

9500

 •

9500 Sidehill

 •

9510

 •

9540 WTS

 •

9540 WTS HillMaster

 •

9540i CWS

 •

9540i WTS

 •

9540i WTS HillMaster

 •

9550

 •

9550 Sidehill

 •

9560

 •

9560 CWS

 •

9560 Sidehill

 •

9560 STS

 •

9560 WTS

 •

9560 WTS HillMaster

 •

9560i STS

 •

9560i WTS

 •

9560i WTS HillMaster

 •

9570 STS

 •

9580 WTS

 •

9580 WTS HillMaster

 •

9580i CWS Hillmaster

 •

9580i WTS Hillmaster

 •

9600

 •

9610

 •

9640 WTS

 •

9640 WTS HillMaster

 •

9640i WTS

 •

9640i WTS HillMaster

 •

9650

 •

9650 CTS

 •

9650 STS

 •

9660

 •

9660 CTS

 •

9660 CWS

 •

9660 STS

 •

9660 WTS

 •

9660 WTS Hillmaster

 •

9660i WTS

 •

9660i WTS Hillmaster

 •

9670 STS

 •

9680 WTS

 •

9680i WTS

 •

9680i WTS HillMaster

 •

9750 STS

 •

9760 STS

 •

9770 STS

 •

9780 CTS

 •

9780 CTS Hillmaster

 •

9780i CTS

 •

9780i CTS Hillmaster

 •

9860 STS

 •

9870 STS

 •

9880 STS

 •

9880i STS

John Deere-Lanz combines

150

 •

MD 150 S

 •

MD 250 S

 •

MD18S

Related companies

Note this list is under development
please add the model of any page this template is added to
(please fix omission / correct errors of dates)